Spotify and Reddit Swipe From TikTok's Playbook With New Looks and Features
1 min 58 sec read
March 07, 2023
While TikTok may be on its way out over national security concerns, one thing is here to stay for sure.
And that's the TikTok-inspired video feed that many social media platforms are copying.
Today we're talking about two apps that took a swipe from their playbook: Spotify and Reddit.
During their "Stream On" event,
Spotify unveiled a revamped version of its app with a TikTok-style discovery feed
and introduced some other cool features too.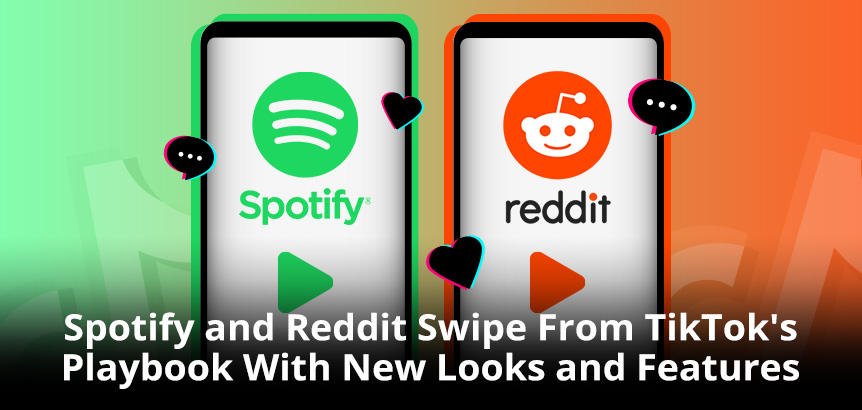 Spotify is all about personalization when recommending music, audiobooks, or podcasts to listen to.
When this new version of the Spotify app launches, you'll see a vertical-style discovery feed that you can scroll and select whatever your heart desires.
However, you'll be eased into the TikTok-like experience. You won't be going through a never-ending scroll to try and find what you want when you open the app.
Instead, at the top of Spotify's feed, you'll see shortcuts to your personalized playlists and mixes, for example, that you can tap.
Scroll a bit down further, and you'll then see Spotify's new AI DJ they launched recently.
Spotify's DJ uses a natural-sounding AI voice and generative AI to curate a playlist based on what you like and introduces each set with commentary.
Once you scroll past the DJ, that's when you see the TikTok-style feed.
You'll see recommended albums, playlists, and singles playing full-screen videos on a loop. Albums and playlists will let you preview and swipe through five tracks. You could listen to music while scrolling to find something else to enjoy without interruption.
For Podcasts, the vertical feed would work in a similar way. Video podcasts will have videos loop on mute until they're selected. Podcasts without video will show real-time captions, playing up to 60 seconds long, and you can press unmute to start listening.
Spotify plans to roll out a "Smart Shuffle" feature, which lets you add songs to your playlist that you can refresh anytime with new tracks with a tap of a button. All these new features will roll out in waves to mobile users only.
Next up is
Reddit's TikTok-style feed
, but they'll split video content and text into two separate tabs.
The "Watch" feed for videos and the "Read" feed for text will combine posts from subreddit users you are subscribed to and will serve you other content recommendations too.
Reddit plans to experiment with features like video reactions and will test how users respond to the split view over the next few weeks.
The company wants to make Reddit easier to use and grow its user base. Over the years, people have requested a simpler-looking interface, and this could be a step in the right direction.
Reddit is slowly going through an app overhaul and promises to make the experience on the platform more streamlined.
So far, they've been really focused on improving Reddit searches letting you use keywords to find posts faster, and other ways that improve the search experience.
Want to read this in Spanish?
Spanish Version >>