Streaming Ads Take Center Stage For Holiday Shopping
1 min 47 sec read
September 17, 2021
If you're a company that has ad dollars invested in traditional TV, you might want to reconsider after reading this article, especially before the holiday season begins.
Roku and Harris Poll released an annual survey
on Sept. 15th showing how streaming services are the wave of the future when it comes to capturing US shoppers' attention over traditional TV advertising.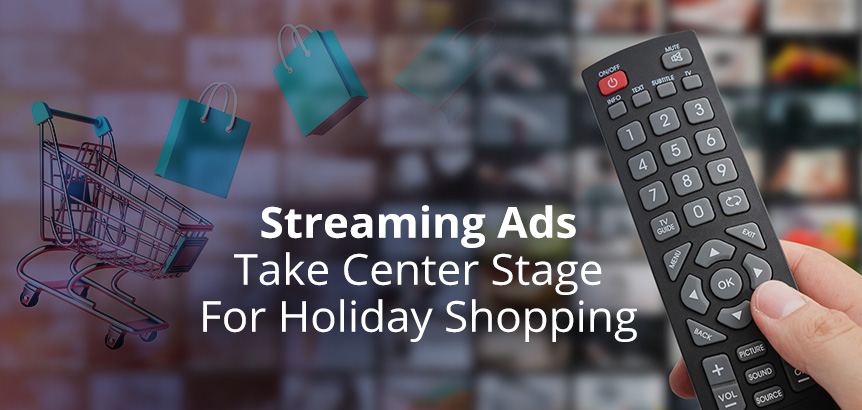 The survey collected data from more than 2,000 adults. And according to an article published by Marketing Brew reporter Zaid Shoorbajee, the survey results indicate that
streaming ads will play a big role in holiday shopping this year
. With the holiday season just around the corner, marketers might want to use this information accordingly to adjust their holiday ad spend.
The gap between traditional TV viewers and those who use streaming services is growing rapidly. In 2020, streaming beat out traditional TV viewership by 12 minutes, but this year, that number has risen to 78 minutes.
And honestly, it makes sense. Streaming services have continued to increase in popularity year after year. Rising cable prices and the pandemic have only made them more popular. And the way people shop is changing too, with online shopping taking prevalence over in-person shopping—and that started long before the pandemic-forced shutdowns.
What's really mind-blowing is that the survey found a large chunk of millennials, 32% to be exact, is unreachable through traditional TV ads. Harris Poll defines the millennial group surveyed between the ages of 25-40. This is a real eye-opener for marketers who will most likely be re-evaluating their ad spend moving forward.
Dallas Lawrence, head of communications for Roku's platform business, told Marketing Brew when discussing the survey results, "What should really be a wake-up call for marketers—who are still spending, in some cases, 80 to 90% of their TV budgets on traditional pay TV—is that a third of their audience isn't there."
While there may be a learning curve when it comes to moving away from traditional TV ads to streaming services, it may be time to embrace change. Streaming ads offer better targeting than traditional cable TV advertising as you can target zip codes, specific devices, demographics, and consumer behaviors. With traditional TV advertising, you are limited to targeting by designated market area.
Streaming ads also offer much more versatility in terms of ad format, which could be very good when it comes to tailoring ads to fit the variety of categories we've listed above.
Lawrence says "marketers can use QR code overlays in ads, incorporate augmented-reality filters, or sponsor the "pause" feature on a streaming service." Pretty cool!
The survey data shows an increase in both shopping and spending for the 2021 holiday season compared to 2020. Will you be adjusting your holiday ad spend to launch your next ad on a streaming provider?
We'd love to hear from you. Leave a comment below to let us know your thoughts!