The EU Will Make USB-C Charging Ports the Standard by 2024
1 min 07 sec read
June 10, 2022
Chances are, you probably know someone who has a box of used cables, and a tangled-up ball of old chargers put away in a closet.
C'mon now, you know it's true.
Well, it looks like the EU is getting closer to passing a law that helps put an end to electronic waste. They're making USB-C the standard charging port for devices by 2024.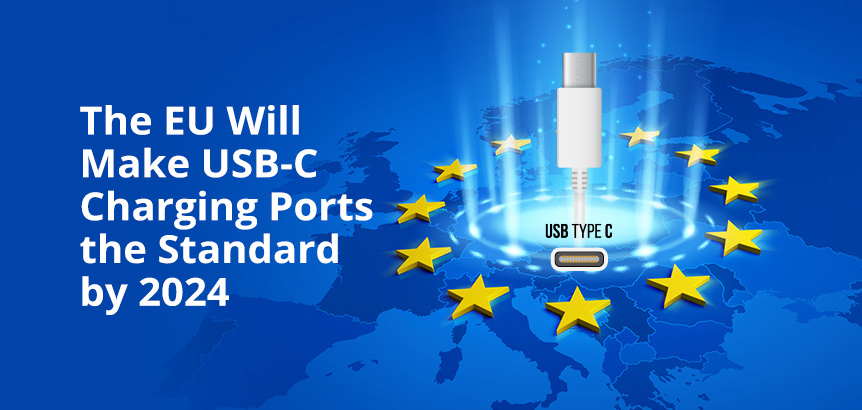 Here's the thing,
what's The EU's new USB-C rule mean for the iPhone
and other Apple products that use Lightning chargers?
European lawmakers passed a law forcing electronic manufacturers producing devices that need to be charged via wires to have USB-C ports installed by the fall of 2024.
Most manufacturers have been gradually building their electronics with USB-C ports. So this law is basically zeroing in on Apple's iPhone and forcing the company to switch to the EU's new standard.
Apple isn't too happy about it. They say this new law could produce more e-waste and slow down "the introduction of beneficial innovations in charging standards," which sounds like Apple is making excuses.
Apple makes a cut of money off its Lightning chargers through its MFI program, which lets 3rd-party companies produce copies of their licensed charger.
This law would affect the iPhone and most of their light-based charging products like AirPods Max, AirPods, Magic Mouse, Magic Keyboard, etc.
It's too early to see if Apple will be on-board with the law and create new products with built-in USB-C ports or come out with a lineup of devices that charge wirelessly.
Europe is one of the biggest markets for the company, so they may just have to play ball if they want to stay in the game.