The Future of AI-Generated Multimedia Is Sooner Than You Think
1 min 27 sec read
September 23, 2022
AI text-to-image generators have gotten a lot of buzz lately. From
creating viral memes
to winning state fair art competitions.
And if you think images created by computers are cool, then prepare to be amazed by what
Stable Diffusion is capable of, as seen in this Twitter thread
.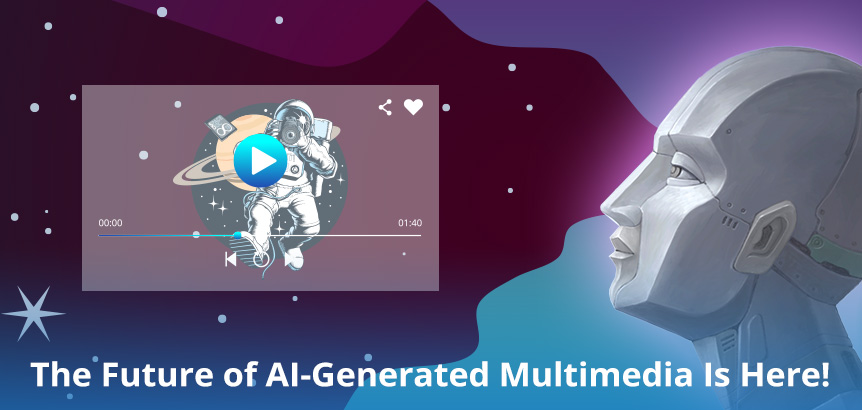 Stable Diffusion is an AI model released under the Creative ML OpenRAIL-M license and was released publicly to companies and researchers.
Check out the link above to see all the exciting stuff that AI multimedia generators are capable of, but here are some notable mentions.
RunwayML developed an AI text-to-video generator, which lets you write a prompt to edit videos, create them, develop characters, and more, using the Stable Diffusion software. It's not released to the public yet, but you can sign up for the waiting list to try it out.
It's just the beginning, but it already seems like almost anything is possible…https://t.co/XkMwsyhtyT

— Daniel Eckler 👨‍🚀 (@daniel_eckler) September 20, 2022
Stable Diffusion was used as a voice recognition tool. It's kind of like genie (think Siri) but for ecommerce capabilities using augmented reality previewing for AI-generated artworks and the ability to make instant purchases.
1/ As soon as StableDiffusion landed we dropped everything to build a GENIE! 🧞‍♂️

🎙 Voice UI
🖼 AI Art
😎 AR previews
🤑 Instant purchasing
📦 On-demand production

Could AI make every shopper's wish come true? 🤔👇 #ai #aiart #stablediffusion #dalle #dalle2 #vui pic.twitter.com/0rHLH9Y5aI

— Russ Maschmeyer (@StrangeNative) September 13, 2022
A painting company called Primer Supply used AR applications and Stable Diffusion to visualize what painted walls would look like in the real world in vivid detail.
The software maps the paint on the wall and automatically adjusts to the different sizes you set. It updates the order to how much paint you'd need and lets you checkout within the app.
Another notable mention was the ability to create 3D animations and images in various ways and styles.
You should definitely see that Twitter thread for more. AI-generated media is becoming more of the norm these days.
Will AI be a part of your design and multimedia teams? Let us know in the comments below. Want to read this in Spanish?
Spanish Version >>