TikTok Will Launch Paid Subscription Program for Select Live-Streamers
1 min 01 sec read
May 24, 2022
Once again, TikTok is trying to outcompete platforms like Twitch, YouTube, Meta, and the others with a new monetization program they're rolling out on May 26th.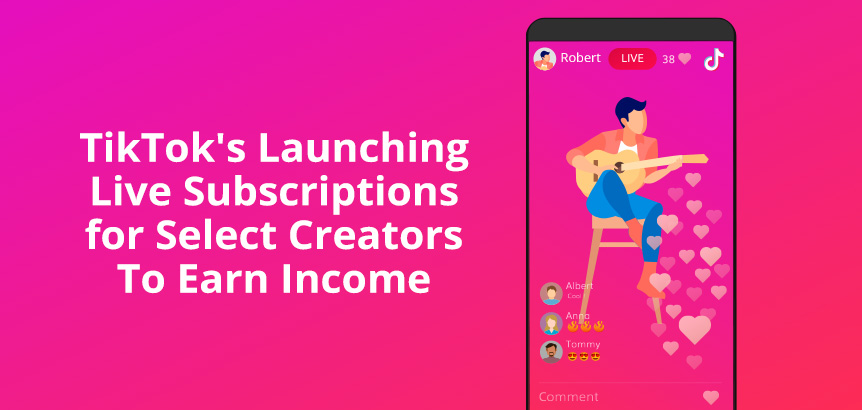 TikTok's launching a Twitch-like paid subscription program on Thursday
for select live-streamers.
It's called Live Subscription, and it's TikTok's way of incentivizing creators to earn recurring revenues. Fans can now subscribe and pay their favorite streamers for exclusive content, but that's not all.
They'll have access to perks like subscriber-only chat groups, creator-specific emojis/stickers, and badges that set them apart from non-subscribers—oof, talk about feeling left out, right?
TikTok has already chosen a few content creators to participate in the beta version of their Live Subscription program, and they are excited to be a part of it.
Some streamers said they love what TikTok is doing for those who pay to subscribe to their content, but they're excited to earn "predictable monthly income."
Making money as a TikTok creator wasn't really predictable in the past when the app was becoming popular.
Earlier in May, TikTok said it would give a cut of ad revenues to creators, and those who are a part of this new program can receive tips from subscribers.
Live Subscription will work similarly to Twitch's paid subscription plan for streamers. They'll have different packages, starting at 5$ a month to $25 a month.
When TikTok's Live Subscription program moves out of beta, users are eligible to offer a paid subscription plan for their content to share with fans if they're 18+ and have at least 1,000 followers.
Want to read this in Spanish?
Spanish Version >>