TikTok Launches BeReal Clone Called TikTok Now
1 min 35 sec read
September 16, 2022
Well, well, well, we're a bit surprised to be covering this story. Usually, TikTok is the one that's getting copied off of, but now, look who's copying who!
TikTok just launched a BeReal clone called TikTok Now
, and the new feature rips off the app.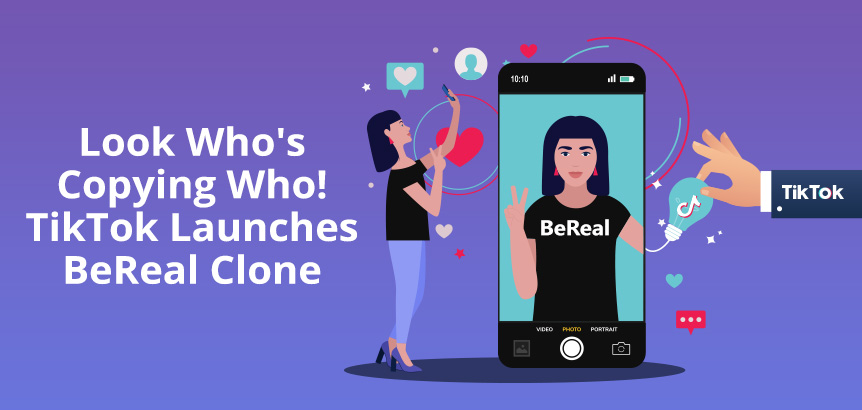 If you're unfamiliar with BeReal, here's what it's all about.
When a friend sends a photo/video of what they're doing to you, you have a time limit to capture what you're doing to send back to them.
That's what BeReal is about, and it's growing in popularity among Gen Z and Millenials for being an authentic social media experience.
Already, Snapchat and Instagram have copied BeReal by introducing dual-camera features to their apps, making TikTok the third social network to do the same.
TikTok's blog reads, "TikTok Now invites you and your friends to capture what you're doing at the moment using your device's front and back camera."
You can send a 10-second video or photo to share with your friends, and just like BeReal, they'll get a notification to capture what they're doing.
BeReal notifications say, "It's time to BeReal," and TikTok says, "Time to Now," whenever you receive an invite to record or snap what you're doing. But you can see how TikTok is unashamedly copying everything about the BeReal app.
TikTok Now is already live for US users, and the "Now" button can be found at the bottom of the navigational bar/posting button.
The one thing that TikTok Now has over BeReal is privacy. BeReal's weakness is that your location is visible, so people can see where you are, which concerns parents whose children may be using the app.
However, TikTok has built-in privacy features which help protect users under 18. TikTok Now's standalone app doesn't reveal locations by default. The location setting can be changed for those over 18, and TikTok Now posts can be changed to be viewed by anyone if they wish instead of only their friends.
At the end of the day, it's just surprising to see one of the tech giants in the social media game copying off an underdog. Everyone was ripping off TikTok, and now TikTok is doing the same to BeReal.
And BeReal isn't a massive social media platform like Meta or TikTok. But BeReal's number of app downloads is growing massively, so don't sleep on them just yet.
Want to read this in Spanish?
Spanish Version >>