TikTok's Testing a New Clear Mode for Watching Videos
1 min 15 sec read
June 03, 2022
Whenever you're on TikTok, do you ever feel like there's too much going on around the screen while watching videos, or the caption gets blocked by the username, song details, etc.?
If you feel like these things get in the way, it's all good because
TikTok is working on a new 'Clear Mode' to remove the app's buttons from the playback window
on the content you're viewing.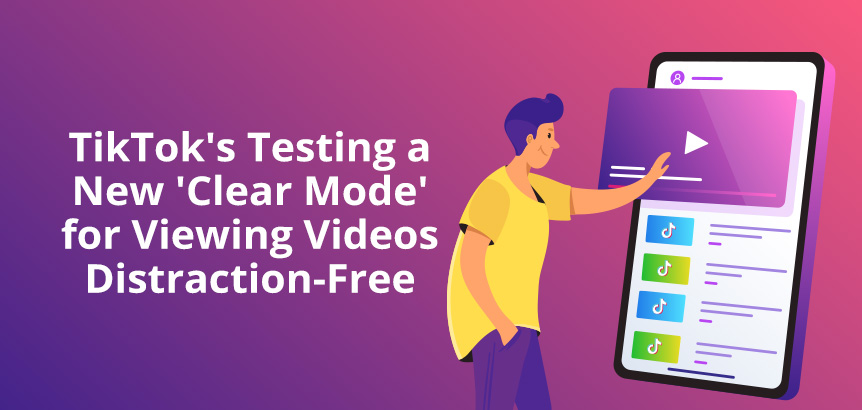 Clear Mode prevents the username, profile bubble, likes, hashtags, description, and other details from obscuring your view.
Personally, it's a great option for TikTok to roll out officially as they test it out with a few TikTokers. See what Clear Mode looks like below.
TikTok added clear mode and I love it 😍 pic.twitter.com/nqB49TBDmJ

— AJ (@aj_malakai) May 26, 2022
You can see in the tweet above how easy it is to select Clear Mode and watch videos in a full-screen vertical format.
Some people love it and believe that Clear Mode could improve the user experience. Still, others feel like TikTok's Clear Mode could introduce engagement issues, among other things.
They think the cleaner viewing experience would equal fewer likes, comments, and shares because people would feel less inclined to act without seeing those options. Another criticism people have is that users could screenshot videos without the creator's details shown.
But another big concern comes from advertisers and merchants. Removing the details around the video playback window could negatively affect their business and TikTok's revenue.
It's why TikTok is slowly testing the feature out and is not 100% committed to the idea just yet.
If Clear Mode does ever come to the app, it's possible that it would be available on select videos and not something you could enable in your default settings. But it's up to TikTok to see if this new viewing mode harms engagement metrics or not for them to decide its future.
Want to read this in Spanish?
Spanish Version >>