TikTok Won the Most Downloaded App for iOS To Finish 2021 Strong
1 min 17 sec read
December 03, 2021
Apple has shared a list of the most downloaded apps and games
to top the charts in the U.S., and the winner for 2021 is TikTok!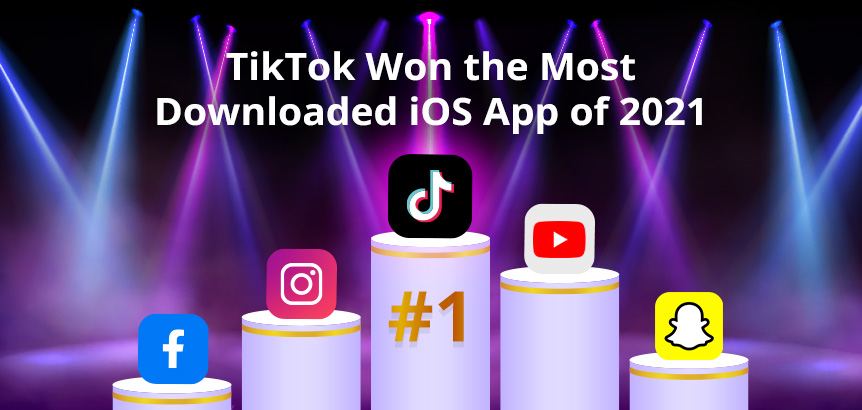 Out of all the free apps, TikTok was number one, followed by YouTube, Instagram, Snapchat, and Facebook.
Data analytics platform,
App Annie, predicts TikTok to reach 1.5 billion users in 2022
and forecasted in-app spending to hit $9 billion for social apps in general.
Analysts at App Annie said, "TikTok has grown at a rapid rate compared to social-media rivals in 2021, even after it was banned in India in June 2020." The company will surpass an active user base that took two years for apps like Whatsapp to accomplish.
TikTok's popularity is attracting more advertising dollars these days and could carve out time away from other video streaming providers like YouTube. Maybe that's why YouTube, Instagram, and Facebook had to come out with their own TikTok clones.
So what does this mean for marketers as we move into the new year? It means marketing on channels that people are paying the most attention to. And with TikTok's audience base, you'll have a chance to be in front of more eyeballs than the current population of China.
TikTok is investing in more shopping features and is on track to be the number one app in popularity by 2022. By preparing your brand now, you'll be ready to boost more brand awareness, traffic and potentially earn leads and sales, especially among the mobile-first generation that is Gen Z.
Their generation is on the verge of complete financial independence, and App Annie complemented that statement with, "this is the time to cultivate customer loyalties on their preferred device: mobile."
And with live streamers promoting products on TikTok, the company is predicted to surpass $3 billion in global consumer spending. So get ready marketers, if you understood the assignment, 2022 is the year to expand your growth.
Want to read this in Spanish?
Spanish Version >>