TikTok's Videos Have Expanded to 10 Minutes
1 min 35 sec read
March 02, 2022
TikTok expands video length to ten minutes
.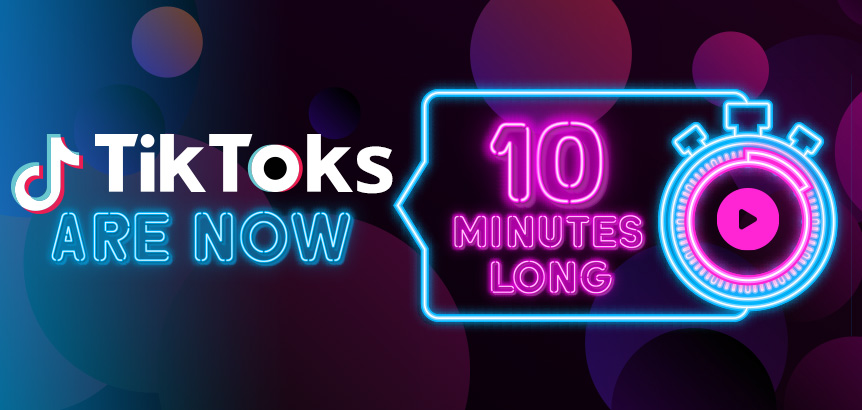 And that's the end of today's 3MDD.
Have a great one, everybody.
But seriously, that's what the company rolled out on February 28th, 2022.
Today's 3MDD has more to do with what TikTok is trying to do. They're trying to compete with YouTube.
Right now, it seems as if TikTok is moving further away from being a short-form video social media platform. In July of 2021, videos were expanded to three minutes. Now, this is the largest increase in video length to roll out globally.
This move by TikTok allows them to better compete with YouTube's Shorts and their long-form content. Longer videos on TikTok could also allow them to attract older audiences that normally gravitate to YouTube's lengthier content.
Ten minutes seems like a sweet spot for long-form videos. And it could boost engagement on the TikTok app.
But it could also hurt them.
These days, we've got short attention spans, and that's what we love most about TikTok's short-form, ADHD-style of digesting content. We love the endless scrolling and consumption of quick content.
Could longer videos hurt that experience? Maybe.
Another way it might hurt TikTok is how it suggests video content to the end-user.
The app recommends content based on the amount of time you watch videos that are similar in content. Like if you like cat videos, and you watch five 30-second cat videos back to back, that's what it'll recommend on your For You Page every time you open the app.
It's fairly easy to tell the level at which you are engaged with shorter videos.
With longer videos, it'll be a challenge to find the sweet spot of algorithmic data that can tell TikTok that said person was overall engaged and therefore recommend similar content. So it'll be a balancing act for TikTok's engineers to get it down.
What's funny about all of this is that other social media companies have their own TikTok short-form video content platforms. Facebook and Instagram have Reels, YouTube has Shorts, and even Snapchat has what it calls Spotlight.
We'll see how TikTok will be able to pull off longer videos. Longer videos are easier to monetize, but how will users feel about the vertical format? People are used to binging shorter videos in a vertical format. So it's up to TikTok to get it right.
Want to read this in Spanish?
Spanish Version >>