Twitter Now Lets All Spaces Broadcasters Record Their Chats
1 min 16 sec read
January 14, 2022
Twitter now lets everyone record chats on Spaces
, and it's available for both iOS and Android devices.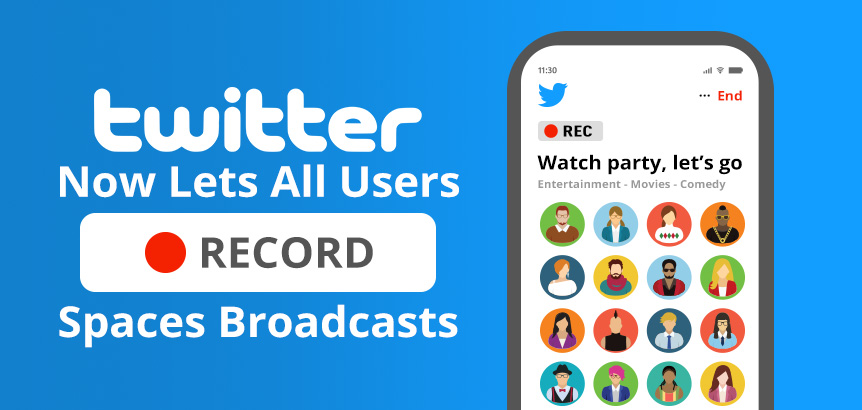 The ability to record your group chat among your fellow Twitter followers adds additional value to Spaces.
Here's why. After you record a chat session in Twitter's Spaces, you can reshare it to create more buzz about it. And you can repurpose the recording with other chat recordings and get pretty creative in how you use them.
To start recording, all you have to do is toggle the "Record Space" switch to on, and when you end your chat, you'll press "Yes, End" to save. It's that easy. And those in your chat group will be able to see that the recording is in progress, and the host can stop it at any time.
Once your recording is done, it'll live on Twitter for 30 days, and you as the host have the option of downloading it. You can add these recordings to your podcast or help promote upcoming shows, content, and other uses.
Twitter has been focusing on Spaces as a key to generating more users and engagement on the platform. The company has rolled out a few features recently, and as it stands, not that many of them have caught on; however, there's a lot of potential in audio-social media content.
Let's see how Twitter's new CEO, Parag Agrawal, who replaced Jack Dorsey, takes Spaces to the next level. The challenges he'll be facing are moderating the content, so they aren't any bad vibes going on and maximizing interest for people to even want to use Spaces.
Who knows where they'll take it. Maybe they'll add the ability to record live audio streams on Twitter, kind of like a live recording session of a podcast. All we know is that they're giving Clubhouse (an audio-social platform) another reason to step it up and gain traction.
Want to read this in Spanish?
Spanish Version >>