Twitter May Launch Podcast Tab, Facebook Campus Shuts Down, and Instagram Adds Automated In-Feed Video Captions
1 min 15 sec read
March 03, 2022
March is in full effect, and this 3MDD is a wrap-up on what's new and what's going down when it comes to the "Big Three" social media platforms: Twitter, Facebook, and Instagram.
Let's start with what's going down.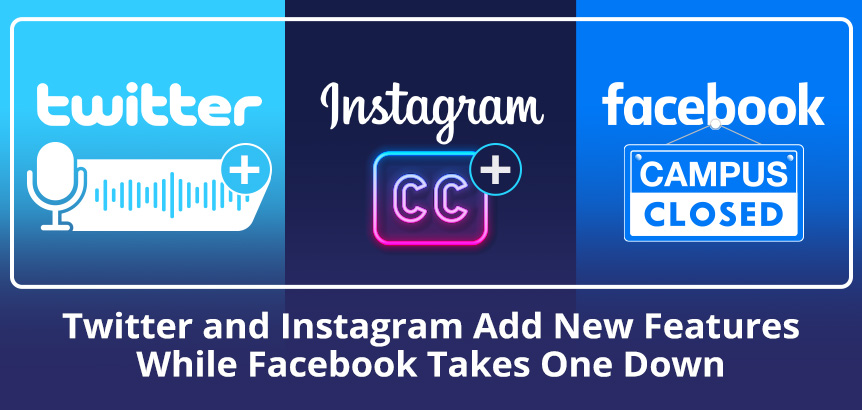 Meta announced the closure of Facebook Campus
, which was an internal social network for schools and universities if you didn't know.
Facebook Campus was like the 2005 version of Facebook when it first came out.
It launched in September of 2020 and worked like Facebook Workplace, meaning there were separate networks for each college campus/school for students to communicate and build bonds among students.
But it turns out Facebook Campus didn't catch on with the youth; we're confident they already have enough social media platforms to connect on as it is.
Instead, Meta recommended users on Facebook Campus college-specific Facebook Groups as the company announced the closure of the app for March 10th.
Next up!
Instagram launched automated caption for in-feed videos
, which gives you, or those with accessibility needs, another avenue of consuming content.
It's been one of the most highly requested features for the app.
You'll be able to switch to auto-captions for any Instagram feed post. Creators now can add automated captions within any element of the app (Reels, Stories, etc.).
Now you'll be able to maximize viewership for those who like to view content with or without sound. And the auto-captions will initially be available in 17 languages.
Moving outside of Meta's owned apps,
Twitter is working on a podcast tab
within the app.
If you're into podcasting, the feature will be available via both the app's side and lower function bars and possibly on the navigation bar.
Twitter is still testing this feature out, but this could be their big move to push more users into the podcast space—as if we need more podcasters, just kidding.
Want to read this in Spanish?
Spanish Version >>