U.S. Government Proposes Bill To Limit Targeted Advertising
1 min 25 sec read
January 20, 2022
Many big tech players aren't too happy right now as a
new privacy bill would put major limits on targeted advertising
.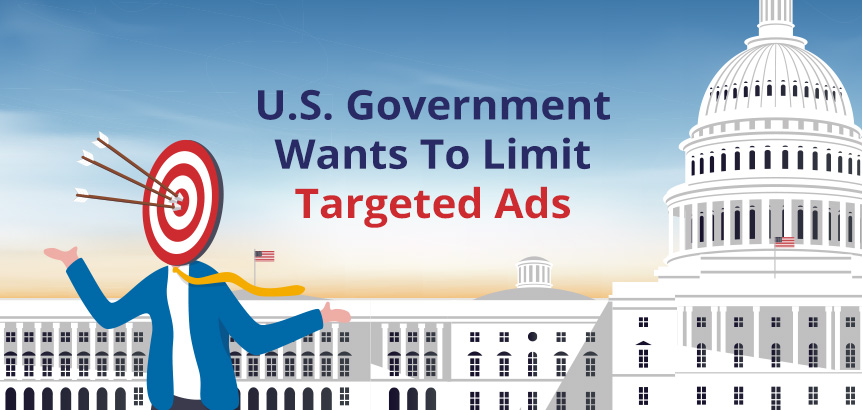 The Banning Surveillance Advertising Act was introduced by Reps. Anna Eshoo (D-CA) and Jan Schakowsky (D-IL) in the House and Cory Booker (D-NJ) in the Senate. This bill could dramatically change how tech companies serve ads to people, preventing them from using personal data.
This could disintegrate the targeted advertising model as a whole due to concerns about consumer privacy.
And that's because this bill limits the amount of "protected class information, such as race, gender, and religion, and personal data purchased from data brokers" that advertisers use to learn about their target audience. This proposal could make that type of information off-limits.
But, tech platforms could still allow the targeting of users based on their location at the city/state level or deploy "contextual advertising" techniques and show ads based on similar content that the user was interacting with.
Let's say if this bill were to pass, then the FTC and state attorneys generals can enforce violations that can result in fines of up to $5,000 for every known infraction.
Rep. Eshoo calls this advertising business model "surveillance advertising."
She then said, "This pernicious practice allows online platforms to chase user engagement at great cost to our society, and it fuels disinformation, discrimination, voter suppression, privacy abuses, and so many other harms." Others in the senate that support this bill called these advertising models predatory and invasive.
Now the tech companies that aren't too happy are the ones we use every day for search (Google) and social media companies like Meta. On the flip side, the tech companies that are backing this bill are the ones that promote privacy.
Private search engine company, DuckDuckGo is backing the bill along with Proton, the creators of ProtonMail. Other organizations include the Electronic Privacy Information Center (EPIC), the Anti-Defamation League, Accountable Tech, and Common Sense Media.
This is a story to definitely keep tabs on since the legislation was recently introduced to Congress. Stay tuned for future 3MDDs that cover more on this story because the EU is also considering banning targeted ads.
Want to read this in Spanish?
Spanish Version >>