Watch Out Copywriters, HAL's Coming for Ya (Or So They Think)
1 min 56 sec read
August 21, 2021
Tech is advancing so fast that humanity might end up mirroring the movie
Wall-E
, with us not working as hard anymore.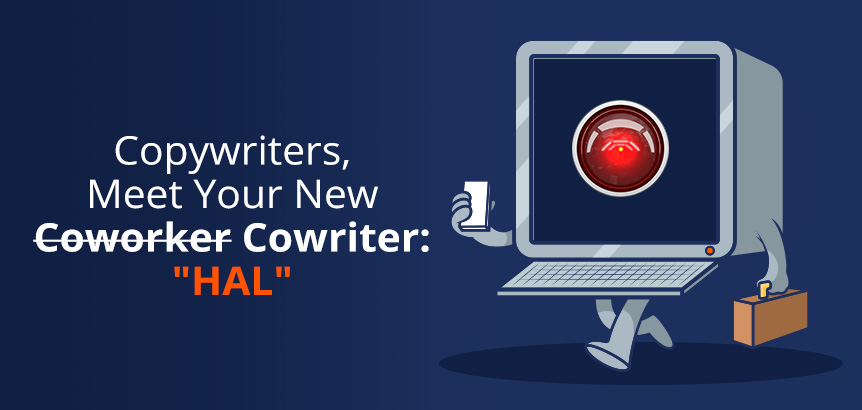 We've got robots flipping burgers at McDonald's, and lately, you're seeing
AI writers crunching copy for brands
and other AI tools finding their way into the digital marketing world.
We threw in "WebFindYou" and the first sentence off of our "About Us" page into Copy.ai's text generator, and this is what we got out of 16 versions.
"It's really difficult to get started with Digital Marketing. Most companies know they should be doing digital marketing. But then it gets complex and confusing, and they don't know how to do it all."
Not sure how we feel about that; let us know below in the comments, but Copy.ai isn't the only company out there with a copywriter tool.
Jarvis, Copysmith, Wordsmith, Wordtune, Writesonic are just some examples of other companies on the market with copywriter tools. And there are many more similar tools out there. By the time we finish naming them all, an AI writer will have already written the next five "3 Minute Digital Digest" articles!
So what's behind the software?
A lot of these programs are built using OpenAI's GPT-3 language models. GPT-3 is one of the most advanced language models, trained to know a trillion words.
It doesn't fully understand context like a human, but it can predict text and identify patterns to repeat and output natural human-like language.
Copysmith CEO Shegun Otulana said, "We want to humanize AI. We want to help you start from something, and not a blank slate." He wrapped up saying it's not meant to take a marketer's job away but only help—sure, "help" today, but replace us tomorrow—just kidding.... hopefully.
People assume tools like these will replace writers, but Otulana expressed that they can help if you're not trying to make a human connection in your writing.
Like if your job is to solely write things such as product descriptions, for example, then it might be a threat.
However, he said software can never tap into the emotional aspects of writing relatable and storytelling copy that connects with an audience.
So these tools aren't meant to replace copywriters, but they help if you're ever stuck on writing a blog, product description, or even a tweet.
If you need to turn and burn multiple social media posts, AI copywriting tools can help write your posts in volume, and you just edit them from there.
If you're writing headlines, drafting blogs, and just getting into the rhythm, these tools can speed up the brainstorming and copywriting process to almost half, so who knows where the future is headed.
Our take on copywriting tools is that they're viable options for those who need to crank content in mass, need a starting point, or a little help after a night of consuming one too many.