What the Tweet Is Going On?
1 min 50 sec read
August 24, 2021
A whole lot is going on with Twitter lately. So we're rounding up the stack with a quick rundown of "What's happening?" in the Twitterverse!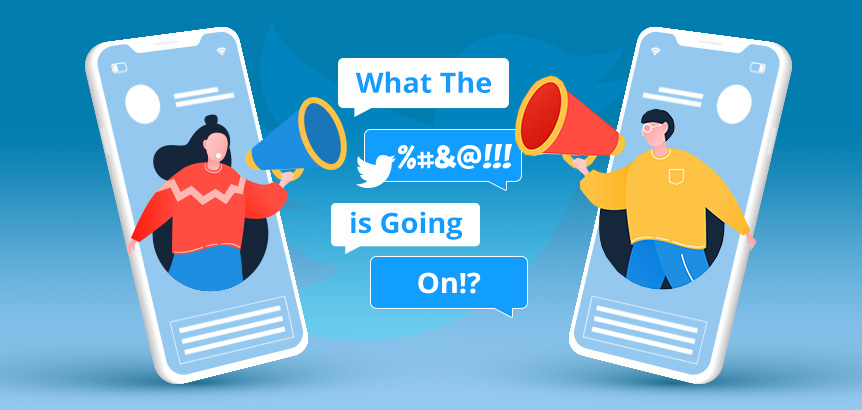 If you've logged on to your Twitter account lately, you've definitely noticed many of the UI changes they've done. But
Twitter's new interface has people feeling "big mad."
Notice anything different?

Today, we released a few changes to the way Twitter looks on the web and on your phone. While it might feel weird at first, these updates make us more accessible, unique, and focused on you and what you're talking about.

Let's take a deeper look. 🧵 pic.twitter.com/vCUomsgCNA

— Twitter Design (@TwitterDesign) August 11, 2021
Earlier in August, many Tweeters woke up confused when they logged on to find a drop in followers. Twitter users had mistakenly pressed the wrong button only because Twitter had made an accessibility change on their "follow" buttons.
The long-short is that Twitter made the background color of the "following" button status the same as the app's background.
Essentially the white-on-white button caused a flurry of unfollows by mistake. It was a knee-jerk psychological reaction that caused the frustration, which had many people wondering "why!?"
i dont care about the font but the follow button changing to filled in when you aren't following is very confusing. why

— Bec Shaw (@Brocklesnitch) August 12, 2021
Here's an example of the change, so you can see why everyone was so mad.
The follow and unfollow button states should be reversed and you cannot change my mind pic.twitter.com/LhnIbmmxoP

— Kelly Vaughn 🐞 (@kvlly) August 12, 2021
Another new thing Twitter announced was their own patented font family called "Chirp," back in January, and it went official on August 11th.
So, that brings us to "Chirp", our first ever proprietary typeface. pic.twitter.com/cHPXtGHNCc

— Derrit DeRouen (@DerritDeRouen) January 27, 2021
According to Twitter's blog post, "Chirp strikes the balance between messy and sharp to amplify the fun and irreverence of a Tweet, but can also carry the weight of seriousness when needed."
The font comes in regular, black, bold, and features an easter egg when you type: "[CHIRPBIRDICON]" to output the bird logo.
Twitter is going through something, obviously, but they're rebranding the entire app's look and feel. They've updated colors to have a higher contrast with less blue.
According to a
thread posted by Twitter's design account,
photos and videos will have a change that draws more attention to them.
In other news, Twitter rolled out its "Spaces" feature in May, similar to Clubhouse, a social media app that focuses on live conversations, and Twitter has made some recent upgrades to their version of it.
They've updated their API,
making it easier for other apps to point to Spaces
outside of the Twitter app.
Twitter has allowed the main host to add co-hosts who can act as moderators and manage rooms. A Twitter Space can have two co-hosts, and they can only invite speakers, remove guests, manage requests, pin Tweets, and other functions. As it stands right now, the main host can end the convo but co-hosts cannot.
Hopefully, these new features will make it easier to manage large rooms. Too bad Twitter can't manage how people feel about their UI changes.