What To Expect From Social Networks This Holiday Season
2 min 03 sec read
November 05, 2021
Tis the season to be jolly and for brands to prepare themselves for the holiday rush and make sweet holiday deals come true!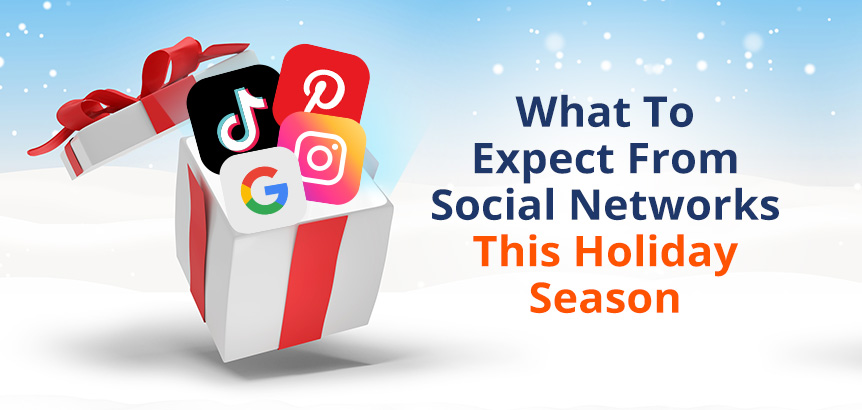 So let's wrap this up like a gift and break down what you should expect to see this season—starting with Instagram.
Spend the holidays with Instagram Shop's live streaming feature
as the company runs soft launches this month, Nov. 5, 12 and 19.
Many lifestyle, beauty and fashion brands will be rolling out exclusive product drops and discounts during IG's Holiday Pop-Up Shop LIVE series throughout Dec. 5–15! So expect to see famous influencers and celebrities engage with viewers and pique their interest to buy products on the spot.
Now let's see if TikTok outdoes their social network copycat. Oh wait, they did. They were first to launch live shopping back in September.
Instead, they created an ecommerce holiday guide for brands to prepare for these final months.
You can review their guide on
how brands can take advantage of Black Friday and the holiday season on TikTok's blog post
to prepare yourself. They suggested getting started early—like yesterday—to promote longer-running campaigns for the seasonal rush.
Here's a tip they mentioned in their guide. TikTok noticed that brands that sold clothes, personal care items and gifts, gaming devices, and electronics were more likely to be bought by TikTokers through Black Friday deals. We'll put a
pin
on spoiling the rest of it for you, so let's talk about Pinterest.
Things aren't too jolly for Pinterest ever since they lost over 10 million users who prefer to shop physically as COVID restrictions eased; however, revenues were up by 43%—so it's not all bad.
To attract more users, they're
launching a new holiday marketing hub to assist with campaign planning
for advertisers and business owners; their hub provides routinely updated resources and guides to help you market on Pinterest.
By the way, they also hopped on the live stream shopping bandwagon and added it to their newly launched Pinterest TV feature in their app.
Last but not least, and we mean that.
Because you can google well-known platforms with ecommerce features to see what they're up to this holiday season; there are too many to list in under 3 minutes but a perfect segue to end this #3MDD.
Google has added a new business display and connection option for the holiday push
, so businesses can easily claim and verify their Google My Business profile.
This means you'll be able to connect your shop directly to Google Search or Google Maps app if you have a physical location. Once you're verified, just enter the details about your business and that's it.
They're also letting you message your customers directly from Google Search and have added new metrics for inbound customer calls and other features.
Google plans to retire Google My Business in 2022 and rebrand to "Google Business Profile." Local shops will be able to manage their listings directly on Google Search and Google Maps. They plan to provide more tools for smaller businesses and phase out the need for a separate app.
Want to read this in Spanish?
Spanish Version >>