From Rage Shakes to More Stickers for Stories, See What's New on Instagram in November
2 min 16 sec read
November 17, 2021
It's been another busy month for Instagram when it comes to new features.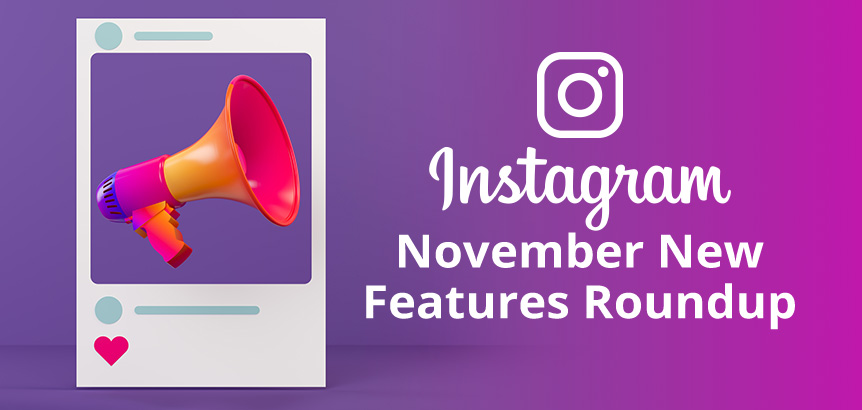 By now, you've probably noticed the 'Add Yours' sticker all over your Instagram Stories. The sticker rolled out on Nov. 1 and
is a way of boosting engagement on Stories by prompting users to add their own image
onto threads of varying themes. One example you might've seen with these custom stickers on Stories is the "Outfit of the Day" (#OOTD) trend. You can keep the thread going by adding your outfit to your own Story and seeing others who followed suit.
Once a user posts their "Add Yours" response on their Stories, the people who view the post can then reply with their own post on their page—continuing the thread to their followers.
The feature is pretty easy to use. Users just have to click on the sticker, and they will be directed to a page where they can view all of the public submissions to a particular thread they clicked on.
You can skip this step by pressing the blue button labeled Add Yours at the bottom of the sticker. There you can directly post photos without being redirected to a different page.
Next up in the line of new stickers is a possible "Like" sticker that may soon be coming to Instagram Stories.
A Twitter user first spotted the feature
, but Instagram hasn't confirmed it yet.
According to tl;dr marketing
, "the feature was likely discovered by reverse-engineering the app to find hidden features and security vulnerabilities, so while it's possible this may come up as a feature in the future, there is no guarantee that it will."
Instagram has been looking at new ways of boosting engagement on Stories, so a Like sticker would make sense. But for now, we'll just have to wait and see. Fingers crossed!
Onto the next new feature! Ever felt frustrated by technical issues? Well,
Instagram is now letting you rage shake your phone to report a problem
.
This was definitely needed a few weeks back during the massive social media outage that took place around the globe.
So how does it work? If you're on the Instagram app and something isn't working properly, you can shake your phone, and a prompt will pop up. It will ask you if something went wrong and then allows you to report the issue.
Instagram head Adam Mosseri said, "You can explain exactly what happened, how you ended up in that place, and all of the emotions and feels that you've got going on, and we'll have someone take a look at it."
Last but not least, when it comes to November features,
Instagram now lets you delete an image from a carousel
without deleting the entire thing. Finally!
All you have to do is click on the three dots menu at the top right, press edit, go to the photo you want to get rid of, and there will be a delete icon that lets you remove the image from the carousel.
You'd think that this feature would have come out long ago. Still, Mosseri said himself that this is a "finally" feature, saying, "It's something users have been asking for, and the company finally got around to shipping it."
And that's a wrap on Instagram's new features for November. We're sure there is much more to come, so stay tuned for the latest updates.
Want to read this in Spanish?
Spanish Version >>