Whistleblower Claims Twitter's Cybersecurity Policies Were Careless
1 min 09 sec read
August 25, 2022
Elon Musk may have a reason to celebrate in his attempt not to buy Twitter after all.
This week, an
ex-Twitter exec blew the whistle, alleging reckless and negligent cybersecurity policies
.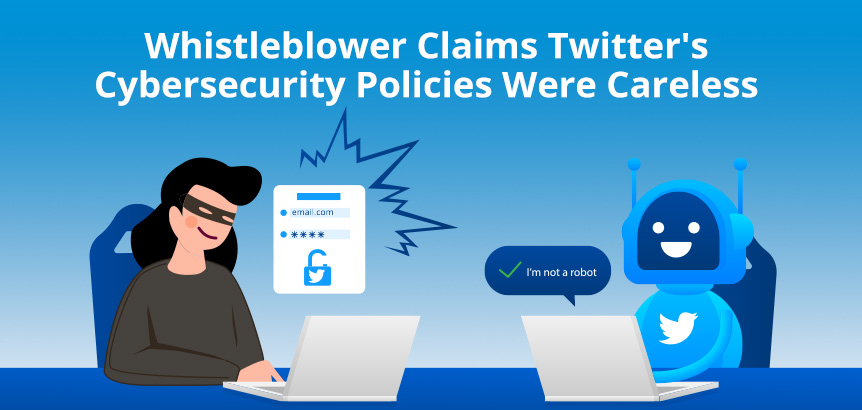 The whistleblower goes by Peiter "Mudge" Zatko.
He was Twitter's head of security and reported directly to the board and CEO at the time of his employment.
Zatko is claiming a slew of allegations against Twitter.
His 84-page report to Congress and a few federal agencies allege that Twitter's leadership and teams acted irresponsibly, and for years, the social network has been riddled with security and privacy flaws.
But that's not all!
He accuses Twitter of having security vulnerabilities that open the door to hacking and that one or more employees may be foreign spies. Zatko said that Twitter doesn't consistently delete users' data when they shut down their accounts.
And the convenient allegation for Musk made by Zatko is that the company does not have enough resources to accurately count the number of bots on Twitter. He claimed that the board wasn't interested in doing so either.
During his employment, Zatko voiced his concerns and offered his insights with solutions to help fix Twitter's security issues, but he was dismissed.
He was fired for "poor performance and ineffective leadership," and that's when he went to the Whistleblower Aid organization.
Twitter denies Zatko's allegation and says his claims are inaccurate, inconsistent, and opportunistic (Musk's reason to celebrate).
Twitter states that security and privacy are a company-wide priority and will always be. However, Zatko will appear next month in court on September 13th to testify in Congress about his complaints and claims.
We'll keep you posted on the never-ending drama surrounding Twitter vs. Musk. Until next time...
Want to read this in Spanish?
Spanish Version >>