YouTube Brings Shorts to TVs
1 min 15 sec read
November 08, 2022
We've got exciting news if you use your TV like a phone.
YouTube is bringing Shorts to the big screen
—or small, depending on the size of your television.
And we'll walk you through how it'll look on your TV and which models will have YouTube Shorts. Also, what this means for content marketers trying to reach more eyeballs on this platform that's giving TikTok competition.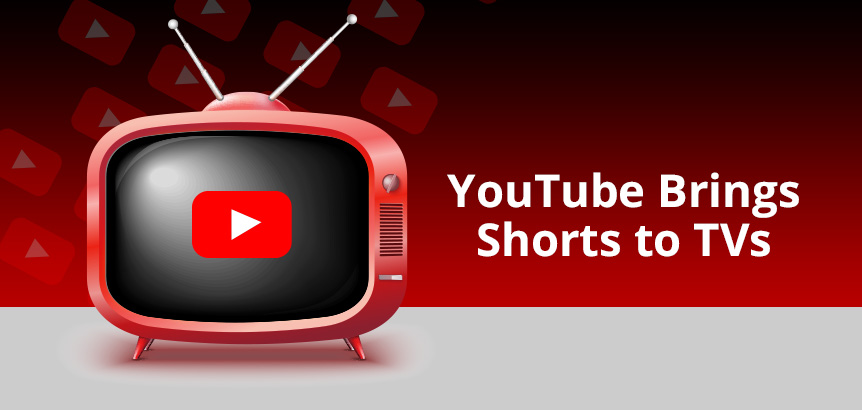 Ok, without seeing it, you can imagine that adopting vertical format videos to fit a TV's screen would need to be thought out.
Otherwise, all you would see are huge black bars of negative space on the sides of the video, which you might as well watch Shorts on your phone.
So, YouTube Shorts will be placed vertically in the center of the TV with a white border around it and a background that matches the video's main color.
Unlike watching Shorts on your phone, where it plays automatically and keeps scrolling downwards, instead, you'll swipe through content using the "up" and "down" arrows on your remote control.
YouTube Shorts will be coming to television models made in 2019 and later. YouTube plans to launch Shorts on the newest gaming consoles too!
But why is YouTube launching Shorts for TV, anyways?
Well, the numbers behind how many people watch Youtube on their televisions back it up—that's why!
In July 2022, YouTube TV earned 5 million subscribers, and last year over 120 million people watched YouTube videos on TV.
Viewers watching YouTube Shorts on TV means that you, as a creator, can get more content out there on an established media channel. Who doesn't watch TV?!
You could repurpose Instagram Reels or TikToks and share them as YouTube Shorts for the telly! You can run paid ads there and work with influencers to create YouTube Shorts to show on TV.
It's brilliant, and we can't wait to try it!
Want to read this in Spanish?
Spanish Version >>