ClearVoice Speaks with WebFindYou's Founder and CEO about Customer Retention Strategies
January 21, 2021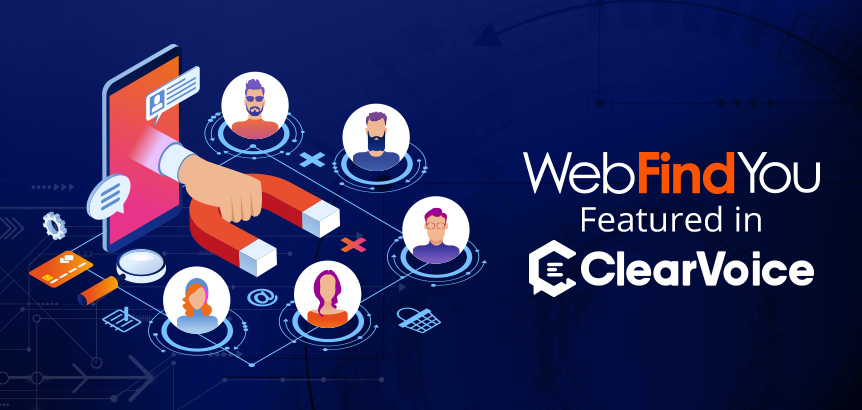 Having a proper customer retention strategy in place is a hallmark of a successful company, greatly contributing to the long-lasting viability of a brand. What is customer retention? Customer retention is a company's ability to keep customers coming back to your brand as purchasers and advocates through a myriad of marketing strategies. It's of vital importance because the higher the retention rate, the greater the percentage of sales from returning customers, which can lower the dependence on new customer acquisition, thereby potentially lowering overall marketing costs. Furthermore, with higher customer retention, you'll have a larger loyal fan base that will promote your brand and help you drive more customers at no cost to you because they are satisfied with the brand's customer journey, products and/or services.
Robert Blankenship, Founder and CEO of WebFindYou, recently sat down with ClearVoice to discuss the do's and dont's of customer retention strategies, as well as examples of successful customer retention strategies.
Here is Robert's advice:
Three Do's for Customer Retention Strategies:
1) One of the main ways to increase customer retention is by making the customer feel special and that their needs and wants are always first. Let them feel like they have a voice. Listen to their needs and wants and show them you are listening. For example, if you are a shoe designer and your customer wants a shoe in a particular color that you don't currently carry, consider creating a custom shoe to fit their needs. Don't let customers take advantage of you, but make them feel special. Loyalty/repeat business discounts are great incentives to boost customer retention. Transparency is also key. If you screw up or if they aren't happy, then make it right.
2) Ensure quality products and services. If your product and/or service is not quality, then your customer will not be happy and customer retention will go down.
3) Maximize communication channels. The bottom line is that a major way to increase customer retention rates is to optimize and personalize your website for the buyer's journey, utilize and personalize email marketing campaigns, create impactful social media content, humanize your sales outreach, and run quality paid ads on social or search. Create online content that resonates, entertains, educates, and helps others through compelling copy, imagery, and video content. This year and the years to come will show how consumers expect a seamless experience and consistent interaction across multiple marketing channels, even the experience of visiting your physical location should be consistent.
Three Don'ts for Customer Retention Strategies:
1) Don't think you know everything. Listen closely to your customer. At the end of the day, a business is only as strong as its customer base. If a customer has a suggestion of something they would like to see from your brand or a way you could improve, you should consider what they have to say and whether or not it could be truly beneficial for your business. This shows that you have their best interests in mind, which is crucial for customer retention.
2) Don't mislead customers or make them feel they are simply being sold. Let your quality products or services sell themselves. There are too many companies selling a bag of goods to people and not delivering on promises. Customers don't respond well to this. They want quality and transparency, period.
3) Don't sell your customers defective products or services. Sometimes, a product doesn't work properly or may be defective. It happens. But if you come across a situation where you're getting multiple customer complaints about similar product issues, then you need to pull the product and go back to the drawing board. Knowingly selling defective products or services to make a quick buck rather than taking the time to investigate the issue doesn't reflect well on your brand and will severely impact your customer retention rates.
Three Examples of Effective Customer Retention Strategies:
1) Maximize user experience. A good strategy for companies and marketers is to maximize the user experience to increase customer retention. This can be done through personalization and enhancing your website to create a better and more streamlined user experience. Eighty percent of consumers would rather engage with a brand that offers a personalized experience, and this goes for both B2C and B2B clients. Building digital experiences catered to specific buyer personas is the key to enhancing the digital experience in 2021 and boosting customer retention. An example would be building custom landing pages that display only to certain IP groupings based on their location with content that's locally flavored. Custom landing pages could be used in parallel with email marketing campaigns that are personalized with content for each user to increase conversion rates.
2) Discounts and referral reward programs are a good incentive. Have you ever been frustrated because you added something to your shopping cart online and couldn't find a discount code? You most likely abandoned your shopping cart and tried to find a similar product elsewhere for a cheaper price. Discount codes and referral reward programs are a great way to convert a looker into a buyer and boost your customer retention rates. Customers like it when they can get a price cut, even a slight one, on a brand or product they love.
3) Conduct surveys and use your customer base as a focus group to improve your current product line or service offering. Surveys can also help you determine what additional products and/or services you should provide. With most businesses, there is a target demographic that the company is trying to attract. Determining what marketing efforts will resonate with your target audience can be difficult, as what works for 18-25-year-olds may not work for the 40+ age range. A great way to find out which marketing efforts stick and align with your target audience is by conducting surveys. Identifying the things that resonate with your target demographic will help you to attract new customers and retain the customers you already have because your brand aligns with their needs and wants.
Read the full
article here.