WebFindYou Goes Pink For Breast Cancer Awareness Month
2 min read
October 01, 2021
International Breast Cancer Awareness Month begins today and runs throughout the month of October. To raise awareness and show our support, WebFindYou will be adding a pink ribbon to our logo on our social media profiles and websites across all countries and languages in which we operate. The pink ribbon is a symbol of hope, strength, and unity.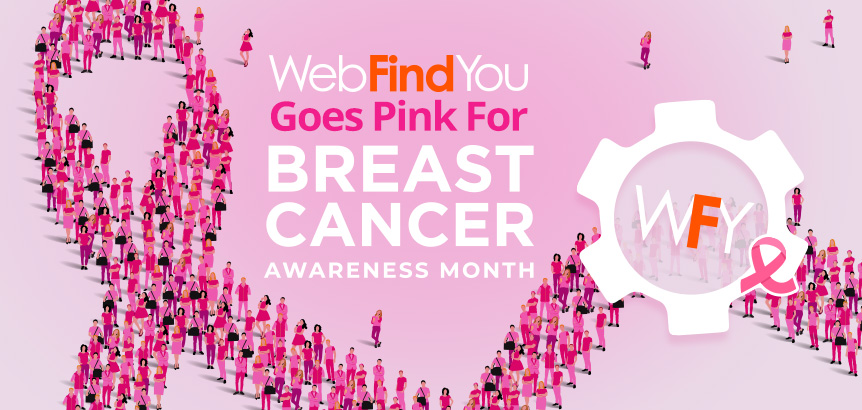 Breast cancer is the most common type of cancer affecting women worldwide, and it affects men too.
How common is breast cancer?
In 2021, there were 281,550 new cases of invasive breast cancer diagnosed among women and 2,650 new cases of invasive breast cancer diagnosed among men in the U.S.
Luckily, breast cancer is treatable when detected early, and with regular screenings, you can help lower your breast cancer risk. A large majority of people have had breast cancer touch their lives in some way, whether they've personally been diagnosed or have had a friend or family member who has been diagnosed.
Making sure you get regular screenings for breast cancer is so important. To further stress this, we've highlighted some critical
U.S. Breast Cancer Statistics provided by breastcancer.org
.
About 1 in 8 U.S. women (about 13%) will develop invasive breast cancer over the course of their lifetime.
A man's lifetime risk of breast cancer is about 1 in 833.
About 43,600 women in the U.S. are expected to die in 2021 from breast cancer.
For women in the U.S., breast cancer death rates are higher than those for any other cancer, besides lung cancer.
Breast cancer is the most commonly diagnosed cancer among American women. In 2021, it's estimated that about 30% of newly diagnosed cancers in women will be breast cancers.
Breast cancer became the most common cancer globally as of 2021, accounting for 12% of all new annual cancer cases worldwide, according to the World Health Organization.
In women under 45, breast cancer is more common in Black women than white women. Overall, Black women are more likely to die of breast cancer. For Asian, Hispanic, and Native-American women, the risk of developing and dying from breast cancer is lower. Ashkenazi Jewish women have a higher risk of breast cancer because of a higher rate of BRCA mutations.
A woman's risk of breast cancer nearly doubles if she has a first-degree relative (mother, sister, daughter) who has been diagnosed with breast cancer. Less than 15% of women who get breast cancer have a family member diagnosed with it.
About 85% of breast cancers occur in women who have no family history of breast cancer. These occur due to genetic mutations that happen as a result of the aging process and life in general, rather than inherited mutations.
In addition to donning the pink ribbon for the month of October, we will be donating to the Susan G. Komen Breast Cancer Foundation, which has been raising awareness and funding research into the causes and treatment of breast cancer since 1982.
If you'd like to join the fight and help save lives, you can head over to the
Susan G. Komen website
to donate what you can. Stay safe and be well.
Want to read this in Spanish?
Spanish Version >>