Why Digital Marketing Is Important for Small and Medium Enterprises (SMEs)
3 min read
January 06, 2017
Digital marketing has become a necessity in today's Internet-driven world. With over 3 billion Internet users worldwide, one would think that creating a website is a no-brainer for any company that wants to be successful, experience constant growth, and increase revenue. However, many small and medium enterprises (SMEs) think that the online world is out of their reach; perhaps they consider it too expensive, or they don't think it will reach their target market, among other reasons.
The Internet is an essential part of most people's lives, and consumers are becoming more and more accustomed to checking out brands online and on social media before deciding what to purchase. In turn, SMEs that use digital marketing to promote their services or products have a clear advantage over their competitors. Even though it can be challenging for small and medium enterprises to implement digital marketing strategies, it is well worth the trouble. When done correctly, these methods have the potential to generate excellent short- and long-term results. A digital marketing campaign uses the Internet to reach your brand's target market. Search engines and social media platforms have become powerful tools for marketers worldwide. Any kind of business can benefit from them: a local ice cream parlor, a multinational automotive company, and everything in between. It is safe to assume that your target audience uses the Internet and different social media networks to gather information about their consumer needs. You simply need to adapt your marketing campaign to maximize its outreach and get more customers interested in your business.
Here are some of
the advantages of digital marketing for small and medium enterprises
: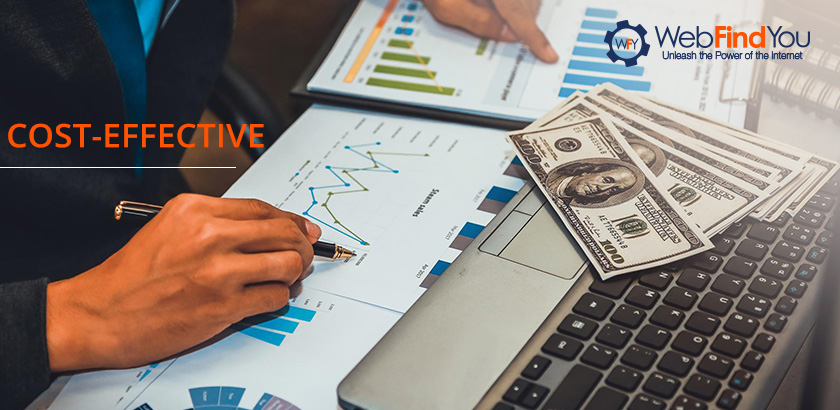 Digital marketing has a higher ROI when compared to traditional marketing since the latter incurs in a lot of expensive costs, which vary depending on the platform. There are three main costs in all traditional marketing strategies: development, production, and publishing costs; this is true for national or regional TV, magazine, newspaper, or radio advertising. Digital marketing, on the other hand, is a lot more affordable. Digital marketing campaigns can be adapted to almost any budget and the cost of media and publishing is virtually reduced to zero, since it is all mostly done through your own website and social media networks. Moreover, there is no need for a long-standing commitment since website traffic channels such as pay-per-click (PPC) and email marketing can be modified or updated on a regular basis. Email marketing is an excellent tool that allows you to reach potential and current customers almost instantly, making the promotion of your brand easier and driving relevant traffic to your website.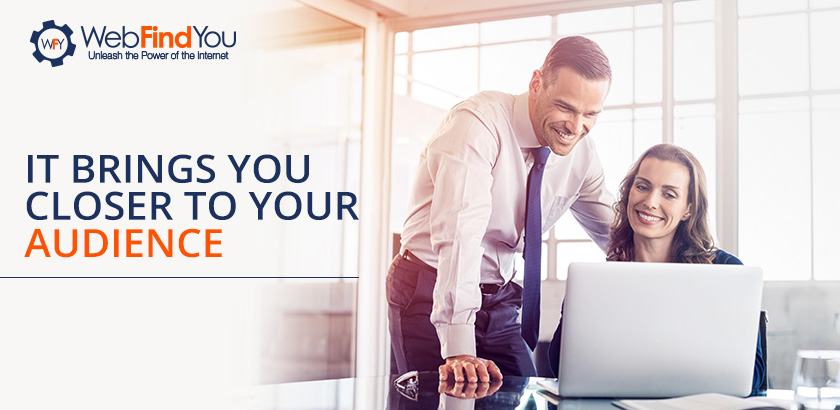 It
brings you closer to your audience
. Digital marketing is designed to draw the attention of your target audience. Content marketing, search engine optimization (SEO), and social media marketing – three pillars of digital marketing – are all about designing a strategy to create content that is relevant to your audience and easy to find. Did you know that 61% of online searches are about products or services? Think about what an optimized website, with high-quality, engaging content and relevant social media posts can do for your business! Interestingly enough, content marketing can generate up to 3 times more leads than traditional marketing strategies, at one third of the cost. Digital marketing campaigns allow you to create brand awareness and to constantly be in touch with your potential customers, gaining their loyalty by leaving long-lasting, positive impressions on them.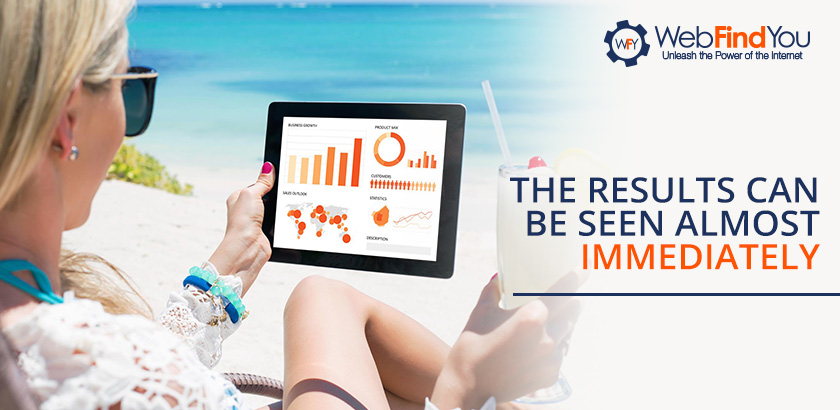 Results – or lack thereof – can be seen almost immediately
. This is closely related to another pillar of digital marketing, which is metrics and analytics. The results of a digital marketing campaign can be measured within hours and sometimes even minutes after it has been launched. A measurement of its success, or failure, can be obtained thanks to tools such as Google Analytics, which let you monitor how the audience is reacting to your strategies practically from the get-go. By using this tool that tracks and reports your website's traffic, you can obtain valuable information that will let you know if you are on the right track. For example, you can learn about the demographic visiting your website, what people are searching for on your site, which campaign is the most successful and has a higher conversion rate, and more.
With this information being just a few clicks away,
it is easier to implement changes and adapt your digital marketing strategy to your target market's response
. You can easily find out what works and what doesn't work so you can shift your marketing efforts and investment towards that. All this can be done in a short time.
If you want to get more digital marketing and SEO technology tips and want to stay on top of the latest digital trends, follow us on
Twitter @WebFindYou
and
Instagram @WebFindYou
, and find us on
Facebook as WebFindYou
.
Thanks to its cutting-edge technology, WebFindYou's all-in-one digital marketing platform can help maximize your company's growth via search engine optimization, content marketing, and more! Are you ready to unleash the power of the Internet? Simply follow these easy to follow steps to get started:
You'll receive an email to access the WebFindYou platform for your website.
Follow the very easy to follow videos to implement WebFindYou for your business.
For questions, please call us at 1-866-SEO-WEBS (736-9327), fill out our contact form, subscribe to our newsletter or follow us on social media to stay informed of everything WebFindYou including webinars and live speaking events.
If you found this article helpful then let us know in the comments section below. Likewise, feel free to share it using the share options below. Want us to cover another topic of your interest pertaining to digital marketing? If so, then like us and follow us on social media, and post to any of our social media profiles the topic you'd like us to discuss:
Facebook WebFindYou
,
Instagram @WebFindYou
and
Twitter @WebFindYou
.