Integrated Email Marketing Is the Newest Feature of the Already Successful and Powerful WebFindYou All-in-One Digital Marketing Platform
This new feature helps clients reach more customers, improve customer-business communication, and turn more website visitors into clients.
Digital Marketing leader WebFindYou has launched the latest version of their All-in-One Digital Marketing Platform to include a fully integrated email marketing tool that will help current and future clients boost their sales. The new tool simplifies email marketing in a way that no provider is currently offering.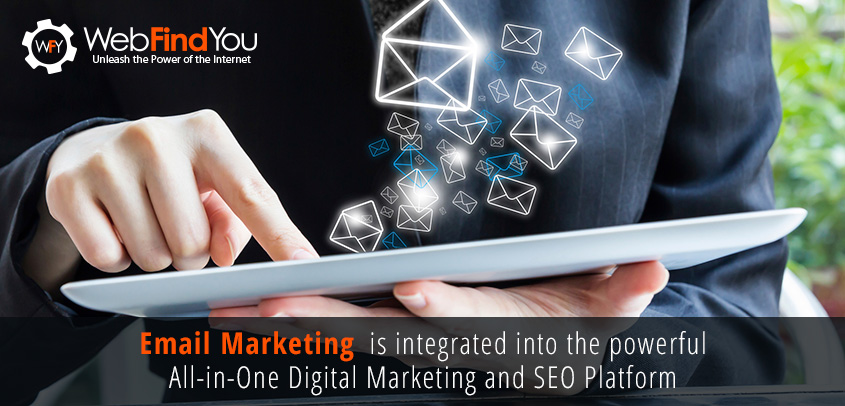 "This tool makes it far simpler to reach all of your leads because now, they are all updated in real-time and located in one place. Clients who need email marketing will no longer have to deal with inconvenient exporting and importing of contacts, which leads to out-of-date contact lists. This saves business owners the one resource they can never get back: time," stated CEO and Founder of WebFindYou Robert Blankenship. "Digital marketing agencies that offer email marketing typically do so via an external provider like MailChimp or Constant Contact, which require multiple steps and do not integrate seamlessly with the lead gathering tools on the client's website. Also, they are limited to the hefty designs by these third party providers. We've gone a step further and integrated our email marketing service to our proprietary All-in-One Digital Marketing Platform – so everything you need is immediately available to you when you want to send out a newsletter or promotion."
The email marketing tool is a part of the WebFindYou Platform, a proprietary All-in-One Digital Marketing Platform created by WebFindYou. The WebFindYou Platform also integrates Ecommerce and a Content Management System (CMS). This comprehensive technological tool provides a concrete foundation for proper search engine optimization (SEO) that can be implemented to any website.
Integrated Lead Gathering
The WebFindYou email marketing feature adds new email addresses based on trackable actions that occur within the website: subscription to receive a newsletter, registered users who have accepted to receive offers, customers who have made purchases on the website, and users who have contacted the business via a form all become part of the website's database and can be included in an email marketing campaign with just one click.
Intuitive Reporting
The WebFindYou email marketing service provides detailed statistics about what happens once the email is sent. Reports go far beyond typical open rate statistics and record exactly where clicks occurred within an email. As such, marketing teams will no longer need to waste time with link tracking or link shortening. In addition to clickable element tracking, the system shows how many people open and re-open the email, how many people click and which clickable elements within the message received the clicks, the time and day said clicks occurred, and more.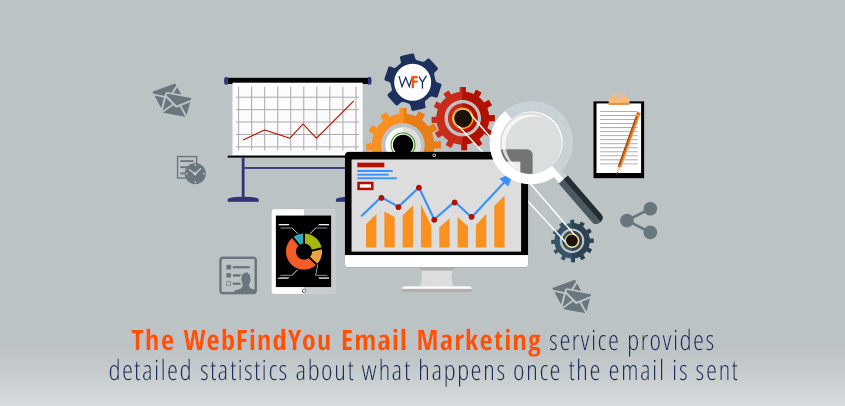 The information gathered can also be used to follow up with customers who have opened or clicked on the email, or to re-send the email after a period of time to those who never opened it. The integrated email marketing tool of the All-in-One Digital Marketing Platform processes unsubscribes immediately, making it easy for your potential and current customers to opt-out. Additionally, they offer integrated call tracking to US-based clients, to identify those customers who called as a result of the email.
Future Developments
This new integrated email marketing tool will be undergoing constant enhancements and developments to save WebFindYou clients even more time and help them increase profits in the future. For instance, in development is an automation feature which will make it possible to set up announcements and newsletters that will automatically re-send themselves to clients who don't open the first email, to those who do not click on any links, and more. Emails will be sent automatically based on new blog posts or press releases on the website. Future features will also include promotional emails for customers who have placed items in their shopping cart but have failed to make the purchase after a specific period of time, offering discounts to incentivize the purchase. The potential to turn visitors into customers and customers into repeat paying customers is endless as this new development evolves into an even more sophisticated tool.
About WebFindYou
WebFindYou is a one-of-a-kind All-in-One Digital Marketing Platform that combines technology and SEO know-how to help businesses maximize the power of the Internet. This All-in-One Digital Marketing Platform can provide cost-effective SEO implementation and management tools that help companies maximize their online marketing campaigns and subsequent return on investment. For more information, visit www.webfindyou.com or call 866-SEO-WEBS.