WebFindYou Adds New Live Chat Component to its Unique All-in-One Digital Marketing Technology
This new component further enhances the value of WebFindYou's technology, which is optimized for increased visibility and conversion rates.
MIAMI - July 2, 2021 -
WebFindYou
is excited to announce the launch of its new live chat component, the latest innovation to its
True and Unique All-in-One Digital Marketing Technology
. This new addition further enhances the value of WebFindYou's technology, which is optimized for increased visibility and conversion rates, while also streamlining communications with existing and potential clients.
The new live chat component further positions the WebFindYou technology as the ideal solution to maximize visibility, leads and sales with optimal conversion rates in mind. Each component of the technology combines to create a conversion machine that empowers users to garner increased brand awareness, financial returns, and gains, all at an affordable price.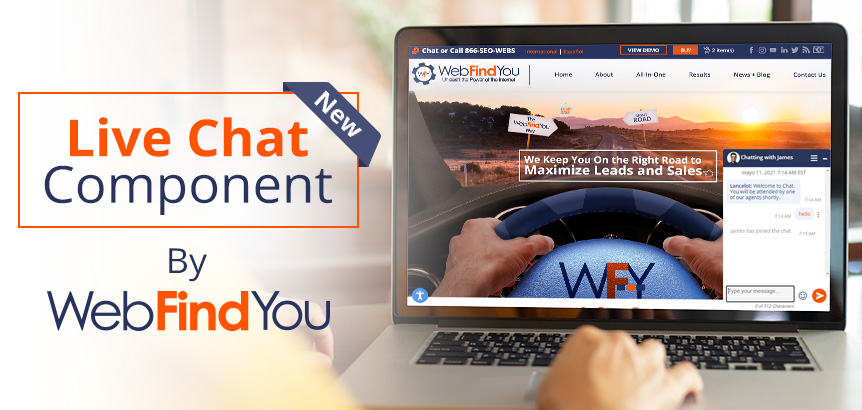 Online customer chats have become an integral part of helping businesses to increase conversions, return on investment (ROI) and return on ad spend (ROAS). According to ICMI.com's article,
The Stats Behind Chat,
businesses with live chat options led to increased conversion rates of up to 40%. Additionally, a recent article on
Live Chat Statistics
by 99Firms found that 63% of consumers who used live chat on a website are likely to return to that site.
As opposed to the myriad of other chat services on the market, WebFindYou's live chat component is integrated into its True and Unique All-in-One Digital Marketing Technology, which therefore, provides better data insights into the customer's journey with a brand. Prior to speaking with a customer, the chat agent receives data insights outlining all trackable interactions that a customer has ever had with the brand, including how they landed on the website, click-through rates on email marketing pieces, engagement with social media posts, shopping cart IDs for ecommerce websites, and more.
This is ideal for companies as it provides them with the behavioral patterns of a customer before they ever speak with them, allowing them to better understand the customer mindset as it relates to products and services. Not only will this help to improve conversion rates for companies, but it will also help to increase repeat customers, purchases and positive online reviews, which will help elevate a businesses' local listing placement and SEO to provide even more leads and sales. Businesses can also start a group chat, allowing cross-departmental teams to collaborate and assist online visitors. This chat component gives customer service and support teams flexibility in handling incoming online chats.
"Our Unique All-in-One Digital Marketing Technology makes every step of the digital marketing process more efficient and easier for users to implement and manage so they can improve their search engine rankings and maximize brand awareness, website traffic, potential clients, and revenues," said Robert Blankenship, Founder and CEO of WebFindYou. "Each new component we develop is aimed at simplifying digital marketing and maximizing leads and sales, and our new live chat accomplishes just that, allowing businesses to stand out from the competition."
Before launching the live chat component, WebFindYou provided its clients with a fully simulated chat option for their websites. If preferred, based on needs and amount of operational support, companies can still opt to only use the simulated chat for communication as well as an offline chat where users can leave a message during off-hours or when personnel is not available.
Companies also have the option of setting predefined messages and responses that chat agents can easily use with the click of a button, allowing businesses to outsource their chat management to customer service centers with confidence in knowing their responses will be handled correctly.
In addition to the new live chat component, WebFindYou is currently integrating a chatbot component that will allow businesses to provide the power of chat but within a hybrid model. A chatbot can begin the interaction with the customer, and a real human will be introduced if necessary. This way, companies can always ensure they are minimizing the required operational support while maximizing conversions via chatbots without sacrificing user experience and customer satisfaction.
For more information on WebFindYou's live chat component and other exciting updates, please visit
https://www.webfindyou.com/news-and-blog/
. For more information about purchasing the WebFindYou technology, please visit
www.webfindyou.com
or call
1-866-SEO-WEBS (736-9327)
or directly
(786) 347-2770
.
Want to read this in Spanish?
Spanish Version >>