WebFindYou Furthers its International Expansion into Chile, The Technical Mecca of Latin America
WebFindYou, the Internet's first All-in-One Digital Marketing Platform, is now available so businesses in Chile can maximize the power of the Internet.
WebFindYou, the Internet's first All-in-One Digital Marketing Platform, has arrived to Chile. The multinational tech company seeks to take advantage of Chile's fast-growing tech ecosystem. The new location is in Santiago, the country's capital, which is quickly becoming South America's new tech hub according to
Savills's report: Tech Cities 2017
.
WebFindYou started in 2009. Its CEO and founder, Robert Blankenship, upon seeing that companies were not taking full advantage of the potential of the Internet to benefit their business, decided to create a tool that would allow them to maximize the power of their online presence. That is how WebFindYou, the Internet's first All-in-One Digital Marketing Platform, was born. Conceived to integrate all the SEO and digital marketing tools necessary to implement true SEO and a successful digital marketing campaign, this powerful platform makes digital marketing implementation easier and allows businesses to get the job done with less hassle, reduced costs, and better results. Their lemma is "WebFindYou manages it, you manage it, you decide!"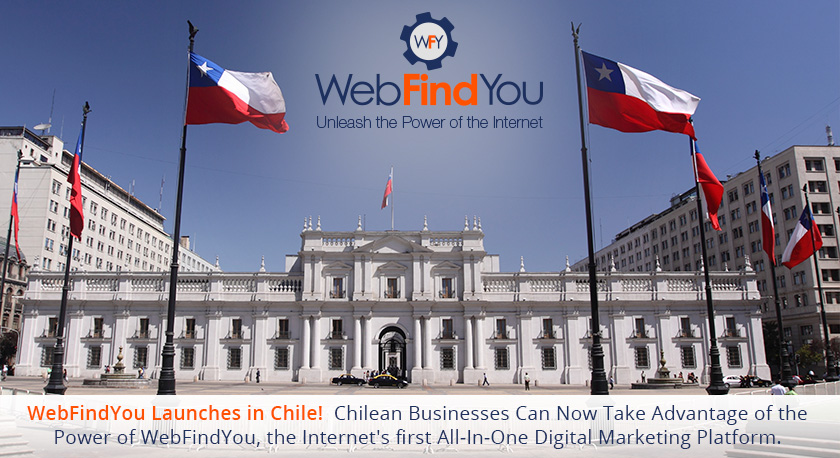 "We already have two offices in Latin America, including Bogotá, Colombia, the other tech hub of the continent. While we were looking to continue our international expansion, Chile was the obvious choice. Santiago is a vibrant city, with a fairly new but ever-increasing tech community and an appealing and growing talent pool. All in all, the technical mecca of the continent seemed like the next logical step. WebFindYou is revolutionizing the way businesses are building, maintaining, and marketing their websites and brands, putting them on the right path to maximize visibility and sales, making SEO and Digital Marketing less complicated and more cost-effective. Our goal is to help businesses achieve their maximum potential in every aspect of digital marketing, integrating all the tools necessary for true search engine optimization and maximum online visibility in one powerful platform. We want business owners to experience what they can achieve when SEO and digital marketing strategies are properly implemented, putting them on the right path, and out of the vicious cycle of incorrect and ineffective SEO implementations that cost money and time. As such, WebFindYou, the All-in-One Digital Marketing platform, has a set of integrated tools that includes an SEO content management system for both e-commerce and informational websites, SEO optimized web designs, email marketing, reputation management (online reviews), URL shortener, keyword ranking reports, CRM, integrated call tracking, additional data and statistics that provide in-depth marketing data and insights to maximize PPC effectiveness and enhance overall marketing and sales strategies. WebFindYou, the Internet's first All-in-One Digital Marketing platform, is continually evolving to integrate any changes that might arise as technology advances and the rules of SEO and digital marketing shift to accommodate said advances; future developments include automated email marketing and a help desk system. The possibilities with our technology are endless," said Robert Blankenship, WebFindYou Founder and CEO, when asked about the expansion to Chile and what WebFindYou brings to the Chilean market.
Santiago ranked 19th in the aforementioned report, and it was one of only two Latin American cities that made the list. WebFindYou is now available for Chilean businesses who are seeking to take full advantage of the potential of the Internet to increase their website traffic, their clientele, and their revenues. This comprehensive tech and Digital Marketing company not only brings their All-in-One Digital Marketing Platform, it also brings along a whole list of additional benefits to those who choose to use their platform. One of these benefits is a team of over 80 in-house professionals in all areas of SEO and digital marketing, including programmers, web and graphic designers, content specialists, social media experts, video marketing specialists, marketers, PPC specialists, and more to help WebFindYou clients achieve their goals.
WebFindYou is the Internet's first and only All-in-One digital marketing platform. Its technology will provide your business with all the tools necessary to implement digital marketing and a complementary team of professionals with over 25 years' experience, who can help you maximize your online visibility, optimize your website for search engines and increase your revenues. If you are in the U.S. visit
www.webfindyou.com
or call
1-866-SEO-WEBS (736-9327)
. For businesses in Chile visit
www.webfindyou.cl
or call (02) 2938 1093.