WebFindYou Helps Businesses Make Data-Driven Decisions With New Survey Component
Built into WebFindYou's powerful All-in-One Digital Marketing Technology, this new component gives businesses valuable insights to help make improvements, drive impact, and stretch their marketing budget.
MIAMI - 09/27/2021 5:00 PM EST - WebFindYou is excited to announce its powerful and
unique All-in-One Digital Marketing Technology
now includes a built-in survey component, which helps businesses make data-driven decisions and achieve success in an increasingly competitive online landscape. The technology is continuing to revolutionize the way businesses, agencies and freelancers market their businesses online and maximize leads, sales, and conversions in the simplest and most affordable way possible.
With the new component, WebFindYou users can now launch surveys on their website and promote them with interstitials and popup banners directly on their website as well as through external sources such as email marketing, social media, and paid media on YouTube, Google Display Network, and more. These different formats will then drive the users to the survey, which lives on their website since the survey component is part of the WebFindYou technology. Administrators can see the stats of the survey in real-time, including how many people took it, demographics, percentage of responses for each question, and more.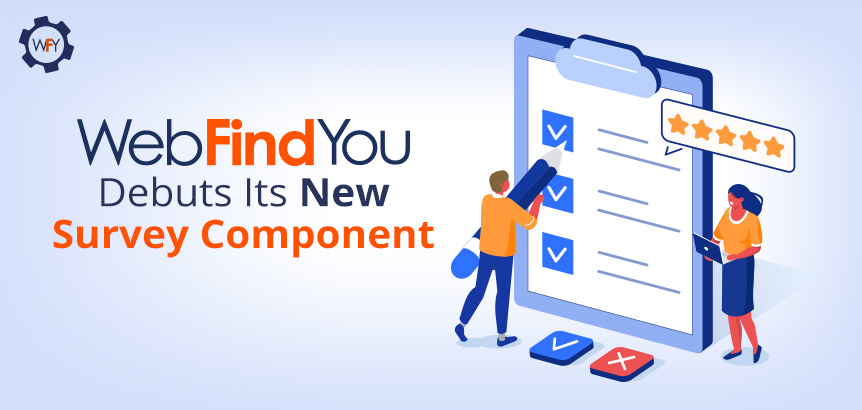 Surveys have become an instrumental tool for companies of all sizes, providing valuable insights by gathering and measuring feedback. This helps companies make informed decisions to better their business, drive impact and, in some cases, even stretch their marketing budget by focusing on what works and cutting out unnecessary expenditures.
The problem with many third-party survey tools currently on the market, like Survey Monkey, is their standard implementation links users to take the survey on the Survey Monkey website rather than directly to the businesses' website that is conducting the survey.
However, surveys launched through WebFindYou will automatically live on the website of the business that launched it without any programming required. This is important because when businesses invite users to take a survey through an e-blast or social media post, the user is guided directly to the businesses' website. This is beneficial for SEO and can help increase website engagement, conversions, and sales. It can also drive more readership to specific pages on a website, such as a company blog, and can help improve customer knowledge of the brand and its products and services.
"Online surveys are an extremely valuable tool for businesses of all sizes," said Robert Blankenship, Founder and CEO of WebFindYou. "It is such a simple, quick, and efficient way to gather important feedback from the heart of your customer base that will help you make more informed decisions when it comes to the products and services you offer, and so much more. Our survey component is truly a step above the rest and is another way that our All-in-One Digital Marketing Technology is helping companies be more successful in a simple and affordable way."
New and existing WebFindYou users have immediate access to the new survey component at no additional charge using the same login and interface that they already use to manage their website with the WebFindYou technology, and all their survey stats live in the same administrative panel.
Another benefit of WebFindYou's new survey component is that it can map survey responses to users who have previously interacted with the company's website and send them specific promotions that match their preferences. For example, if a clothing line puts out a survey asking customers to choose between three belts in different colors, and the customer chooses red belts as their favorite color, the company can then send coupons or e-blasts related to red belts to that specific user. With third-party survey tools, a business would require custom programming to feed the customer's data into its CRM and align with the email marketing software being used, further complicating the process and increasing invested time and money.
Blankenship is currently working on the soon-to-launch independentsurveys.com. A property of WebFindYou, Independent Surveys will be used for companies who want to run surveys under an independent name to prevent bias results. WebFindYou clients who use Independent Surveys will be able to seamlessly send promotions at the end of a survey that matches the individual's interests based on their responses. The WebFindYou technology keeps track of all previous user interactions on its clients' websites, making it easy to tailor promotions.
The powerful WebFindYou All-in-One Digital Marketing Technology is revolutionizing the digital marketing industry by making it simpler and more affordable for everyone. The technology is already used in many countries and languages worldwide and has been seen on popular news outlets like CBS, NBC, Fox News, Yahoo Finance, and others.
WebFindYou does not rely on third-party plugins or apps and provides all the necessary functionalities and tools to implement True Digital Marketing in a transparent, affordable, and simple way by following the sequential step-by-step guidance provided by the technology with supporting video tutorials.
It saves businesses, agencies, and freelancers a minimum of $1,500 per month in just the tools and services needed to achieve True Digital Marketing
.
For more information or to purchase WebFindYou, please visit
www.webfindyou.com
or call toll-free
1-866-SEO-WEBS (736-9327)
or directly
(786) 347-2770
.