WebFindYou Integrates New Task Management Component Within Its Unique All-in-One Digital Marketing Technology
This new built-in component further saves businesses, agencies, and freelancers time and money by optimizing team collaboration and communication.
MIAMI - 07/28/2021 9:00 AM EST - A power player and conversion machine revolutionizing the digital marketing industry, WebFindYou has added a built-in Task Management component to its
Unique All-in-One Digital Marketing Technology
, which will save users even more time, operational overhead and costs.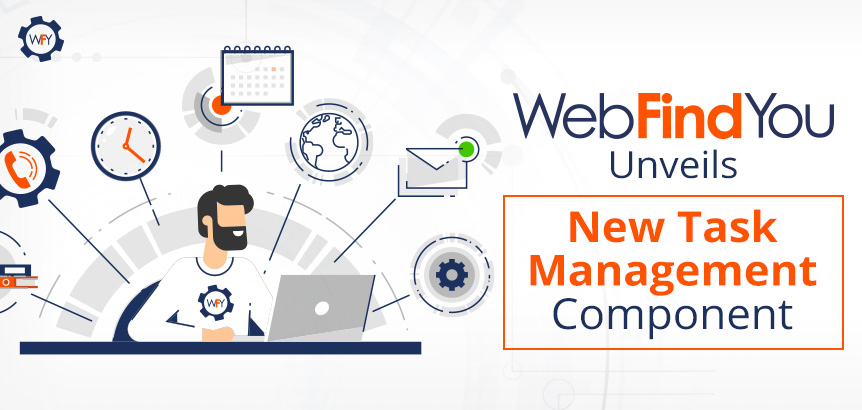 One of the key attributes that makes the WebFindYou technology unique and an ideal solution for businesses, agencies and freelancers is it takes the guesswork and complexities out of the digital marketing process and simplifies it as much as possible. WebFindYou guides its users to implement everything digital to maximize brand awareness, leads, conversions, and sales, but it simplifies the effort by providing the exact steps to follow using the single-integrated technology with corresponding video tutorials. Many of these steps may require team collaboration, such as the creation and review process of blogs or social media posts. This is where WebFindYou's new Task Management component shines since it optimizes the workflow to complete each recommended step. Furthermore, the new Task Management component can be used for tasks outside of the ones WebFindYou recommends if a company chooses to use it within that capacity—saving them even more money since they won't need to use other task management systems like a Bitrix or Monday.com.
The new component allows for the assignment of different roles to the team for each task. The roles include Administrator, Participant, and Observer, and users can also assign who is Responsible at each stage of the task management. Once someone is marked Responsible for a task, an email notification is sent to notify them. In addition, there is a "My Tasks" section within the WebFindYou platform where users can see all tasks assigned to them. If you are a freelancer, an agency or a business that handles multiple websites that use the WebFindYou technology, you can see all the tasks assigned to you across all your clients and websites. This results in huge savings in operational time, and it's one of the reasons that agencies and freelancers are moving to WebFindYou for their SEO, PPC, and overall digital marketing management for their clients. The new Task Management component also allows users to set start dates and deadlines, mark tasks as completed and leave notes for each task.
"Our new Task Management component is the icing on the cake for the tremendous value our technology provides to businesses, agencies, and freelancers. There simply is no other technology out there that comes close to simplifying the digital marketing process like WebFindYou does, and one that helps businesses completely maximize the power of the Internet for brand awareness, leads, and sales," stated Robert Blankenship, CEO of WebFindYou." This new addition will be very popular to the many traditional marketing agencies, digital marketing agencies and freelancers who are already starting to move away from traditional content management systems and digital platforms out there and coming to WebFindYou. Our technology has everything under one roof to maximize digital marketing results, minimize costs, maximize return on investment and return on advertising spend. It's a no-brainer that they are moving their websites and their clients' websites to WebFindYou!"
The new Task Management component comes included, at no additional charge, with the powerful WebFindYou All-in-One Digital Marketing Technology that is revolutionizing the digital marketing industry by making it simpler and more affordable for everyone. The technology is already used in many countries and languages worldwide and has been seen on popular news outlets like CBS, NBC, Fox News, Yahoo Finance, and others.
WebFindYou does not rely on plugins and provides all the necessary functionalities and tools to implement True Digital Marketing in a transparent, affordable, and simple way by following the step-by-step guidance provided by the technology with supporting video tutorials. It saves businesses, agencies, and freelancers a minimum of $1,500 per month in just the tools and services needed to achieve true digital marketing.
For more information or to purchase WebFindYou, please visit
www.webfindyou.com
or call toll-free
1-866-SEO-WEBS (736-9327)
or directly
(786) 347-2770
.
Want to read this in Spanish?
Spanish Version >>