WebFindYou Offers Solution to Companies Scoring Poorly on Google Core Web Vitals Update
Less than four percent of websites have passed all Core Web Vitals metrics, which can have a negative impact on a company's search ranking position and cause a loss in organic traffic, leads and sales.
MIAMI - 07/27/2021 9:00 AM EST -The
WebFindYou Unique All-in-One Digital Marketing Technology
is providing a much-needed reprieve for companies who have scored poorly with Google's latest Core Web Vitals (CWV) update, which is on average around 96 percent of websites currently online.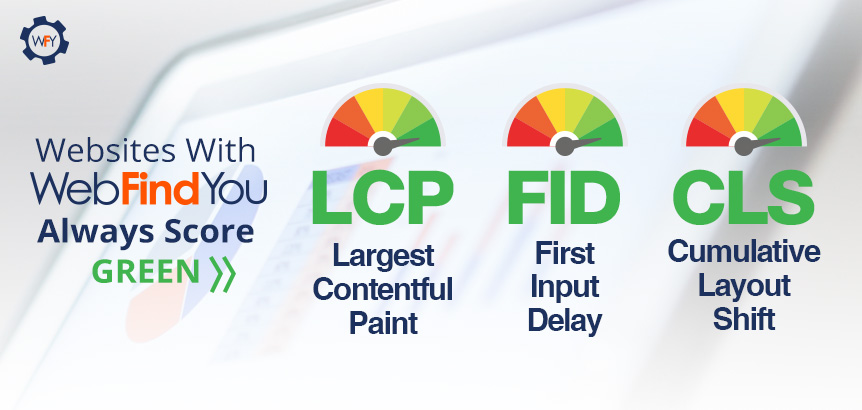 Released in June and estimated to be fully complete by August, CWV are metrics Google uses to evaluate the user experience of a website. Every web page now has a CWV score that revolves around three metrics:
Largest Contentful Paint (LCP): is the speed at which the content on a web page loads. Google wants content to load as soon as possible, preferably in 2.5 seconds or less.
First Input Delay (FID): which represents the speed at which a user can first interact with a web page and how long it takes a browser to respond back to a user's input or action. These actions can be anything from clicking a link, a button, entering text into blank fields, and more. Google says this should occur very quickly, in 100 milliseconds or less, which means a website must be fast, ready for user interactions and have optimized code made for speed.
Cumulative Layout Shift (CLS): a visual stability metric that measures the distance of content that may have shifted on a page after it has finished loading and throughout the web page viewing experience. Google wants as little shifting of web page elements as possible. CLS is measured in five-second sessions anytime a user navigates around a website. To provide an excellent user experience, websites should have a CLS score of 0.1 or less.
A
recent article by searchengineland.com
reported that less than four percent of websites passed all Core Web Vitals tests. What does that mean for a company? Poor CWV scores can affect a website's ranking position on Google and may negatively impact their organic traffic and sales, which can be detrimental to a business. The recent update has many companies scrambling to adapt and make changes to their website.
However, making these changes can be difficult and costly for companies who handle their website and digital marketing using traditional content management systems or ecommerce platforms such as WordPress or Shopify. The reason being is that these platforms are not typically optimized for search engine optimization and digital marketing. Instead, they rely heavily on third-party apps, themes and plugins bloated with JavaScript, which is one of the main causes for poor CWV scores.
"We want companies that are having a difficult time with Google's Core Web Vitals update to know that they are not alone and that it's not an end all be all if their website has initially scored poorly because WebFindYou will help them turn that bad score around very quickly," said Robert Blankenship, Founder and CEO of WebFindYou." The WebFindYou technology was strategically built from the ground up with digital marketing, SEO, and conversion rate optimization as a part of its core ideologies. Companies that move their website over to WebFindYou will immediately score extremely well with Google's CWV, easily beating out 99 percent of their competitors' current scores."
How can WebFindYou help increase a company's CWV score? Unlike traditional content management systems or ecommerce platforms, WebFindYou is a Unique All-in-One Digital Marketing Technology that does not rely on third-party apps, themes and plugins bloated with excessive code that can slow a website down. It provides all the necessary functionalities and components to implement True Digital Marketing in a transparent, affordable, and simple way by following the step-by-step guidance provided by the technology with supporting video tutorials.
WebFindYou provides users with optimized kit designs that are engineered to be responsive, ADA compliant and score extremely well with Google CWV. The technology reduces the work required to implement True SEO by 50% and will save you over $1,500 in just the tools and technologies required to achieve True Digital Marketing.
The WebFindYou technology guides users on their content creation and what types of content they should be developing to maximize brand awareness, leads, sales and conversions. Furthermore, if Google, Bing or social media platforms require changes for maximum visibility and results, WebFindYou will auto-update the user's website and notify them of any other manual changes they'll need to make.
For more information on the Google Core Web Vitals update, check out our recent blog post
https://www.webfindyou.com/blog/googles-new-core-web-vitals-everything-need-know-help-seo-conversions/
. For more information about purchasing the WebFindYou technology, please visit
www.webfindyou.com
or call
1-866-SEO-WEBS (736-9327)
or directly
(786) 347-2770
.