Why You'll Save $1,500+ on Average with WebFindYou in Just the Tools and Services Needed to Achieve True Digital Marketing
July 17, 2018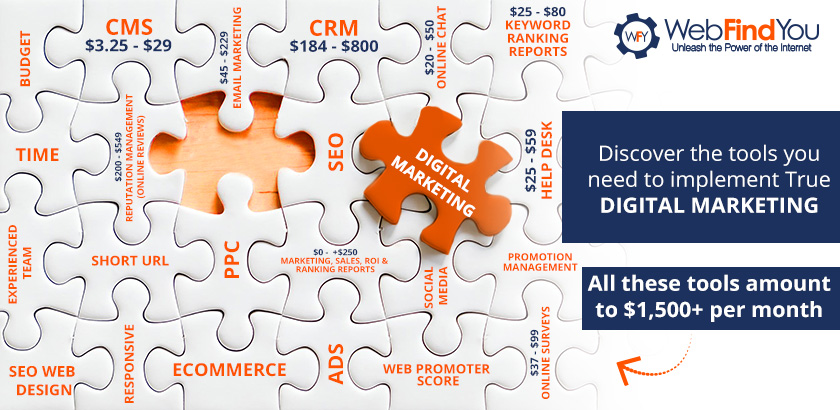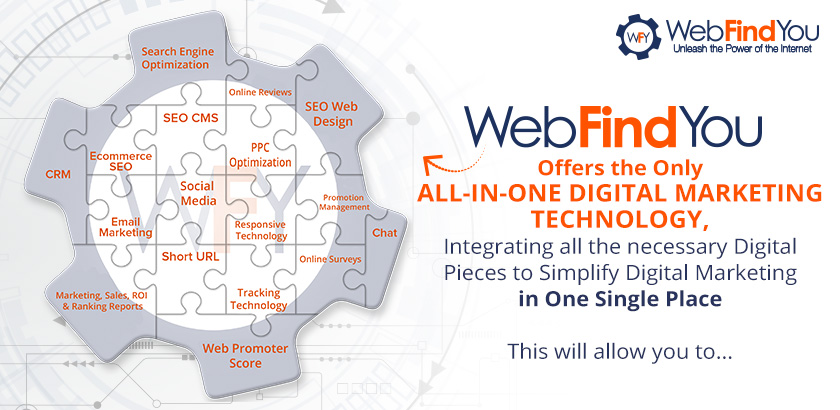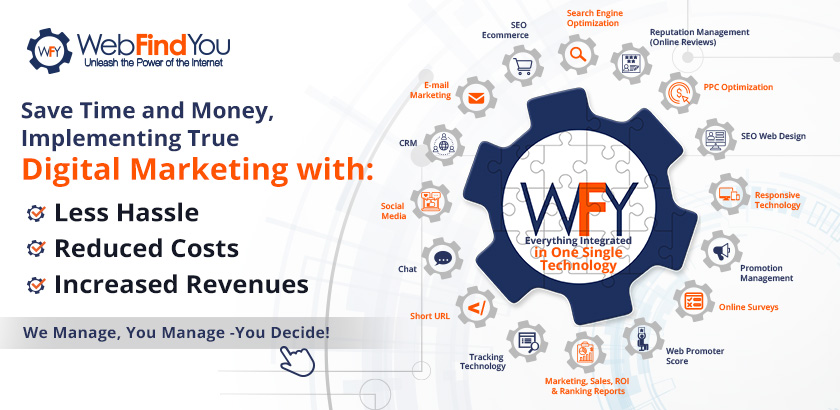 For purposes of the analysis shown, we are comparing the various options in the market to have the following tools and/or services that are comparable to what you would receive with WebFindYou. There are always free ways of doing things. For example, you could use Microsoft Excel for your CRM (Customer Relationship Management System), but it is not going to be as efficient or effective as using a true CRM.
Content Management System (CMS) and Hosting: Some options come with hosting and others don't. For example, typically you will get Word Press free, but you still need to pay for hosting, whereas if you use Wix or Web.com, you get hosting included but still pay for their service. Furthermore, these latter options can be used for free but not with your own domain or without their ads showing on your website. Also, many of these options will have a higher priced plan for priority support and/or website review. With WebFindYou, on the other hand, you always get priority support with all our videos and step by step guidance, and you have a dedicated Account Manager.

Therefore, for a CMS with hosting your price range is $3.25 - $25 per month for an informational website and $6.50 - $29 per month for an eCommerce website.
Customer Relationship Management (CRM): Although some of these options have free packages available, they don't carry the same recommended features that WebFindYou has and that you should truly have to create digital marketing success.



HubSpot charges $50/month for their Starter plan, $200/month for the Basic plan, and $800/month for the Professional plan which is the most comparable to WebFindYou.
Infusionsoft charges $99/month for 500 contacts, $184/month for 5,000 contacts, $240/month for 10,000 contacts, and $304/month or 50,000 contacts.

Therefore, for the CRM we'll use the price range of $184 - $800 per month based on 5,000 contacts.
Email Marketing: Although Mail Chimp and Constant Contact have free plans available, you truly need a paid plan to properly manage this important piece of digital marketing. Therefore, our analysis will show the paid plans you should be using.



Mail Chimp charges $10/month for 500 subscribers, $30/month for 2,500 subscribers, $50/month for 5,000 subscribers, and so on. Their Pro plan is $209+ per month which includes their Advanced Segmentation option. This option comes standard with WebFindYou. Therefore, for Mail Chimp to be comparable we'll use their $209 value, which is only for 500 subscribers. It would be $229 for 2,500 subscribers and $249 for 5,000 subscribers, and so on.
Constant Contact charges $20/month for 500 subscribers, $45/month for up to 2,500 subscribers, and $65/month for up to $5,000 subscribers for their standard plan and $45/month for their Plus plan for up to 500 subscribers, $70 for up to 2,500 subscribers, and $95 for up to 5,000 subscribers.

Therefore, for email marketing we'll use the conservative 2,500 subscriber model which creates a price range of $45 - $229 per month.
Online Reviews and Reputation Management: Although some of these options have free packages available these options don't carry the same recommended features that WebFindYou has and that you should truly have to create digital marketing success.



Trustpilot charges $299 - $549/month for their Lite and Pro plans. The most comparable to WebFindYou is their Pro plan at $549/month.
BirdEye doesn't show their pricing on their website but we have clients that have used them as well as others and they charge on average $2,400 per year or $200/month.

Therefore, for Online Reviews and Reputation Management we'll use $200 - $549 per month



Customer Support Management: This is to help you better manage customer inquiries to maximize customer retention, conversion rates, and repeat purchases. The most popular option on the market is ZenDesk and they charge $25 - $59 per month per user. WebFindYou allows you to have unlimited users and provides phone and email support available only at their $59/month plan.
Online Surveys: This is to help stimulate greater interaction with your website users which will increase session duration, reduce bounce rates, increase conversion rates and repeat visits - all of which will positively impact your search engine rankings and sales. The most popular option on the market is SurveyMonkey and they charge $37 - $99 per month. Their "Survey completion redirect" option is only available on their $99/month plan and this is what allows your user to go back to your website upon completion. However, since WebFindYou's version is already integrated, the user will start and end on your website and this will greatly improve your overall success with surveys and cross-promotional value and conversion rates. For this option, we use the $99 per month amount.


Chat: There are so many options out there for a Chat service, ranging from $20 - $50 per month on average.
Keyword Ranking Reports: There are many options out there for this which helps you know how your website is changing in rankings within search engines for the hundreds to thousands of keywords you'll want to be found for. Doing this by hand will be an arduous task. For this option you'll need to use a proxy service to prevent being blocked by Google every time you want to re-ask them hundreds to thousands of times where you rank for each keyword combination. Therefore, you'll need to spend on average $25 - $40 per month for both the reporting service + $40 per month for the proxies, which creates a total of $65 - $80 per month. Google Search Console will provide you ranking reports at no charge, but we find it more efficient to have this feature integrated into our technology as it allows us to provide deeper analytics on how your keywords are changing overtime based on the content marketing you are doing on an ongoing basis.
Marketing, Sales, ROI Reports: Because WebFindYou is a single, integrated technology, we are able to provide extensive marketing, sales, and ROI reports not available from many of the other providers above. There are add-ons, and modules that can be integrated into the above options, but they won't provide the sophistication of the detailed reports we can with our single, unified technology. Therefore, it's hard to quantify the cost value to you because it all depends on your paid media ad spend, as well as if you are paying someone else to manage your digital marketing including your pay-per-click campaigns. For the purposes of this analysis, we will use a very conservative number of $250, although it's most likely to be far greater than this value.
Other: There is a wide variety of additional functionality and support that WebFindYou provides that the above products and services do not, and that is important to list as it helps maximize your overall digital marketing success. There does exist modules or free services for some of the options below, for which you can use to add on these options to your website, but you must pay a programmer to integrate all of these options. For purposes of our analysis within this blog we are not adding the items below to the overall price comparison, but we do show you what they would cost.



Short URL (wfy.cc) - You've probably heard of bit.ly or tinyurl.com. Our Short URL greatly enhances your social media marketing and text messaging campaigns as it allows you to track leads and not just clicks. No other service exists on the market like wfy.cc.
Share Buttons - AddThis and ShareThis are the most popular, however, WebFindYou's version has an email share option with integrated reporting from our single administrative interface and makes those emails available within our email marketing option, allowing you to send these referrals additional information to convert them to clients.
IT Support - Domain, Emails, SSL - our IT department is there to help you with domain and email questions as well as to ensure you have an SSL certificate setup on your website. These support services are included at no additional charge. Plus, if you get your domain and email from WebFindYou Domains you will save even more money over the other domain registrars who make you believe you need certain services when in reality you don't, costing you even more money.
301 Redirect and 404 Page Not Found Management - Priceless and can save you a lot of money and prevent you from drastically losing rankings. Anytime you discontinue a page on your website or change its link, you must setup a 301 redirect and have it point to the new page, otherwise that page will lose its rankings since it will start showing a 404 Page Not Found error. Also, you should have a means to see all the 404 Page Not Founds that are occurring on your website. People will link to your website and sometimes those links are incorrect, so by having 404 Page Not Found information readily available you can quickly fix these problems to then get credit for back links coming into your website which will help improve your search engine rankings.
Step by Step Guidance on Website Creation and Digital Marketing Management - most of all the services above charge for phone and email support. WebFindYou greatly simplifies digital marketing management and provides step by step video tutorials to easily guide you through the setup and ongoing things you need to be doing. Furthermore, you have a dedicated account manager that is available to answer your questions. This will save you tremendous time and money.
30 minutes of free changes per month - We provide each client with 30 minutes of free changes on their website per month. Other companies bill in hour increments so this small feature can add up quickly over a year and can mean a minimum of $50 - $150 per month.
SEO Optimized Kit Designs - There are many design templates out there via WordPress, Shopify, and companies like Template Monster, but most of these designs templates are not coded at the HTML, CSS, and JavaScript level for Search Engine Optimization and typically require an SEO company to make modifications to the code base which can cost you $500 - $2000+. With WebFindYou all our kit designs are 100% optimized for SEO and were specifically created to ensure fast load times which is a very important piece that will affect your SEO rankings as of July 2018.
Email Marketing Templates - WebFindYou will create a personalized template for your business if one doesn't already exist that suits you. Most of the time there will not be an additional charge for this service, whereas MailChimp and Constant Contact can charge $100 - $200+ for this service.
Attractive Digital Marketing Management Pricing - WebFindYou allows you to manage your digital marketing implementation and management on your own, by your internal staff, by your external marketing agency, or you can hire WebFindYou or one of the companies or individuals within the WebFindYou Marketplace. The marketplace is currently being created and will be filled with certified digital marketing strategists, writers, editors, designers, programmers, audio/video experts, and administrative support, as well as complete traditional and digital marketing agencies all of who will be willing to manage your digital marketing for you using WebFindYou. And since WebFindYou greatly simplifies the digital marketing process, and since the marketplace creates a competitive environment, these two things will create the best pricing in the market without sacrificing quality for digital marketing management services.
The above total amounts equate to $925.25 - $2,141 for an informational website and $928.50 - $2,145 for an eCommerce website creating an average amount of $1,533 for an informational website and $1,536 for an eCommerce website. Furthermore, as stated in the "Other" section above, those "Other" services are not being calculated into the above amounts. In addition, the time and cost savings you will achieve with WebFindYou will save you hundreds to thousands of dollars more each month since WebFindYou greatly simplifies the digital marketing process.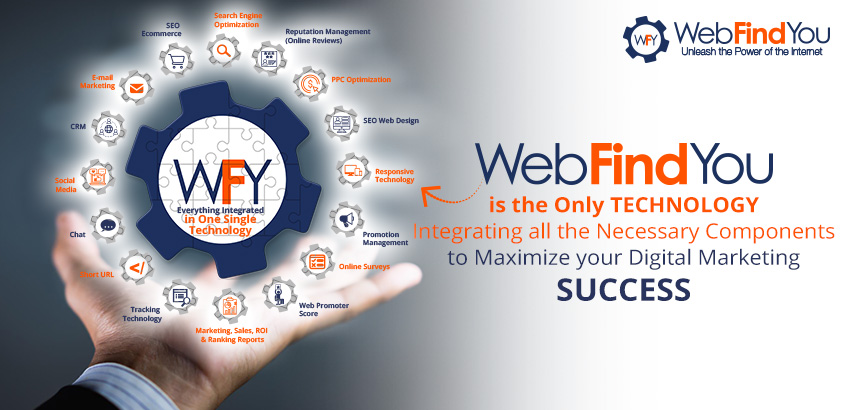 With WebFindYou you get everything you need to maximize your brand, leads and sales from everything digital within one single unified interface.

If you found this article helpful then let us know in the comments section below. Likewise, feel free to share it using the share options below. Want us to cover another topic of your interest pertaining to digital marketing? If so, then like us and follow us on social media, and post to any of our social media profiles the topic you'd like us to discuss:
Facebook WebFindYou
,
Instagram @WebFindYou
and
Twitter @WebFindYou
.