SEO Website Provider WebFindYou Achieves Better Search Engine Rankings For Many Clients All at Once
SEO Website
provider and expert Search Engine Optimization Company, WebFindYou, releases enhancements to its Web and SEO Platform that create better search engine positions for many clients. The end result was more traffic and leads to many of the SEO websites powered by WebFindYou.
"The latest release of the WebFindYou Web & SEO Platform was a success for many WebFindYou clients, especially our Ecommerce clients, creating better positions within search engines for many of their popular keywords. This was due to the fact that this new release created faster page response times to the client browser. Google has been pushing for a faster web for a while now and are rewarding websites with faster load times." stated Robert Blankenship, CEO of WebFindYou.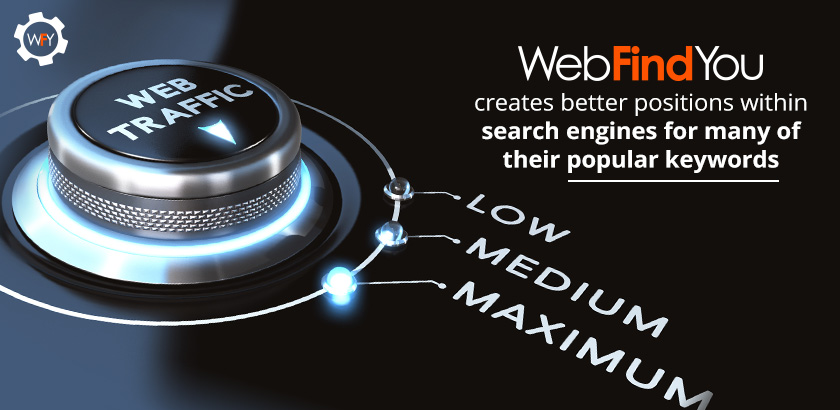 WebFindYou is next generation Web Development, Management, and Internet Marketing all in one. WebFindYou creates websites built for search engines, hence SEO Website, via its proprietary Web and SEO platform, the
WebFindYou Platform
, equipped with Content Management, Statistics, Sales and Marketing Insights, Customer Support,
SEO Ecommerce
, and more to maximize online success. By having a website run on the WebFindYou Platform it immediately receives all the technical SEO implementations required for a successful SEO campaign. Likewise, future requirements by search engines are automatically embedded into the platform allowing WebFindYou clients to obtain these features without additional cost or time invested.
"Many companies waste important operational dollars in the technical maintenance and improvements of their website. This is no longer a necessity once they run on the WebFindYou Platform. WebFindYou reduces the time and overhead required to create and maintain a successful online presence." added Mr. Blankenship.
WebFindYou is a unique SEO company that applies technology, coupled with nearly 20 years of Internet Marketing experience, to provide tailored-fit SEO solutions to businesses. In today's age a company no longer needs a website but an SEO website, and WebFindYou is at the forefront of SEO website creation and management.
For more information visit
www.webfindyou.com
or call 866-SEO-WEBS.