WebFindYou Unveils Its New Link in Bio Feature for Instagram and Other Social Media Platforms
The unique, All-In-One Digital Marketing Technology's new feature helps businesses increase leads and sales and ensures a recognizable social media experience.
MIAMI - (PRWeb - March 29, 2021) - On the heels of a successful global launch,
WebFindYou
, All-In-One Digital Marketing Technology, is continuing to revolutionize the digital marketing industry. The company is proud to announce the launch of its link in bio feature for Instagram and other social media platforms. This addition to their technology provides brands with a solution for the limitations presented by third-party linking tools currently on the market while helping to increase leads and sales and ensure a recognizable social media experience.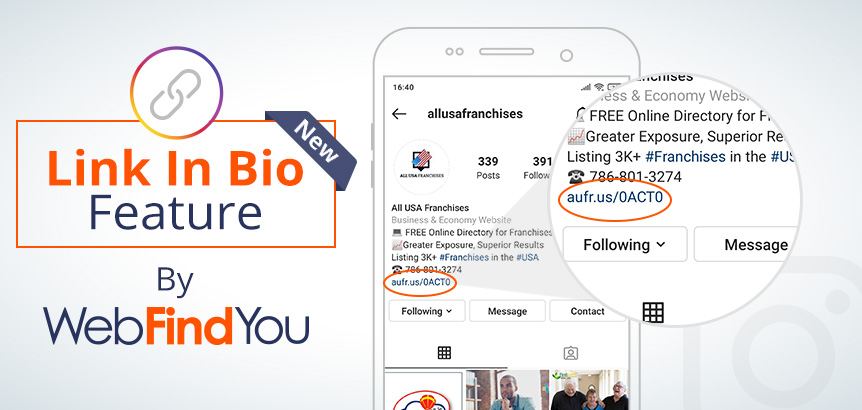 This new feature is WebFindYou's latest innovation in its mission to help companies, agencies and freelancers across the globe to correctly grow their brands online with less hassle, reduced costs, and increased revenues within one single, integrated All-In-One Digital Marketing Technology. With this new functionality, WebFindYou users will no longer have to pay for a third-party link in bio service, which pulls traffic away from their website by directing visitors to a landing page with multiple linking options that can create confusion and, as a result, reduce leads and sales and limit a visitor's access to the links within the posts of an Instagram profile. With WebFindYou's link in bio functionality, an exact replica of their social media feed is automatically shown on their website, where visitors can interact with a post, watch videos, view photos, sign up to receive company newsletters or promotions, purchase products, and explore any other part of the user's website.
"Our overarching mission with the WebFindYou technology is to help companies overcome the frustrating and expensive means of marketing a company online with the traditional form of digital marketing," said Robert Blankenship, Founder and CEO of WebFindYou. "Each new functionality we develop is aimed at providing solutions to limitations set forth by the digital marketing industry. Our new link in bio feature accomplishes just that. WebFindYou users, especially those who have used third-party link in bio tools in the past, will definitely enjoy the seamless user experience that our feature provides, plus the added value of saving time and money and potentially boosting leads and sales."
WebFindYou users manage their social media accounts through the technology's Social Media Manager. Once a post goes live, it will automatically display on the user's website and will be accessible to visitors through the link in bio. Users have the ability to customize the domain of their link in bio to fit their branding. In addition, visitors can scroll through older posts without having to deal with slow load times as they would if they were searching for a post directly on the original social media platform.
Another benefit of WebFindYou's link in bio feature is that the social media experience will never be interrupted when a social media platform unexpectedly goes down because the user's entire social media feed lives directly on their website. This is also beneficial if a post is unexpectedly removed or a social media account is temporarily suspended.
Whether a company's social media is handled in-house or by an external freelancer or agency, using WebFindYou's link in bio feature allows businesses to easily review posts across all social media platforms. The feature saves social media strategists' time by allowing them to easily review posting strategies, content and plan for future posts because their entire social media feed will be easily accessible on their website without having to log in to each social media platform.
With this new component, it's easy for users to get their social media content in front of their audience. The best part is that it's all trackable and can help boost the WebFindYou users' SEO as it helps increase more repeat traffic to their website, which in turn can help increase key-user metrics like repeat user sessions, user session duration, and content sharing. For more information on WebFindYou's new link in bio feature, please visit
https://www.webfindyou.com/blog/link-in-bio-instagram-feature-wfy-simplified-solution/
. For more information about purchasing the WebFindYou technology, please visit
www.webfindyou.com
or call
1-866-SEO-WEBS (736-9327)
or directly
(786) 347-2770
.
Want to read this in Spanish?
Spanish Version >>