Link in Bio Instagram Feature by WebFindYou: A Simplified Solution With Interactive Functionality
10 min read
March 23, 2021
Who isn't familiar with the world's most popular photo and video-sharing social media platform these days? Instagram (IG) officially launched in 2010 and continues to see massive growth in its user base, with millions of daily visitors using the app. Over the years, we've seen IG add exciting changes and features like hashtag search capabilities, photo/video editing features and filters, photo carousels, paid ads, stories, reels, live video streaming, IGTV, and even Instagram shopping.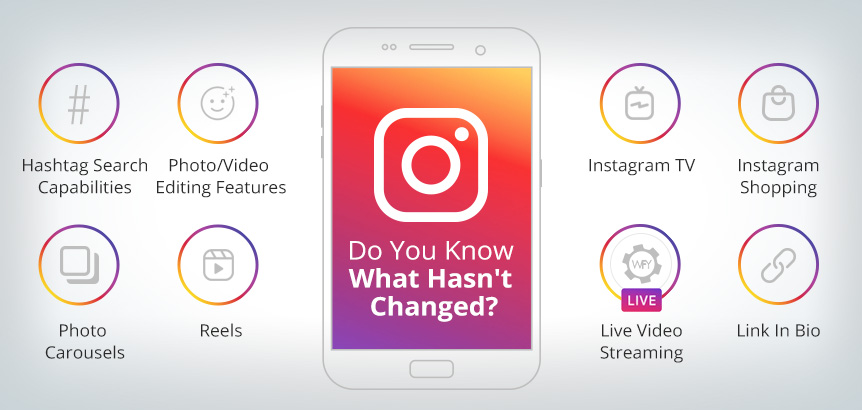 But you know the one thing they haven't changed on their platform? The ability to place links inside your IG posts, forcing you to have to resort to exclusively using your link in bio.
You only get to use one link for your bio, and you've got to make the most out of it. One link sounds absurd to anyone who wants to showcase a variety of content outside of their IG. You find yourself constantly swapping out the link in your bio, making your older posts that point there no longer relevant. So what have people done to work around this?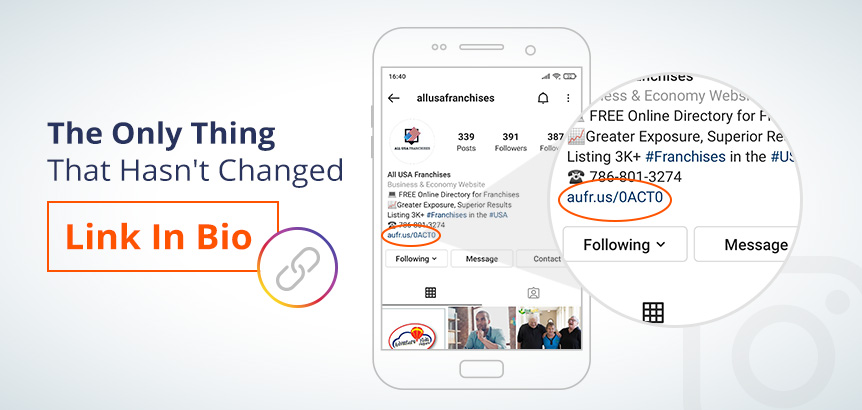 Well, companies like Linktree, ContactInBio, Linkin.bio by Later, and the like have developed solutions that allow you to place a link in the bio that takes users to a small landing page with several other links the user can choose to take action on and go from there. Sounds great, right? Ehh… with all the fancy integrations out there, you're bound to find drawbacks. Let's take Linktree, for example.
Linktree has two plans for users who sign up to use their application. If you're using the free version, say goodbye to your branding because the free plan is very limited. You only get five themes to choose from, you have to use their logo, the URL begins with Linktree, zero access to your Linktree page analytics, and oh, did we mention that IG occasionally marks your Linktree link as spam without warning and shuts it down? Even if you had access to the premium features, which aren't available in the free version, is it really worth six bucks a month?
Let's Talk About User Journey and SEO
Besides IG confusing your Linktree link as spam, let's talk about the user journey and SEO. All that traffic data that came from your IG is going to Linktree and not your website. Linktree is taking away traffic to your site that could've potentially helped you rank better within the search engines. And for the user journey, we'll put it simply like this—
people really dislike clicking
. Linktree adds another barrier in the user journey as they click through to your link in bio just to get to your Linktree page and then from there to your website. Even writing that sentence was a lengthy journey. Why not just have one link that takes users directly to your website?
If you could maximize your link in bio to increase visits directly to your website for more traffic, leads, sales, and a boost in brand awareness, would you? It's a no-brainer, you would, and at the end of the day, it's what you want, and it's why you do digital marketing in the first place. And you get what you want and more with WebFindYou.
That's why we're proud to announce that we have a new Instagram link in bio functionality that provides users with a simplified process with interactive features that creates a recognizable social media experience for your audience that's on-brand and helps increase leads and sales conversions. Our new feature is easy to use, saves you time and money, and automatically updates your IG feed on your website. So why use third-party applications/tools that act as a middle man between your IG and your website?
WebFindYou Creates Seamless User Journeys
At this point, you know that you gotta be savvy with that one link IG gives you when you're running campaigns, sharing content, promoting services or products, etc. Being savvy with your link means providing the best user experience possible. When visitors click your link in bio, and you're using third-party tools, users are faced with this content linking crossroad, which creates an opportunity for visitors to drop off. These "solutions" are forcing the user to have to think and take multiple actions to get to where they want to go.
Imagine the confusion of presenting the user with an unnecessary amount of buttons that link them out to different places where your content lives versus taking them directly to your site where the core of your information lives and where people purchase your products or request services. People will give up if the user journey isn't as seamless as possible, and you'll find a higher percentage of bounce rates because of this, but not for those using WebFindYou. We've shortened the user experience down to one click on IG.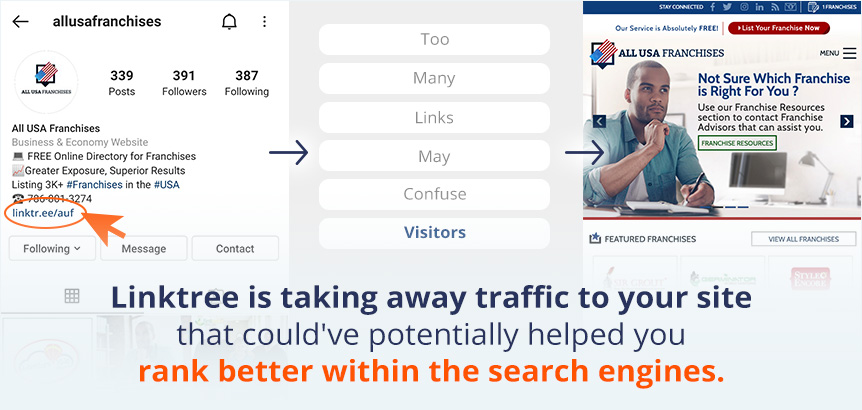 With WebFindYou, your social media feed on your website will automatically be updated when you use our Social Media Manager functionality and our short URL generator to create a trackable link to place in your social media profiles, which links to your site. We've created a simple and direct user journey to your website for anyone who is coming from your IG's link in bio and even your other social media platforms too.
There's Even More to Our Link in Bio Feature
So, if you're promoting a product or service on IG, and your post says "link in bio," and they click on your link in bio, which can be personalized to your brand, they'll go straight to your website. When they land there, they'll see the exact same post as they would on your IG feed. This makes the user experience familiar, uninterrupted, and more likely to increase leads and sales just in the experience alone. From there, anyone can navigate immediately through your site and learn more about your brand, browse your blog, purchase products, request service, or sign up for your newsletter to stay connected. We've made it that easy.
With our Social Media Manager, soon you will be able to post directly on all your social media platforms at the same time or schedule them—similar to Hootsuite. However, unlike Hootsuite, when your posts go live, our technology automatically updates your website's social media feed for IG and any other social media platform you're on. You can show and promote any type of content you wish with our new link in bio feature. Visitors can interact with your posts on your custom social media feed. They can see the post's text, watch videos, view photos, sign up to receive emails, purchase products, visit any page you link it to, and they can explore any other part of your website.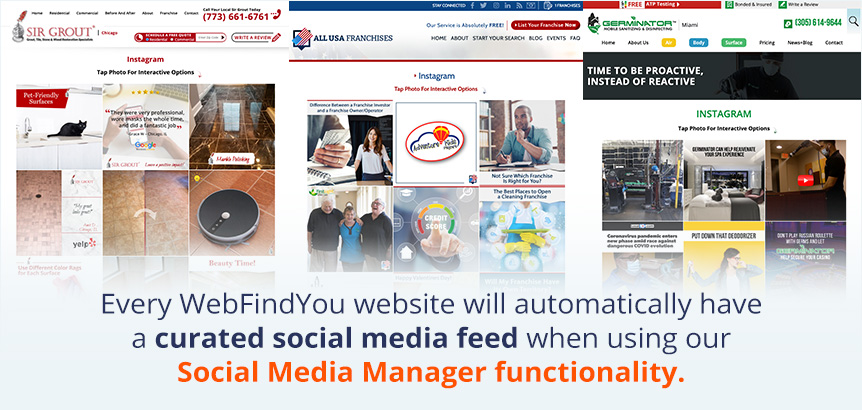 Our link in bio functionality provides you, your team, and your visitors with an archive of your posts and a log-in free social media experience that will never unexpectedly shut down when Instagram, Facebook, or the other social media platforms, if out of nowhere, go down.
If you wanted to review the posts that you did three months ago, you can, and you won't have to experience slow load times on your feed like you would have if you were on IG or Facebook trying to scroll endlessly just to see those older posts.
Let's say your post was taken down for whatever reason; you can still show your visitors your posts because it lives on your website, and the same goes if your social media account gets temporarily suspended. Our link in bio feature also comes in handy for when you want to show your content to someone (like your grandma) who may not even have an Instagram or any social media account at all.
Whether your social media is handled in-house or by an external freelancer or agency, you can easily review your IG posts and other posts across all your social media platforms to see your team's posting strategies, content and give feedback on some ideas on what to post next without ever having to log in to every social media account, and again, scroll endlessly just to see older posts.
Another key benefit of our new link in bio functionality is the potential increase in repeat website traffic from your email subscribers as well as the convenience and time savings for them. For example, if you're sending out an email blast and want to promote your social media profiles and content but you want to send the user to your website instead of the social media platforms where you might lose them to other distracting information, you can. Directly on your website, they can see your social media content without logging in to their social media accounts.
With our new link in bio feature, you won't have to create and pay for a service like Linktree to do this for you, use their branding and basically advertise for them, or even have to manually build and constantly update your own custom social media landing page like you would have if you were using a content management system such as WordPress or Wix.
Whether you're sharing blogs, news, an opt-in form for your newsletter, promoting products and services, or running promotional campaigns, getting auto-updated social media content on your website for your audience is always made possible with WebFindYou. The best part is that it's all trackable and doesn't potentially hurt your SEO like a third-party tool could, as explained below.
Third-Party Link in Bio Tools Can Hurt Your SEO and Analytics
We believe in driving traffic to your website with WebFindYou to boost your leads and sales, brand awareness, and search ranking positions versus taking traffic away from your site, which is what happens when you use third-party tools or services. Third-party link in bio tools or services are merely a website traffic distraction.
Why give your website's 1,000 unique monthly visitors and clicks away to Linktree, or some other service like them, when it can all go to you? That's why our link in bio functionality can help boost your SEO as it helps increase more repeat traffic to your site, which in turn can help increase key-user metrics like repeat user sessions, user session duration, and content sharing via our standard sharing buttons, which in turn can help increase backlinks into your website. In addition to potentially helping your SEO, this will also help increase brand awareness, user engagement, traffic, leads, and sales.
A lot of these third-party tools and services boast about having analytical features, but it's not worth paying their premium prices just to get access to your analytics. First off, with Google Analytics, you can see an overview of your website's analytics for free. Secondly, with WebFindYou, you can see in-depth, trackable data and user journeys with WebFindYou's HTTP Referral and Page Tracking functionality. You can track and categorize the sources of where the traffic came from using our WebFindYou Tracking ID (WTID).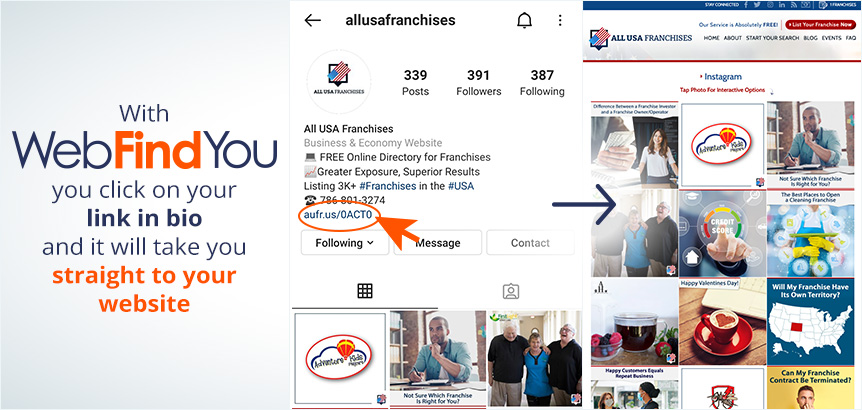 You can track how users got to your website and from what device, whether it was from your link in bio, a search engine (organic or paid), your social media accounts (organic or paid), an email marketing campaign, an external website, a podcast or video you've developed, and so much more. You'll be able to see the date and time of entry and the entire history of the user journey on your WebFindYou website. The WTID also tracks how effective your SEO, social media, email marketing, and other marketing strategies and campaigns you deploy are, which will help you decrease spend on paid campaigns and determine which messaging works the best. Furthermore, you can tailor specific remarketing campaigns with messaging or promotions tailored to their journey, which will help increase lead and sales conversion rates.
You get deeper statistical data with WebFindYou and help from Google Analytics too. Our technology gives you fewer places to check for your website's analytical data because it's all connected, automatic, and consistent to save you time and energy, so you can focus on generating leads and sales with fewer hassles along the way.
Maximize Your Link in Bio and More With WebFindYou
IG is great for social media marketing for whatever digital marketing campaigns or strategies you're trying to run and achieve great results with. However, today we've learned how limiting IG can be with the one link they provide you, but more importantly, we've learned how third-party tools can be limiting for your brand, business, your website, your client's website if you're an agency or freelancer, and whoever needs the most out of their link in bio.
Tools like Linktree are a financial expense to you, can negatively affect the success of your SEO efforts, they can create confusing user journeys, which leads people to drop off from visiting your website, thereby reducing repeat traffic, leads, and sales, some of them don't allow you to brand your company's logo and themes, restrict analytical data unless you pay, and there are even cases where IG marks your link as spam and it gets taken down.
Even those who decide to recreate their IG or other social media profiles on their website will face the daunting task of having to create an on-brand landing page and will have to constantly update their site manually or pay someone to manage it for them. That sounds exhausting and expensive, which is why WebFindYou makes it easy, streamlined, on-brand, cost-effective, potential boosts to your search engine rankings, provides you trackable data, and posting to your custom social media page is automatic and comes free with WebFindYou.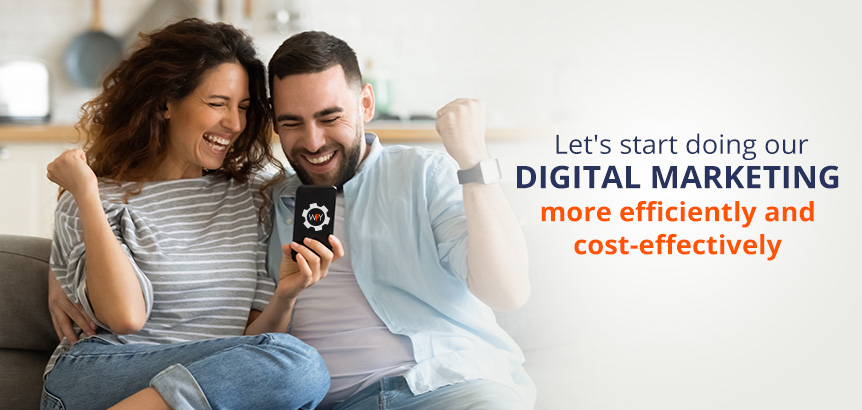 Let's start doing our digital marketing more efficiently and cost-effectively. Multiple providers and logins for tools and plugins are no longer necessary. With WebFindYou All-In-One Digital Marketing technology, you have all the necessary components you need within one single integrated technology to implement True Digital Marketing and maximize brand awareness, leads, and sales for your business.
We reduce the work required to implement True SEO by 50%, and
our technology will save you over $1,500 in just the tools and technologies alone
. WebFindYou is a disruptor to the traditional means of implementing digital marketing. Our unique technology and step-by-step video tutorials greatly simplify the process, your life, and ensure you always stay on the right path for maximum results.
WebFindYou is revolutionizing the way businesses, entrepreneurs, freelancers, and agencies go about their digital marketing, social media, SEO, and so much more.
Get started with WebFindYou today
and join the Digital Marketing revolution.

If you found this article helpful then let us know in the comments section below. Likewise, feel free to share it using the share options below. Want us to cover another topic of your interest pertaining to digital marketing? If so, then like us and follow us on social media, and post to any of our social media profiles the topic you'd like us to discuss:
Facebook WebFindYou
,
Instagram @WebFindYou
and
Twitter @WebFindYou
.
Want to read this in Spanish?
Spanish Version >>