4 Key Changes Announced for Google Ads during Google Marketing Live 2019
min read
May 29, 2019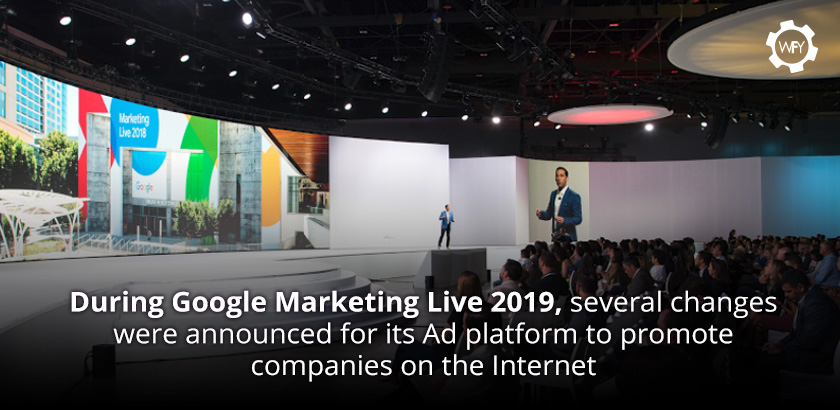 Google has done it again. We all know that the tech giant is known for a constant stream of updates on all its platforms. We saw a perfect example of this a few months ago with the introduction of the new Google Ads and Google Marketing Platform. Google is safely standing on top of its fiercest competitors when it comes to releasing updates, new features, and improvements in user experience, and advertising services.
During Google Marketing Live 2019 (an annual event hosted by the tech giant to introduce audiences to their newest innovations and ads), the corporation announced a variety of changes that are scheduled for its ad platform in the near future. These updates are meant to bring a whole new array of options for Google Ads users to promote their businesses on any of their online platforms.
WebFindYou will summarize the four changes that speakers introduced during the event. Pay attention to these updates when you work on your coming ad campaigns.
4 Key Changes Announced for Google Ads During Google Marketing Live 2019
Ads will be seen by More Users thanks to Discovery Ads
The advantages of artificial intelligence now allows the creation of a new type of campaign where ads will be seen by a bigger number of users on different Google platforms.Brad Bender, vice president of Display & Video Ads at Google, introduced a new resource called Discovery ads. Described as an automated, multichannel campaign type, their goal is to make ads available for those interested in learning about new products and services while going beyond the limits of keyword-based targets. This translates into a new series of ads destined to more appropriate audiences—users that are willing to discover companies in a non-intrusive manner and ad campaigns that don't adhere solely to the results of any keyword research.

Where can users find these ads? The excellent news surrounding Discovery ads is the (aforementioned) chance to show the ads on other Google platforms, like Google Discover, YouTube, and Gmail. One of the perks of this format is that you no longer need to make a video for your YouTube ad; the platform allows images on its feed, including call-to-action and description, so marketers and business owners will ease their workload in a significant way.


Google Shopping Experience: Users can Make Purchases Directly via Ads
The tech giant, always a step ahead when it comes to innovations, made a great statement regarding the expansion of its services and the improvement of user experience with the introduction of this new feature: Google Shopping Experience.Google Shopping Experience can be seen as an improvement of what we know as Google Shopping, the feature in charge of showing a list for a given product/service on the search result. The Google Shopping Experience update lets users instantly acquire any product/service they see on the published ads without having to go to the website featuring the item to complete the process.

Immediacy, simplicity, and comfort for users; three principles that perfectly encapsulate this new ad feature.


You can Make 6-Second Videos for YouTube Campaigns
Yes, it's true that the right budget can allow you a short ad to promote your brand on YouTube. Still, what about those who can't afford this, or those who already have an ad, either on TV or other media, and surpass the limit to post it on YouTube?During Google Marketing Live, the speakers presented a solution for this problem. Google Bumper Machine is a new AI tool that will simplify the lives of marketing experts and online business owners. The tool was created with the purpose of transforming long and short video ads into 6-second-long videos, within the frame of YouTube's Bumper ads.

This way, Google Bumper Machine works hand in hand with artificial intelligence to capture a video's best moments in terms of structure and content, building a 6-second-long logical sequence that manages to keep the essence of the original ad, the brand's name, human faces, etc.


The Evolution of Gallery Ads
In February 2019, there was talk of an idea to implement ad galleries on Google searches. This seemed to be nothing but rumors until the speakers at Google Marketing Live revealed that Gallery Ads are already a reality.The Gallery Ads allow companies the promotion of their products or services with ads including several images under a gallery format (hence the name) so users are given an interactive and visually appealing experience. On top of this, by having a way to show different facets, engagement opportunities also increase.
Don't Get Behind on Google Updates! WebFindYou Keeps You Up-To-Date!
Given Google's tendency to constantly release updates and new apps for its platforms (especially those related to marketing and SEO), those in charge of executing digital marketing strategies need to be aware of all these changes. It's no secret that Google plays an important part in the creation of effective campaigns that help companies find success in the competitive online world.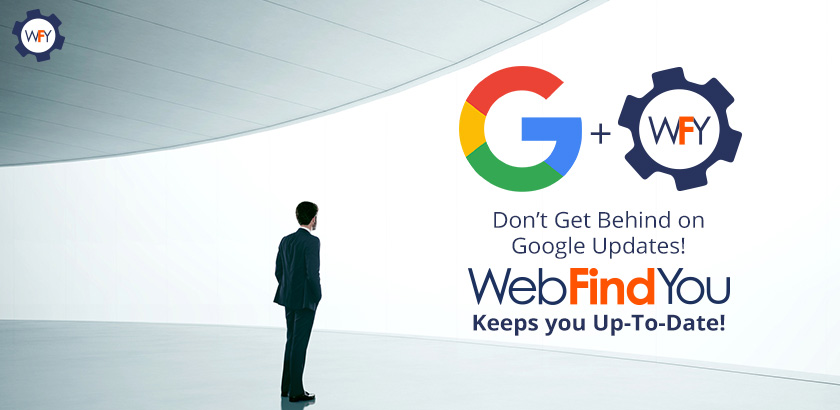 This is why WebFindYou, the All-In-One Digital Marketing Technology, helps companies adapt to all these updates and maximize their digital marketing strategies. In our News + Blog page, you will find much more news regarding Google, as well as digital marketing on a global scale. This allows you to always be one step ahead of the competition when it comes to the current trends.
Join the WebFindYou Technology
Do you want to know more about WebFindYou? We are the first and only All-In-One Digital Marketing Technology that integrates 20+ tools to help you execute true digital marketing with less hassle, reduced costs, and increased revenues. Among our resources, we offer our assistance so marketing experts can successfully respond to the many changes implemented by Google, either on its algorithm or in other areas. If you want to learn more about us, don't hesitate to contact us calling
1-866-SEO-WEBS (736-9327)
or by filling out the
contact form
on our website. We will be happy to assist you!
If you found this article helpful then let us know in the comments section below. Likewise, feel free to share it using the share options below. Want us to cover another topic of your interest pertaining to digital marketing? If so, then like us and follow us on social media, and post to any of our social media profiles the topic you'd like us to discuss:
Facebook WebFindYou
,
Instagram @WebFindYou
and
Twitter @WebFindYou
.