7 Social Media Trends you Must Consider in 2019
min read
April 24, 2019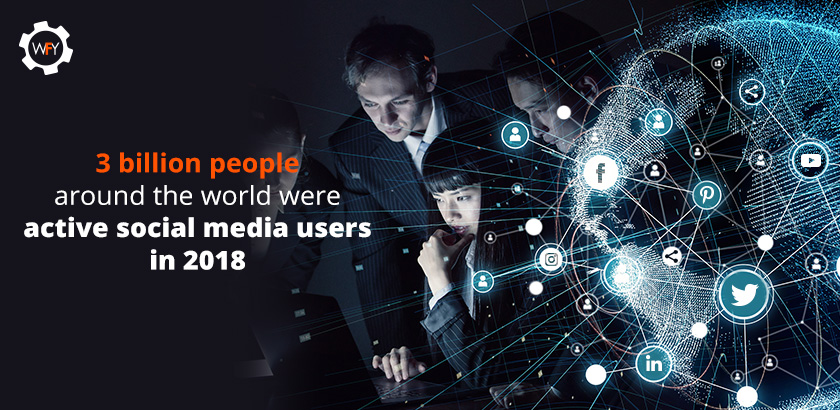 It's clear that social media makes up a huge part of people's lives. We only have to look at the fact that
3 billion people around the world were active social media users in 2018
. Social platforms keep people connected while also providing activities for their entertainment and shopping references. Thanks to this, social media has become one of the most important factors when it comes to implementing digital marketing strategies, and it will continue to have a big influence as long as new users support them.
Working in social media, however, entails a big challenge when we consider the constant activity that's part of any social platform. This includes the introduction of new features for users to enjoy and methods to keep up with the competition. Those new features represent the opportunity for marketing experts and online business owners to attract more customers to their website, using optimal social media marketing strategies to accomplish this.
In 2019, social media trends will continue to change, so it's important to keep up with all the modifications and start developing new methods to satisfy user preferences. This is why WebFindYou brings a list of seven social media trends we will definitely see more of in 2019.
7 Social Media Trends you Must Consider in 2019
Care for Users' Private Information
After the Cambridge Analytica controversy unleashed by Facebook and the leak of users' private information, the topic of privacy on social media has acquired a new layer of strictness, to the point that there's been a growing mistrust among users when it comes to their activities on social platforms. According to the investigation performed by the Pew Research Center, 80% of American users that took part in the survey showed concern at the prospect of having marketers and companies accessing their personal information on social media.

For this reason, the work made by online businesses and experts in 2019 is heavily related to the goal of rebuilding trust, prioritizing the transparency in data usage, and ensuring a proper management of users' personal information.


Data Support for Information Found on Social Media to Improve Personalization
In contrast to the previous point, the inevitable exposure of users' personal information on different social platforms can actually work to their benefit. In 2019, one of the proposals that must come for those managing social media strategies is a more efficient treatment of user' data, where personalized content can be successful at improving user experience and generating more engagement with the target.

After all, 89% of buyers who interact with companies on their social media profiles claim that these exchanges play a huge part in their shopping decisions (Infosys).


Micro-Influencers
According to the article released by Medium, micro-influencers generate 60% more engagement than what's reached by influencers with more popularity on social media. Even when it's commonly convenient to focus social media strategies on influencers with bigger followings on these platforms, this tactic doesn't always provide the expected results, and the numbers mentioned above serve as proof of it.

The trend for 2019 is to pay special attention to micro-influencers; despite not having a remarkable number of followers on social media, these people still hold the power to connect with a specific niche among active users, conveying closeness when they expand on a post with an opinion or an honest recommendation. This results in many users basing their shopping decisions on the content shared by their favorite micro-influencers.


Virtual Reality
This year social platforms are expected to implement more features involving virtual reality to enhance users enjoyment. Now that virtual reality is so widely advertised by different social platforms, marketing experts will be tasked with developing strategies sustained by this attractive tool to improve user experience.


Video Surpassing Text
For a long time, digital marketing experts have claimed that original texts are imperative for attracting customers, either on a website or on social media. Text represents an important and effective tool, but nowadays, strategies can't stop with the creation of written content; visual content has been making its way to the online world in a time where pictures and video messages catch the attention of users faster.

81% of people make a decision to buy a product/service after watching a video released by the brand; 97% of marketers have stated that using videos helped increase the user' understanding of a product (HubSpot). For these reasons, video marketing is expected to have a starring role on social media strategies in 2019.


Live Streaming
In 2019, live streaming will be a powerful weapon for brands and companies that already have an online presence. Social media as a whole has put a great effort into incorporating live streaming spaces where users can share and interact in a more immediate manner. This form of interaction has become more and more popular, so it is an effective tool to help you advertise a product and provide a closer preview for anyone interested in buying making a purchase.


Instagram Marketing
As we stated before, visual trends are on the rise, and there is no social platform more visually-oriented that Instagram. This is why we expect marketing experts and business owners to turn Instagram into one of their biggest tools for reaching customers.

According to a survey conducted by the same social platform, 60% of people have discovered a new product while using Instagram and over 200 million users check at least one company profile every day. This, along with many other advantages, makes Instagram a very important social platform from a marketing standpoint.
WebFindYou Helps you Apply All These Trends
With our All-In-One Digital Marketing Technology, you won't have to worry about keeping up with these changes. WebFindYou is constantly updated to maximize each new digital marketing strategy. With our technology, you will control and manage all the necessary tools to reach digital marketing success with less hassle.
We put in your hands the opportunity to manage all your social media posts on the WebFindYou platform. You will also get all the important tracking information and interactions made by your target audience.
Join the WebFindYou Technology!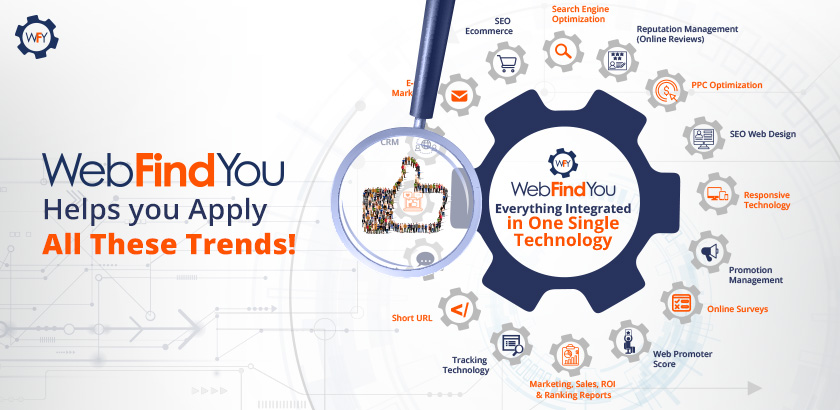 Do you want to know more about what we can offer? To have a clear idea of what exactly makes our All-In-One Digital Marketing Technology, you can learn about our
20+ digital marketing tools
. You can also call us at
1-866-SEO-WEBS (736-9327)
or fill our
contact form
. We will be happy to assist you!
If you found this article helpful then let us know in the comments section below. Likewise, feel free to share it using the share options below. Want us to cover another topic of your interest pertaining to digital marketing? If so, then like us and follow us on social media, and post to any of our social media profiles the topic you'd like us to discuss:
Facebook WebFindYou
,
Instagram @WebFindYou
and
Twitter @WebFindYou
.