Customer Journey: What Is It and Why Is It Important to Know the Steps of your Potential Customer?
January 07, 2020
What is the customer journey? You may have also heard it referred to as the consumer journey, but it means the same thing. The customer journey is the path consumers take to discover your brand and how they interact with your brand after they have discovered it. Why is it important for you to know how they got there as long as they made it, right?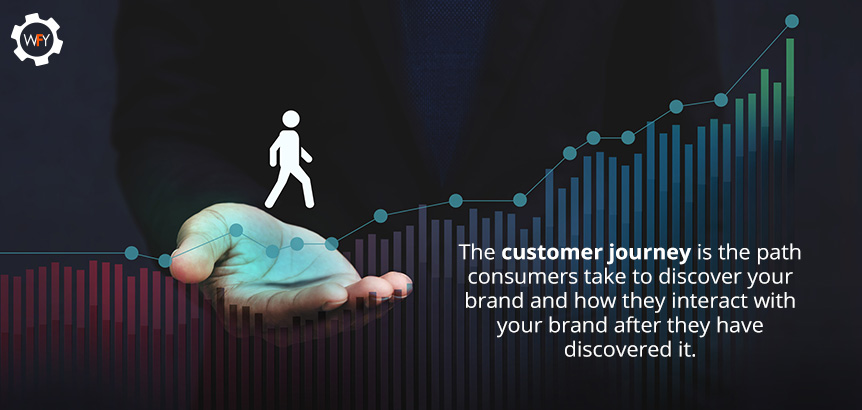 No, not right. Understanding how your customers are coming to you is a very important part of understanding what is and isn't working with your marketing efforts. In fact, you should have a way to consistently monitor your customers to find out what it is that attracts them to your brand, but you also need to know how they interact with your company after they've discovered you. By understanding what makes your customers tick, you will learn the best ways to encourage their continued loyalty while bringing in new customers.
Figuring out Your Customers and Their Journey
Gather and Analyze Data:
The first part of the customer journey starts with you. It's important to anticipate how customers are going to behave. It sounds like an impossible task, but you can do it. The first step is doing extensive analytical research. Hopefully your website is capable of providing this information, you're paying for the many tools capable of providing this information, or you're paying a team specifically to do this. The information you gather can tell you all kinds of important information like where customers are coming from, how much time they spend on your website, and how they are engaging with you while they're there. Many web hosting platforms offer basic information but will provide you with more detailed information if you're willing to spend the extra money to pay for it. You can also purchase apps and tools that will help, but it can get costly. In the end, you need to find a way to glean as much information as you can about where your customers are coming from and how they are behaving when they get to you. The information is crucial to your success. Did they see an ad, get an email, or find you on social media?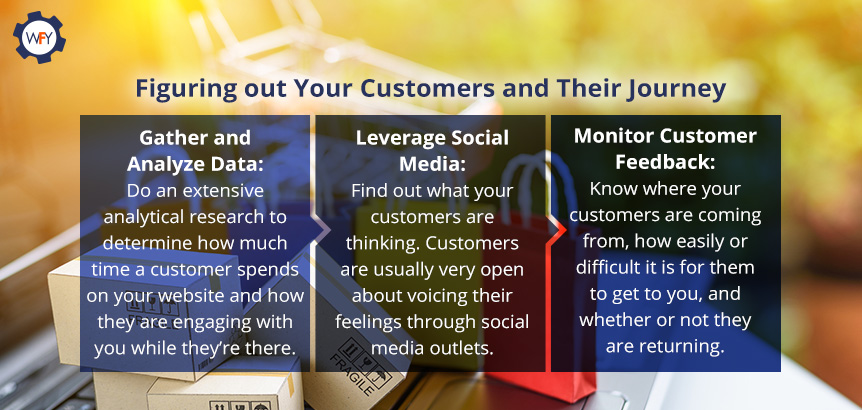 Leverage Social Media:
Learn how to find out what your customers are thinking. Get inside their heads. How do you do this? One of the most important ways to find out what your customer thinks is to use social media to gather the information. People turn to social media like Twitter, Facebook, and Instagram to express themselves openly. That's the way consumers are in this digital age. We go to social media to share happiness, grief, anger, and disappointment. Customers are usually very open about voicing their feelings through social media outlets. If they are happy with your brand, they will likely shout it out to the world, and likewise, if they are unhappy, they will use social media to let you (and the world) know about it. The information you extract from your customers on social media is going to be a vital part of learning about the customer journey.
Monitor Customer Feedback:
Know where your customers are coming from, how easy or difficult it is for them to get to you, and whether or not they are returning. Identify those marketing efforts that are working and keep track of them. This is information that will help you map out the customer journey. Keep track of any feedback you get on social media, but take steps to gather this information as well. Customer surveys are a great way to do this. They are ideal for hearing what your customers have to say directly. You can even offer something free to get customers to fill out surveys. The information provided in surveys or on social media is sometimes called anecdotal, as opposed to the data you collect known as analytical data (straight facts and figures to help you determine customer behavior). Anecdotal simply means what the customer is actually telling you about their experience. Both types of information are extremely important.
Build a Customer Journey Map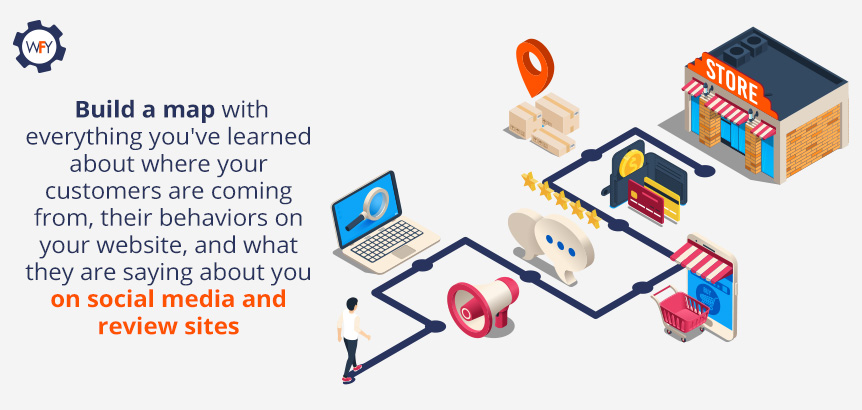 Take everything you learn about your customers and their journey (analytical and anecdotal). The map can be a simple graphic illustrating everything you've learned about where your customers are coming from, their behaviors on your website, and what they are saying about you on social media and review sites. All of this information compiled into a visual is a great way to get an overall look at the journey your customers are on. This lets you identify your customers' touchpoints. Each time your customers engage with your brand, whether it is before (viewing an ad or responding to an email), during (while visiting your store or website), or after (leaving reviews, posting on social media, etc.), this is an opportunity for you to learn something that can help you keep customers happy while increasing sales. Even a negative experience can be turned into a positive one. You can't fix problems if you can't identify them. That's why understanding the customer journey is so important.
How to Ensure a Great Journey for Your Customers
Once you've illustrated, or mapped out, the journey of your customers, you can take steps to eliminate those problems that may be causing your customers to have a negative experience while reinforcing those things that are helping customers have a positive journey. The first thing to do is to make sure the customer experience on your website is a good one. This means fast load times and trouble-free checkout experiences. Customers expect, in this age of technology, to get in and get out. There's nothing more frustrating than waiting for a page to load or putting your credit card in at checkout time only to have the system crash. A quality SEO optimized website is essential. This is the kind of stuff that leads to poor reviews, negative shout-outs on social media, and a loss of revenue for your business. Knowing this is happening, however, through the analysis of the customer journey gives you the opportunity to fix it.
WebFindYou Has Everything You Need
WebFindYou is the first and only platform to offer true digital marketing. Our All-in-One Digital Marketing Technology gives you all of the components to analyze the journey of your customers, but we also give you all you need to make their journey a pleasant one from the start. With WebFindYou, you get an SEO optimized website designed to load quickly, and with our responsive technology, your customers will get the same experience no matter what device they use to access your website. You also get customer relationship management (CRM), which is a crucial part of staying on top of your customers' journey, you get online surveys (important, as we mentioned above), tracking technology that lets you know what is and isn't working in your SEO, PPC, email marketing, and social media marketing campaigns, and reputation management. WebFindYou also gives you extensive marketing, sales, ROI, and ranking reports that can show you where you are ranking for particular keywords so you can track your positions over time. Without WebFindYou, your website would need to use different components and modules to provide the detailed reports we offer, all of which costs additional time and money without delivering a fraction of the insights WebFindYou provides.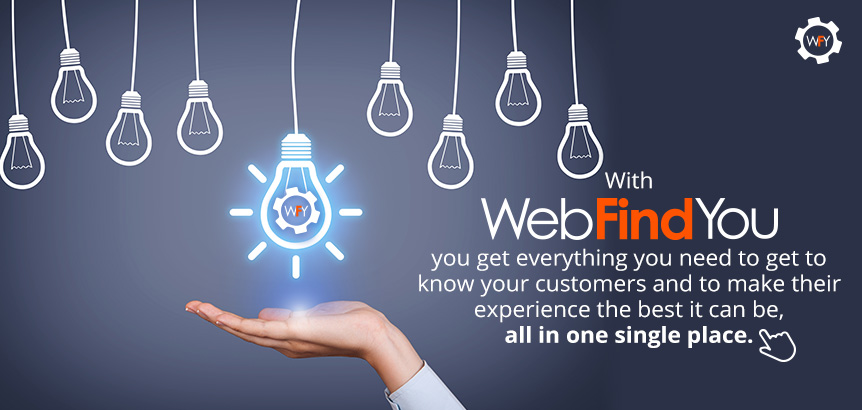 You get everything you need to get to know your customers and to make their experience the best it can be, and you get it all in one single place. WebFindYou's All-in-One Digital Marketing Technology is the first and only way to ensure your company's marketing meets the demands of the digital age while ensuring your customer's needs are met. Without WebFindYou, you can spend thousands of dollars a year for a variety of tools that may or may not work effectively, not to mention the time it takes to learn all of those tools. You get everything in one place with WebFindYou, with less hassle, reduced cost, and increased revenues.
WebFindYou is the only company worldwide offering this tremendous time-savings and less-complicated value. We are the only All-in-One Digital Marketing Technology that exists, offering everything you need to implement a complete digital marketing solution. If you are not using WebFindYou for your business, we suggest you follow our
Latest News
and
Blogs
,
subscribe to our newsletter
, and follow us on social media to be informed of the important issues affecting digital marketing and how WebFindYou continues to make them less complicated, with lower costs and greater revenues.
Are you ready to discover the True Power of the Internet and maximize digital marketing revenues with WebFindYou? Simply follow these easy to follow steps to get started:
You'll receive an email to access the WebFindYou platform for your website.
Follow the very easy to follow videos to implement WebFindYou for your business.
For questions, please call us at 1-866-SEO-WEBS (736-9327), fill out our contact form, subscribe to our newsletter or follow us on social media to stay informed of everything WebFindYou including webinars and live speaking events.
If you found this article helpful then let us know in the comments section below. Likewise, feel free to share it using the share options below. Want us to cover another topic of your interest pertaining to digital marketing? If so, then like us and follow us on social media, and post to any of our social media profiles the topic you'd like us to discuss:
Facebook WebFindYou
,
Instagram @WebFindYou
and
Twitter @WebFindYou
.