Did You Know That 92% of the 30 million Businesses in the United States are Failing at Digital Marketing?
3 min read
January 29, 2020
That is correct...92% of the 30 million businesses in the United States are failing at Digital Marketing.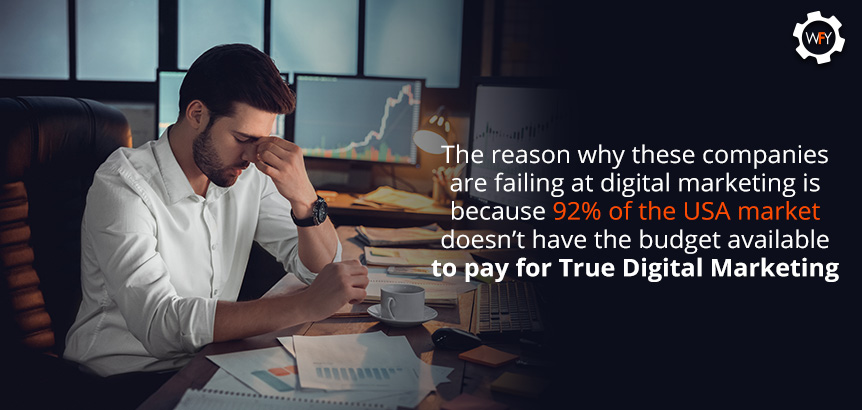 Pretty crazy number, right?
It's happening because 92% of the USA market doesn't have the budget available to pay for True Digital Marketing.
Why?
Because to truly implement digital marketing the right way, you need to do everything digital to maximize the power of the Internet for your brand, leads, and sales. To do this, you will need at least $3,000 - $5,000 per month to pay a good SEO and Digital Marketing company (excluding Pay Per Click costs). Unfortunately, 92% of the businesses in the USA have less than $1,200 per month in digital marketing budget.
Hence, the problem.
So What is The Market Doing Then?
Well, they are being misinformed by being told you can do SEO for just a few hundred dollars, or you can add on an SEO module via WordPress or GoDaddy or Wix and voila, you have SEO. They are also being told you don't need a website at all, that Facebook ads or a simple 1-page website is sufficient.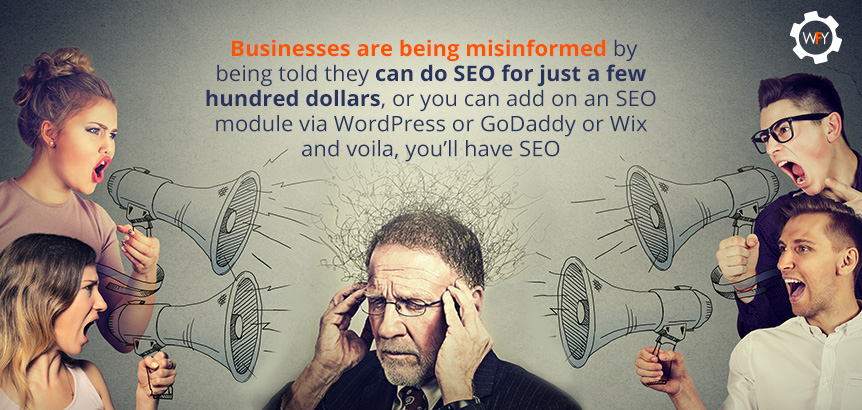 News flash
! SEO for a few hundred dollars DOES NOT exist, and those that sell it that way are simply telling you what you want to hear in order to sell you what they can.
...and so the frustrated business owner enters into a vicious cycle of jumping from one so-called SEO or Digital Marketing expert or "next best digital solution" to the next, which simply leaves them worse off, with little to no results, money down the drain, and super frustrated because they need to grow their business.
This is why so many businesses have given up on Digital Marketing, SEO, and/or Pay Per Click ads via Google/Bing and/or Facebook.
But wait! Businesses need to market themselves, because if they don't, it's hard to keep the doors open, right? Of course!
But traditional media like TV, Print, and Radio doesn't work like they used to, or they are just too expensive. Yep! So what do businesses do then?
THE SOLUTION...
First, businesses need to remember that time is money, just like they tell their potential clients, and your business needs to be compensated accordingly for their time and "know-how." The same goes for Digital Marketing and SEO companies.
Second, SEO and Digital Marketing is very involved and there is a lot to it, therefore, if something takes a lot of time to do, then paying someone a few hundred dollars simply won't work. That's why so many businesses stay in the vicious cycle mentioned above.
The dilemma here is that you either have to have the money to pay someone or the time to do it yourself. But if 92% of the USA market has less than $1,200 per month, then they
simply don't have the money
and
therefore must have the time
.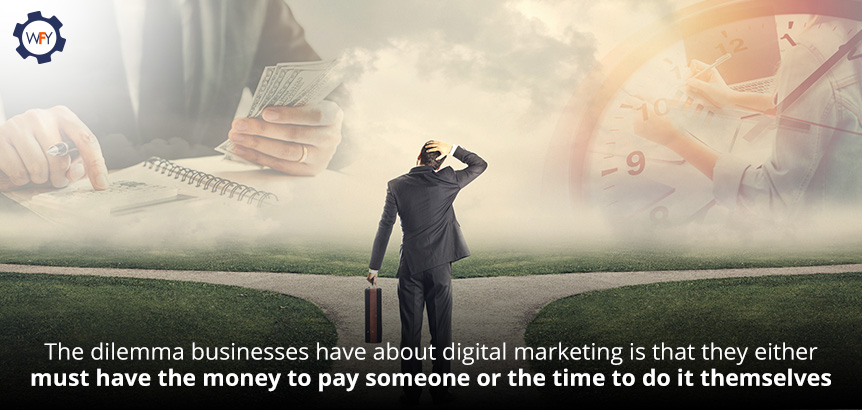 Now what if the time it takes to do True Digital Marketing could be drastically reduced? And what if many of the complexities were removed or greatly simplified? If this were the case, then those that implement Digital Marketing for other companies could potentially lower their prices, and likewise it would allow more businesses to implement their own Digital Marketing and would therefore allow 92% of the businesses to finally have a True Digital Marketing solution.
Enter... The SOLUTION -> WebFindYou
WebFindYou is "True" All-In-One Digital Marketing Technology that allows you to implement everything digital to maximize brand awareness, leads, and sales online.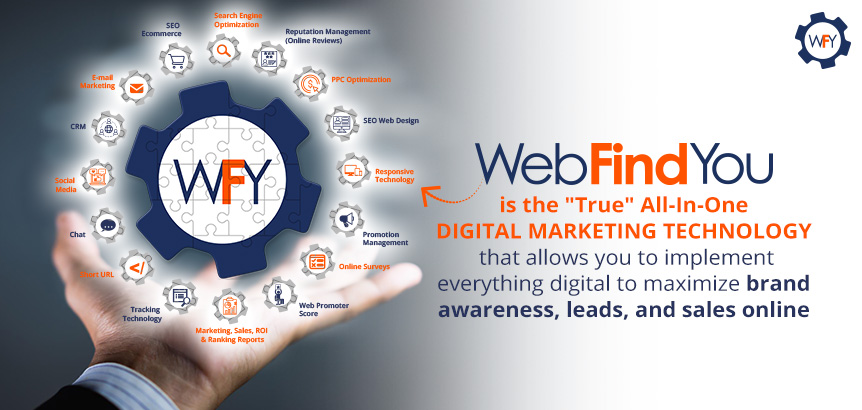 We are the first and only All-In-One Digital Marketing Technology that combines all the necessary components of true digital marketing in one single integrated technology. We reduce the work required to implement True SEO by 50% and
our technology will save you over $1,500 in just the tools and technologies required to implement true digital marketing
. This makes WebFindYou a superior solution to the traditional means of implementing digital marketing, especially since
92% of USA businesses don't have the proper budget to implement true digital marketing
.
Our unique technology and step by step video tutorials greatly simplify the process and ensure you always stay on the right path for maximum results. And when Google, Bing or Social Media platforms require changes to your website for maximum visibility and results, WebFindYou will auto-update your website and notify you of any other manual changes you'll need to make. Peace of mind and simplicity!
For a small one-time setup fee of $499 and then $49/month for informational websites or starting at a one-time setup fee of $599 and then $59 per month for e-commerce websites, WebFindYou is revolutionizing the way businesses think about and implement their Digital Marketing, SEO, and PPC while solving the problem of the 92% of the market, finally providing them a viable solution to stop failing at their Digital Marketing.
To read the extensive study see our blog post
92% of the USA Market Doesn't Have the Budget Available to Pay for True Digital Marketing. Discover the Solution: WebFindYou!
.
Are you ready to discover the True Power of the Internet and maximize digital marketing revenues with WebFindYou? Simply follow these easy to follow steps to get started:
You'll receive an email to access the WebFindYou platform for your website.
Follow the very easy to follow videos to implement WebFindYou for your business.
For questions, please call us at 1-866-SEO-WEBS (736-9327), fill out our contact form, subscribe to our newsletter or follow us on social media to stay informed of everything WebFindYou including webinars and live speaking events.

If you found this article helpful then let us know in the comments section below. Likewise, feel free to share it using the share options below. Want us to cover another topic of your interest pertaining to digital marketing? If so, then like us and follow us on social media, and post to any of our social media profiles the topic you'd like us to discuss:
Facebook WebFindYou
,
Instagram @WebFindYou
and
Twitter @WebFindYou
.