Digital Marketing VS. Traditional Marketing
min read
January 07, 2020
Everybody in business knows what marketing is. Chances are good you've heard the terms "digital marketing" and "traditional marketing." The thing is, a lot of people believe that traditional marketing is dead, which isn't necessarily the case. Traditional marketing was the only way to market until the Internet came along, and even after the arrival of the Internet, traditional marketing held its own. Once the Internet began to cement its place, new forms of marketing began to take over. Those new marketing methods became known as digital marketing, and it wasn't long before the new methods of marketing began to catch up with, and soon overtake, traditional forms of marketing.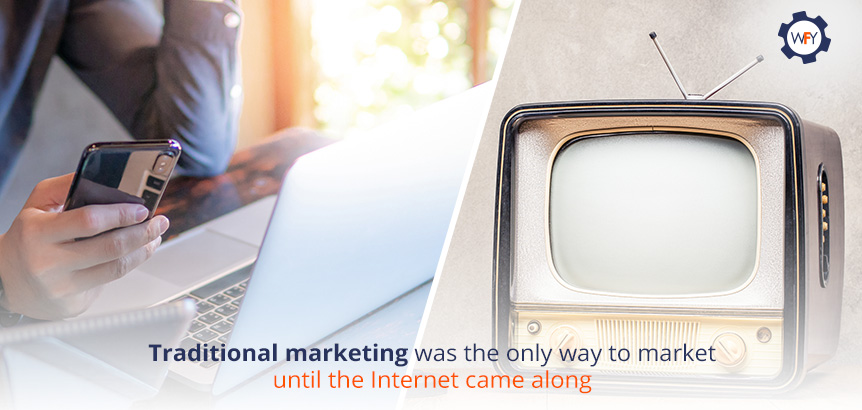 What Is Traditional Marketing?
Traditional marketing methods include print advertisements, billboards, TV, radio advertising, product sampling, fax machine memos, magazines, contests and giveaways, newspapers, and even good old fashioned cold calling (which still exists today). Most of these methods still exist and are still used, but some factors have forced companies to search for alternatives. TV advertising is a good example. Before cable and DVR, we had to sit through commercials on TV or leave the room. Now we simply skip over them. We listened to traditional radio that didn't allow for paid subscription services that included commercial-free music. We read magazines more often. Those were some of the prime avenues for companies to showcase their products and services, then the Internet came along and eventually got us used to getting our entertainment without having to sit through those traditional commercials to get it, forcing a shift in how traditional marketing strategies were adapted to the new age.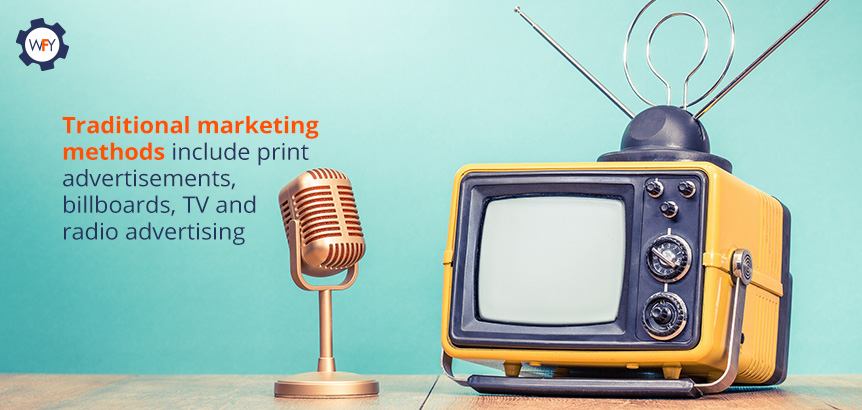 What Is Digital Marketing?
A surface explanation of digital marketing is simple. Digital marketing refers to advertising via digital channels like websites, social media, email, PPC, search engines, mobile apps, and many promotional activities incorporated into these methods. The term digital marketing does cover a range of marketing strategies that go beyond the basic ones we'll look at here. It can, in fact, get quite complex. For now, let's look at the basics.
PPC:
Pay-per-click advertising basically refers to paying for search engine results page (SERP). You pay when your ad is clicked. PPC can be designed to appear when certain search terms are used, which means you get ads targeted to the desired audience. PPC ads can be highly effective for this reason.
Email:
People love checking their email, so there's not a better way to reach them with more immediacy. The key is to create emails that serve a specific purpose and connect with consumers. A disregarded email won't do you any good. Smart marketers understand how to use email to gain new customers, encourage lost customers to come back, and keep current customers happy.
Mobile Marketing:
In-app marketing, mobile apps are designed for the specific purpose of providing constant marketing to consumers without being obvious about it. SMS, and MMS are all ways to leverage the consumer's love of their mobile apps. They offer new and viable ways for companies to reach consumers effectively.
Website:
If you know anything about being in business today, you understand the importance of a website. Not just any website, but a website that is SEO optimized and ready for prime time. A website that hasn't been optimized for search engines (or one that breaks rules that Google doesn't like) is as bad as not having one at all. A company website is the face of your company. It should not only represent your brand from a visual standpoint, it should meet all the requirements necessary to get noticed in search engine results, preferably in the top results.
Content:
Articles, blogs, and videos are examples of content. While content isn't direct marketing, so to speak, it does, or should, bring value to consumers. That means the content should be relative, authoritative, and serve to either inform or entertain visitors to your website. It can be used to market as well, even if not blatantly. SEO optimized content is a key ingredient to a successful marketing.
Social Media:
Facebook, Instagram, Twitter, and many other social media outlets offer great opportunities to reach your current customers as well as potential customers. It can be leveraged to successfully build your business and should be taken into account when you are deciding on any type of marketing strategy.
One Or the Other?
There is no question digital marketing is crucial to a company's success today. Traditional marketing strategies alone won't work. The recent closing of Toys R Us is proof. There are many reasons Toys R Us found it difficult to survive, but its less than stellar approach to online marketing didn't help. A company needs to be competitive online today. That doesn't mean traditional marketing is out of the picture. Not by a long shot. In fact, using both avenues can help increase a company's reach and help build a stronger presence.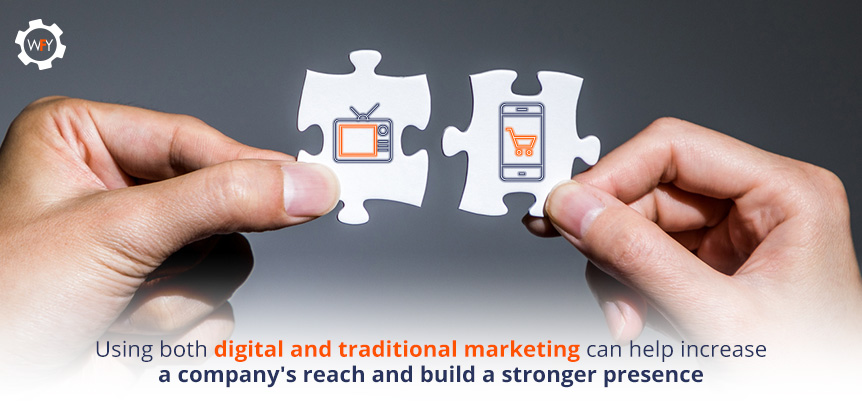 There is a lot that goes into successful marketing. Many companies pick and choose what they want to do, or they pay a great deal of money to many companies to do it for them. Some companies pay thousands of dollars in apps and services on a yearly basis in the hopes that they will find the right formula for success. This expensive hit and miss strategy only sets those companies up for failure. All of the components for marketing must be used in such a way that they are working together, but finding the right way to do this easily and at an affordable cost has always been a challenge.
WebFindYou Gives You Everything You Need for Success
At WebFindYou, we are the first and only platform that puts true digital marketing at your fingertips. We call it WebFindYou All-in-One Digital Marketing Technology. It's built from the ground up to give you everything you need to implement true digital marketing, which is the primary way to get your message across to consumers today. WebFindYou All-in-One Digital Marketing Technology is the only way to ensure your company's marketing meets the demands of the digital age because we provide all of the essential components necessary for success in today's online world, not just a select few.
WebFindYou can also help with your offline marketing efforts in many ways. Tracking your offline efforts is one way. With WebFindYou technology, you have everything you need integrated in a single place to manage your digital and traditional marketing. For instance, you can create an exclusive phone number specifically for your radio, print, or TV ads that will help you track the success of those efforts. You can also include promo codes for your print and other traditional marketing efforts that customers can use on your website, allowing you to track those sales and referrals. Consumers can be asked to mention where they heard about your company, which is another way to track whether or not your offline marketing is doing well.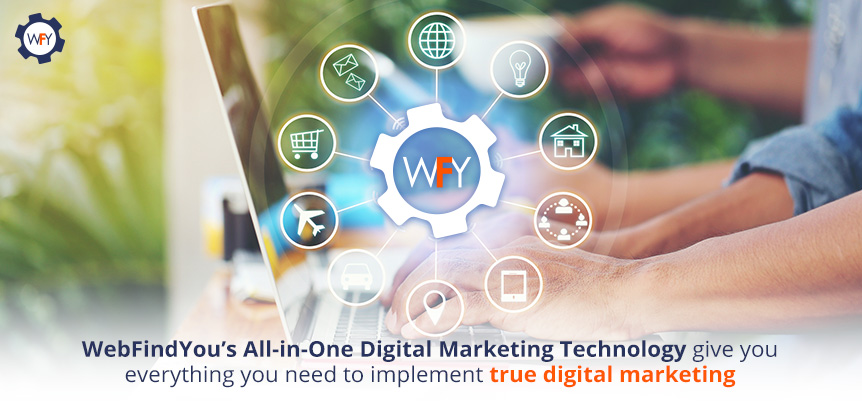 A tracking URL or a page tracking can also be used. A tracking URL is a special URL used to track specific information when the link is clicked. Tracking URLs are typically used in paid advertising to show where links come from, conversion rates from visitors to customers, and other aspects of pay per click advertising that can be tweaked to get the result you're after. Tracking URLs can be used to track offline activity as well, with specific URLs used in print and other media to indicate customers who come to you from those avenues as opposed to online sources.
The same holds true for landing pages. A landing page is a page with the sole purpose of converting visitors into leads, or potential customers. Landing pages have few distractions. A good landing page has some content on it about the product or service. Visitors are drawn to visit landing pages by a call to action (CTA). The content should be good enough to convince the customer the product or service is something they need. A landing page will have a form in order to capture the potential customer's information, such as email address, telephone number, name and address, etc. Landing pages can be used as a means to finding out how consumers were referred.
The conversion process starts with the CTA, which can come from a digital avenue or a traditional offline avenue. The CTA brings visitors to the landing page where they fill out a form or provide information, turning those visitors into leads. This is often followed by a "thank you" page where the visitor (now a lead) can get the information or download they have been promised by your company. While this is normally thought of as a digital marketing effort, there's no reason it can't be leveraged for offline purposes as well.
When potential customers see you offline, they are more likely to look for you online. This is because consumers these days are predisposed to going online. That's why it's so important to make sure your offline advertising is tied into your digital marketing. Even an ad viewed on TV or in print will have consumers looking for a way to contact your company when they go online. This means better conversions for you.
If you're looking for someone who can help you design your offline print, radio, and TV advertising, the WebFindYou Marketplace gives you access to experts and that include writers, graphic artists, and professionals who can help you create just about anything you need for your businesses' online or offline marketing.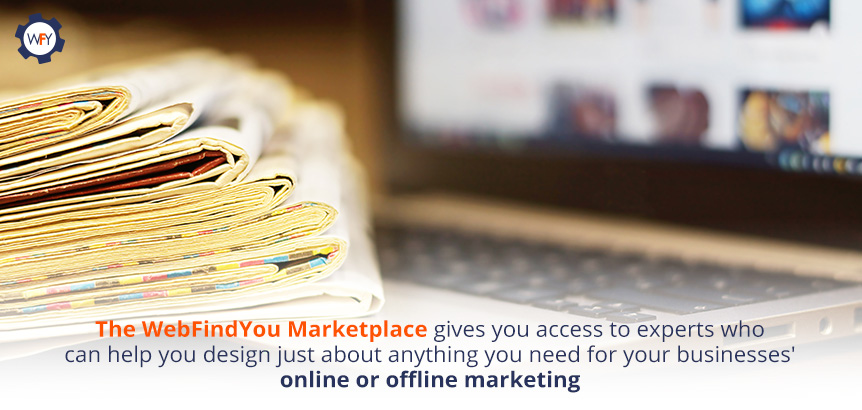 Of course, WebFindYou's All-in-One Digital Marketing Technology gives you the detailed, integrated reports you need to know who's calling your company or visiting your website and where they are coming from. You'll need a social media presence that's tied in with all of your marketing efforts and designed to take advantage of the popularity of social media in today's digital world. WebFindYou gives you all you need to manage your social media presence, schedule posts, and track your posts to measure engagement levels to allow you to refine your strategies.
With WebFindYou, a website programed with one of our kit designs includes a professional-looking site with optimal load speed (essential to rankings), informative blogs, online surveys, and other resources to increase the user's time on site. Our responsive technology means your customers and potential customers will see your website exactly as intended on every device, whether it be a desktop or a phone. This is important in today's world because consumers are accessing your business from everywhere and they want to be able to get the same experience no matter where they are or what device they're using.
WebFindYou is the only company in the world offering everything you need for true digital marketing and with tremendous time-savings and less-complicated value. We offer everything you need to implement a complete digital marketing solution. If you are not using WebFindYou for your business, we suggest you follow our
Latest News
and
Blogs
,
subscribe to our newsletter
, and follow us on social media to be informed of the important issues affecting digital marketing and how WebFindYou continues to make them less complicated, with lower costs and greater revenues.
Are you ready to discover the True Power of the Internet and maximize digital marketing revenues with WebFindYou? Simply follow these easy to follow steps to get started:
You'll receive an email to access the WebFindYou platform for your website.
Follow the very easy to follow videos to implement WebFindYou for your business.
For questions, please call us at 1-866-SEO-WEBS (736-9327), fill out our contact form, subscribe to our newsletter or follow us on social media to stay informed of everything WebFindYou including webinars and live speaking events.
If you found this article helpful then let us know in the comments section below. Likewise, feel free to share it using the share options below. Want us to cover another topic of your interest pertaining to digital marketing? If so, then like us and follow us on social media, and post to any of our social media profiles the topic you'd like us to discuss:
Facebook WebFindYou
,
Instagram @WebFindYou
and
Twitter @WebFindYou
.