Discover the Importance of a Quality Web Design for Online Companies
January 14, 2020
It would seem that, in this day and age, we wouldn't have to talk about the importance or the quality of a website when it comes to your business. As obvious a point as it seems, there are a lot of companies that overlook this very basic need. It is crucial for the survival of large companies, and even smaller companies, to have an online presence today if they want to compete in business. With this said, it all starts with a website, and there's nothing more important than ensuring your website does all it should be doing for your business, from aesthetics to the "unseen tasks" necessary for success.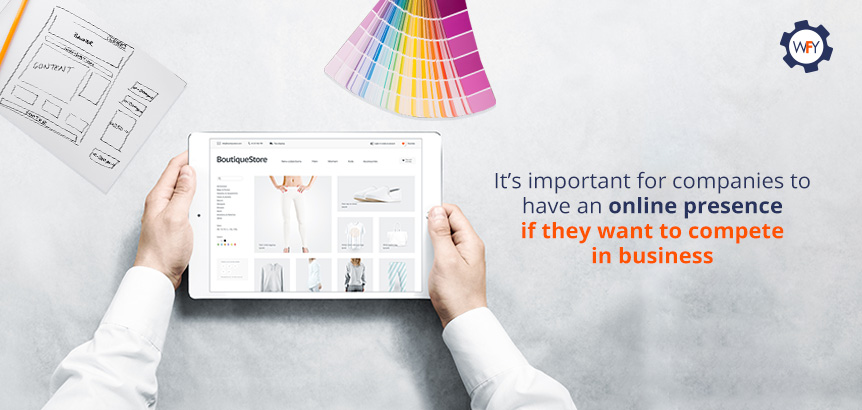 When you have a brick and mortar store, you can hire employees to interact with your customers. Your employees are tasked with giving your customers a first impression of your business. It's a lot different on the Internet. The human element is gone and the task of first impressions falls on your website. What you have to work with is text, pictures, videos, and codes. These elements all need to be in order if you're going to present your company to the public in a way that is appealing.
The Aesthetics and Functionality of a Website
Aesthetics are something that can be measured by your customers because they can see or experience this aspect of your website. How does your website look? Is it appealing to customers? Is easy to navigate? Is the content well written and useful? How fast do the pages load, and are there a lot of crashes? These are just some of the questions you need to address to make sure you have a quality website in the eyes of the customer. No matter how many people find your website and regardless of how good your product or service is, if you don't have an aesthetically pleasing website that customers can use without becoming frustrated, you will lose customers to another business that has already taken the time to address these questions.
What the Customer Doesn't See in Your Website
It isn't just about what your customer sees. Quality web design also includes those things customers don't see. There's a lot going on "under the hood" of the website that needs to be in order to give your business what it needs in terms of ranking. For instance, you wouldn't take a Honda Civic to a NASCAR race. In order to stay ahead of the competition, the content on your website, the code that makes it up, and the structure all need to be there to ensure your website is SEO optimized and Google-ready. Making your website the way it should be and keeping it that way is a full-time job that typically means hiring a staff to oversee it and spending the money on apps and tools you can use for the process.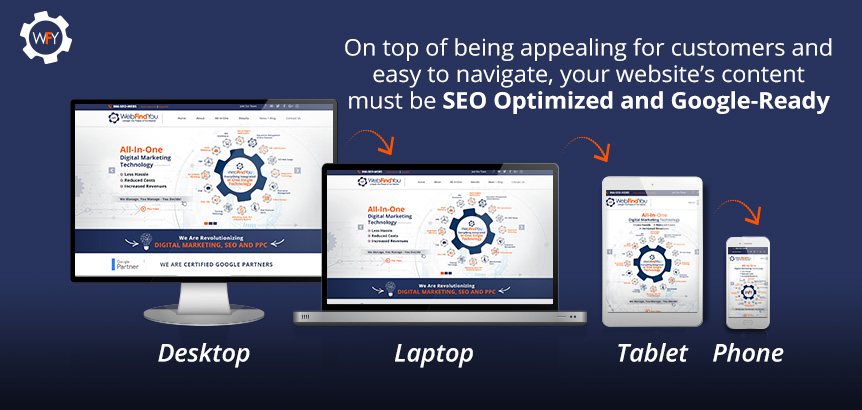 Your Website is the Face of Your Business Online
You can use whatever analogy you like regarding your website. It's the face of your website or your online business card. Refer to it any way you like, but one thing remains true: your website is going to dictate how your customers view your business and will be a large part in determining what they think of you. That's why it can be viewed as the most important part of what you do online.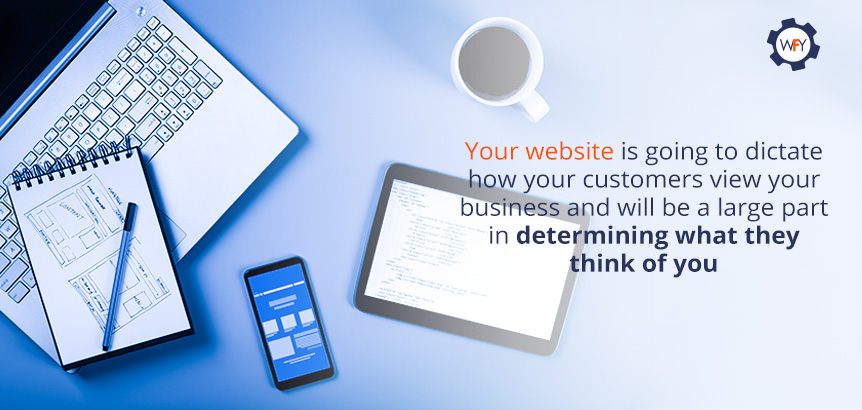 Remember, web design covers an entire process. It includes the planning of the design, the creation of the website itself, and management of all the pages that comprise the website. Web design is all about crafting a platform that has navigability, usability, and information architecture with one aim: to generate a positive user experience while providing your company with a positive ROI.
WebFindYou All-in-One Digital Marketing Technology
One of the most important things you can do for the success of your business is to have a website that is optimized on every level. This is how you get optimal visibility in search engines (especially Google), and it is a fundamental part of putting your business ahead of the competition. It starts with SEO web design, which WebFindYou has re-developed from the ground up to be more effective.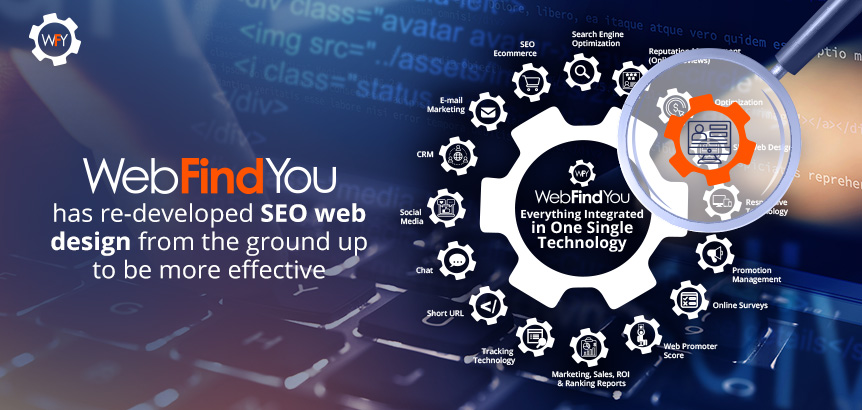 Before launching WebFindYou, we took a look at web design as it stood and re-thought the entire process to bring business owners a better way of doing things. We developed a new concept with the knowledge that the key to improving your visibility online is short load times, an optimized web design, responsive technology, and other elements that contribute to making your website faster, easier to navigate, and consistent across all devices. We looked for, and found, a way to bring all these essential elements together and we integrated our SEO web design into our technology. As a result, WebFindYou takes care of creating optimized web design for easy navigation and adaptability to responsive technology. This guarantees all of the above stated requirements are met, ensuring your business has a website built from the ground up to succeed.
Responsive technology allows a website's design to modify its structure to match the screen of the device used to view it. Many web designers simply create different versions of a website for different devices. All this does is create additional URLs, which is counterproductive to what you want to do. Responsive technology is one URL that adapts to the many ways consumers access your website. With almost 4 billion people accessing websites using their mobile phones, it's essential your website act the same way on these devices as it does on a desktop. This is why SEO web design is so important to a successful online presence. Your website's bounce rate will be reduced considerably with the combined power of SEO web design and responsive technology. These two elements improve the experience of consumers who visit your website. Improved load times, better visualization, and easier navigation means customers are more likely to spend their time (and dollars) with your business.
This also makes Google happy. Since at least 2015, one of Google's biggest requirements for indexing websites higher in the rankings of its search engine is a user-friendly structure. This structure includes the optimized web design and adaptability to different electronic devices mentioned above, along with content being SEO optimized and properly tagged. Google's aim is to bring users safe and fast access to the Internet while boosting the visibility of websites that deliver valuable content and optimal user experience. This is why it is important to stay on top of what Google expects and to adhere to the rules as Google lays them out.
There are alternatives to WebFindYou, but since none of them can provide the technology we do, they aren't really viable alternatives. Some names you are likely familiar with include WordPress, which has different levels of functionality based on the plan you purchase. There's also Shopify, that puts a big focus on e-commerce and has three subscription plans. Another is Template Monster, which allows users to create websites using pre-defined templates. Each of these services offer different monthly plans and can run as high as $300 a month, but keep in mind, this is standard web design that doesn't include SEO web design or advanced responsive technology. You need additional services and providers to modify HTML, CSS, and JavaScript coding, which is going to be an additional cost to your budget. Even then, you won't come close to the technology WebFindYou offers.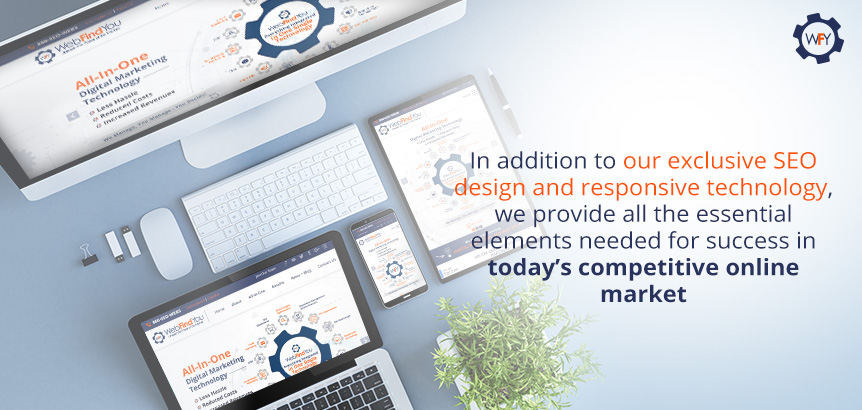 WebFindYou provides everything you need to implement true digital marketing. The WebFindYou All-in-One Digital Marketing Technology is the first and only way to ensure your company's marketing meets the demands of the digital age. In addition to our exclusive SEO design and responsive technology, we provide all the essential elements needed for success in today's competitive online market. Email marketing, social media marketing, SEO e-commerce, short URL, tracking technology, promotion management, PPC optimization, and reputation management are just some of the things you get with WebFindYou. You also get extensive marketing, sales, ROI, and ranking reports that let you know how your marketing efforts are paying off, which ones are working, and which ones aren't. You get all of this and much more, all in one place, giving you everything you need for successful digital marketing with less hassle, reduced costs, and increased revenues. There's no better choice for your company than WebFindYou All-in-One Digital Marketing Technology.
WebFindYou is the only company world-wide offering this tremendous time-savings and less-complicated value. We are the only All-in-One Digital Marketing Technology that exists, offering everything you need to implement a complete digital marketing solution. If you are not using WebFindYou for your business, we suggest you follow our
Latest News
and
Blogs
,
subscribe to our newsletter
, and follow us on social media to be informed of the important issues affecting digital marketing and how WebFindYou continues to make them less complicated, with lower costs and greater revenues.
Simply follow these easy to follow steps to get started:
You'll receive an email to access the WebFindYou platform for your website.
Follow the very easy to follow videos to implement WebFindYou for your business.
For questions, please call us at 1-866-SEO-WEBS (736-9327), fill out our contact form, subscribe to our newsletter or follow us on social media to stay informed of everything WebFindYou including webinars and live speaking events.
If you found this article helpful then let us know in the comments section below. Likewise, feel free to share it using the share options below. Want us to cover another topic of your interest pertaining to digital marketing? If so, then like us and follow us on social media, and post to any of our social media profiles the topic you'd like us to discuss:
Facebook WebFindYou
,
Instagram @WebFindYou
and
Twitter @WebFindYou
.