Discover True Digital Marketing and Why WebFindYou is the Best Option for You
December 21, 2018
The correct management of a company's online marketing is one of the most important factors for reaching success on the Internet. The optimal execution of digital marketing often represents an undeniable advantage to improve a brand's visibility with all the potential customers interacting in the digital world. When these users are drawn to a company's website, the result can translate into sales or recognition for the brand, creating a financial gain as well as ensuring customer loyalty.
Companies that know the process and effort required to succeed in digital marketing are also aware of the amount of resources demanded to ensure outstanding work; these resources are the surest way to obtain the results you expect from a digital marketing campaign.
What are the Necessary Resources for a Digital Marketing Campaign?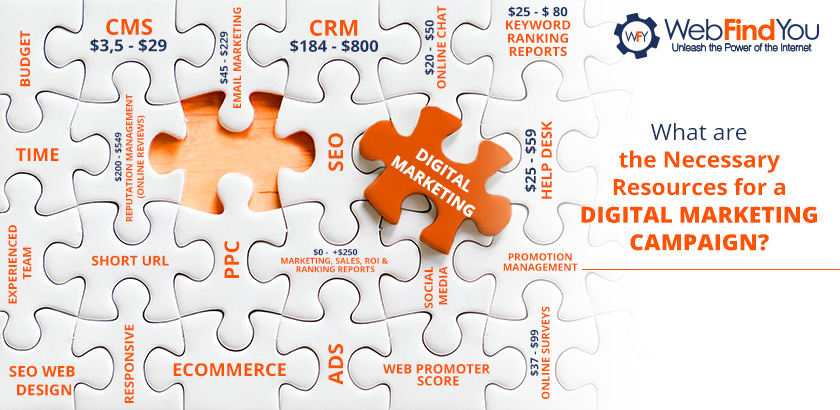 A digital marketing campaign entails a lot of elements, tools, and strategies that become essential for the success or failure of a company's online presence. An effective CMS, an optimized design for your website, true responsive technology, the management of tools for SEO, keyword analysis, content creation and website visibility, interaction with customers with a proper CRM, email marketing, PPC, data tracking, marketing reports, and social media are some of many pieces that are
vital
to go through the development of the "perfect" campaign or, more accurately, the ideal digital marketing campaign for your particular brand.
At WebFindYou, we have coined a particular term to define all these elements/pieces/tools capable necessary to ensure the optimal result for your company's campaign: True Digital Marketing.
What is True Digital Marketing?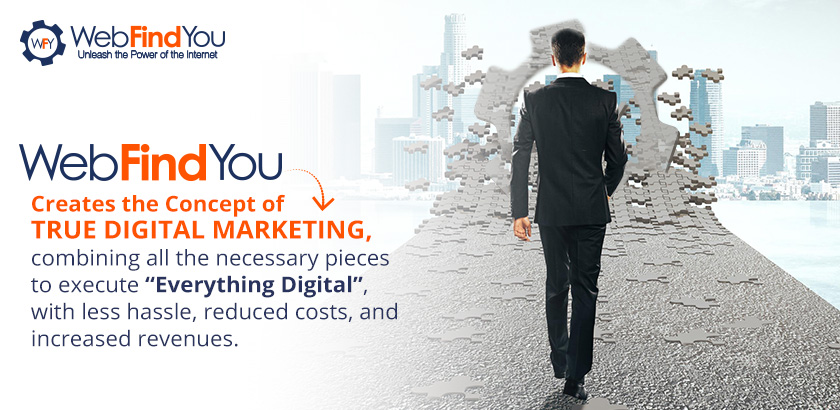 "True Digital Marketing" refers to the correct way of implementing digital marketing. It entails the maximization of a company's online presence by doing "everything digital" to increase results using all the pieces/tools comprised in the full puzzle of true digital marketing. Each strategy must be executed at the right time so that all elements/pieces in the digital marketing puzzle can complement each other.
The pieces comprising the puzzle of true digital marketing are: search engine optimization (SEO), reputation management, PPC optimization, SEO web design, responsive technology, promotion management, online surveys, web promoter score, marketing, sales, ROI and ranking reports, tracking technology, short URL, chatbot, social media management, customer relationship management (CRM), email marketing, SEO ecommerce, SSL technology, content management system (CMS), online directory management, and video marketing.
All these tools implemented in the correct manner and at the right time will allow you to maximize the power of your business.
How Did the Concept of True Digital Marketing Come to be?
WebFindYou is the result of this concept because our All-In-One Digital Marketing Technology was programmed from scratch for search engine optimization, integrating 20+ digital resources for true digital marketing. This allows you to do "Everything Digital" with less hassle, reduced costs, and increased revenues.
Our CEO created the WebFindYou technology and the concept of True Digital Marketing after noticing the number of people and companies that were growing frustrated with the results obtained in their digital marketing, either because they didn't use all the required tools or because they didn't know how to use them. In other instances, businesses simply didn't have the budget to afford these tools and/or the agencies they hired didn't provide the expected results despite the money, time, and effort invested on them.
The truth is, the majority of digital marketing providers currently perform their work incorrectly; when pieces are offered separately, digital marketing becomes a confusing, complicated, and expensive process, as well as a major disadvantage for
92% of the market lacking the necessary budget to afford these tools
.
All these problems do nothing but enhance the complexities that come with digital marketing, increasing the costs and the time required to implement it. This is why many businesses have stopped believing in digital marketing. We need to restate that
the problem is not digital marketing. It's the way it is managed that usually leads to failure.
What is the Process Behind True Digital Marketing?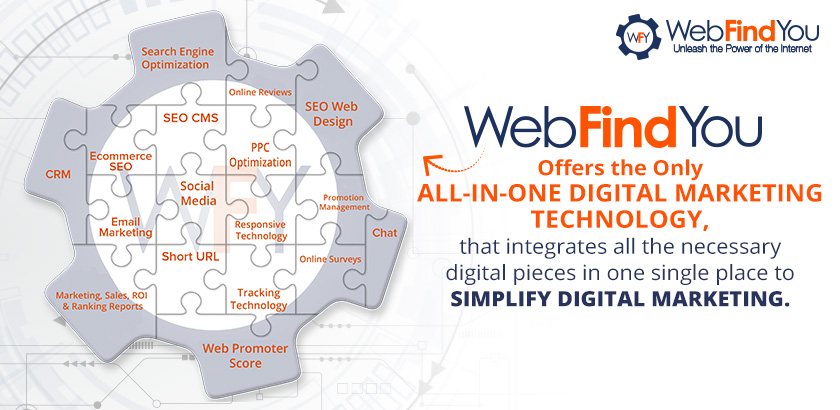 To do true digital marketing, you need to make "everything digital" and properly execute all the steps in a digital marketing strategy. WebFindYou discovered this, so it became our goal to integrate all the necessary resources in one single place to eliminate the most common problems businesses have to face while managing their digital marketing, which is the need for a costly professional staff that might not be in the budget. There is also the cost of the valuable time it takes to study various digital tools. This is time that could be utilized doing other corporative tasks.
WebFindYou is True Digital Marketing
The WebFindYou technology was created to help, guide, and show people how to stay on the right path while incorporating all the steps of true digital marketing with less hassle and at a truly affordable price,
saving you over $1,500 in digital tools
. By having all the necessary tools integrated in one single place, you won't have to spend more time and money on different providers.
Get Out of the Past and Evolve into the Future with WebFindYou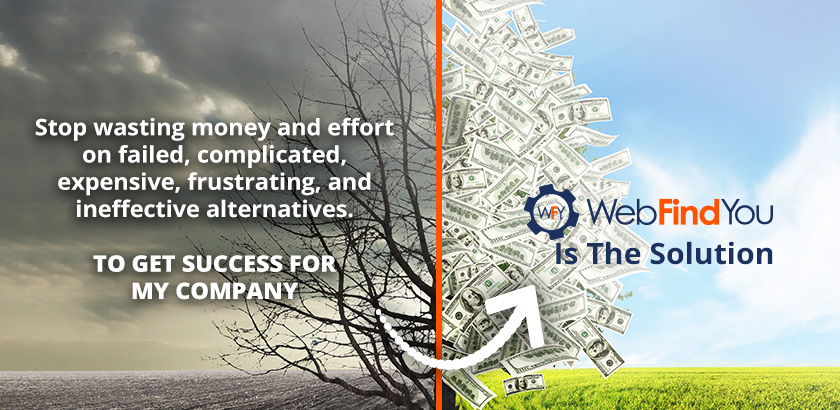 We know it's not easy to blindly invest in each of the needed tools, especially for a growing business. It's also difficult to fully trust one of these companies and, if this doesn't work, move on to a different provider (risking a similar outcome). Either way, it's clear this process is far from ideal; it will only lead you to waste money and remain stuck on numbers of sales, traffic, and positioning.
Because of this, by offering our technology, we expect our customers to stop being deceived in a market saturated with thousands of alternatives, all of which fail at fulfilling their promises, generating frustration and, as we mentioned before, a waste of time and money.
Which are the Digital Marketing Tools Integrated in WebFindYou's Technology?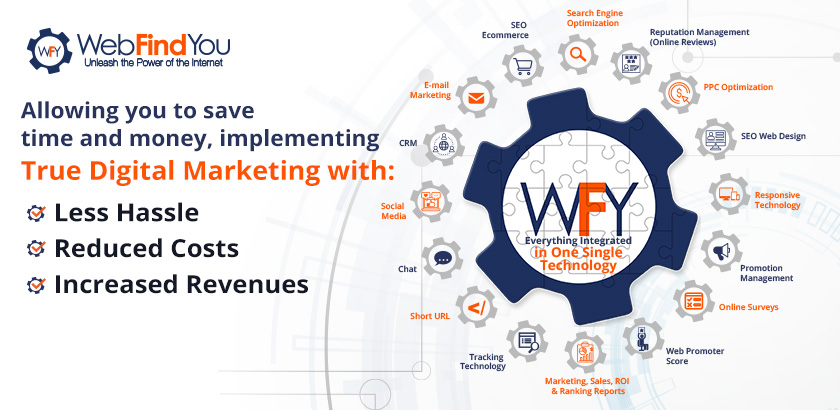 We have already declared that our technology has more than 20 digital marketing tools, so it's only ideal to present some of the resources on this list. Here are the most important tools integrated our our integrated technology:
Search Engine Optimization (SEO)
Reputation Management (Online Reviews)
PPC Optimization
SEO Web Design
Responsive Technology
Promotion Management
Online Surveys
Web Promoter Score
Marketing, Sales, ROI, and Ranking Reports
Tracking Technology
Short URL
Chatbot
Social Media Marketing
Customer Relationship Management (CRM)
Email Marketing
SEO Ecommerce
SSL Technology
Content Management System (CMS)
Online Directory Management
Video Marketing
And there is much more! If you want more details about all the digital tools integrated in our All-In-One Digital Marketing Technology, you can check the
All-In-One
section of our website and you will learn how each of these tools work and how they help you maximize your results.
Our Philosophy: We Manage, You Manage – You Decide!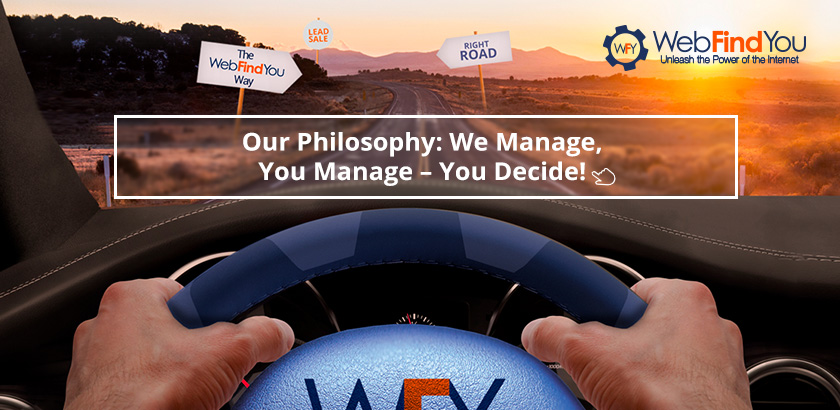 From the beginning of this project, our philosophy has been based on helping businesses through the process of implementing digital marketing while guiding them down the path to success. This is why we offer two options to our clients:
You Manage! This option gives you the chance to manage and take full control of the technology. Our technology integrates tutorial videos to teach you how to operate each of the integrated tools step by step. You will be able to execute a complete and optimal campaign for your business with WebFindYou by your side.


We Manage! In our WebFindYou Marketplace you can select anyone within our certified staff to manage your digital marketing. The WebFindYou marketplace is a website listing several professionals and digital marketing agencies, all of them experts at using our technology. These professionals will be available to help you on anything you need while we manage your digital marketing.
Do you Want to Experience the Power of True Digital Marketing?
True digital marketing is what provides all the tools in one single place to obtain a positive return on investment. With our technology, you will have a profitable digital marketing strategy at an affordable price. Thanks to WebFindYou,
92% of the market will now be able to afford true digital marketing in one single place
.
For more information about our technology, don't hesitate to call us at
1-866-SEO-WEBS (736-9327)
or to fill our
contact form
. Our staff will be happy to assist you and explain all you need to know about our All-In-One Digital Marketing Technology.
If you found this article helpful then let us know in the comments section below. Likewise, feel free to share it using the share options below. Want us to cover another topic of your interest pertaining to digital marketing? If so, then like us and follow us on social media, and post to any of our social media profiles the topic you'd like us to discuss:
Facebook WebFindYou
,
Instagram @WebFindYou
and
Twitter @WebFindYou
.