Emojis and How to Use Them in Marketing Strategies
4 min read
September 16, 2019
Today the words emoji and emoticon are often used interchangeably. An emoji is a graphic that conveys an emotion. Emoticons are facial expressions made with punctuation marks and other characters on the keyboard. Basically, both of these serve the same purpose, which is to visually convey an emotion or reaction. The history of the emoji can be traced back to 1999 when Shigetaka Kurita, an engineer at the Japanese phone company, NTT Docomo, was working on a way for people to communicate using icons. What resulted was a set of 176 icons he called emojis.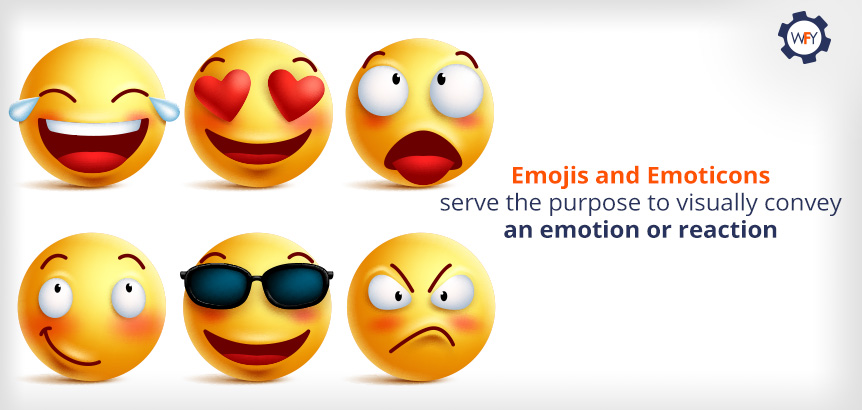 The name comes from the combination of two Japanese words: "e" (picture) and "moji" (character). Kurita says his inspiration is rooted in manga (a Japanese style of comic book art), Chinese characters, and the signs used for bathrooms. Emojis came into heavy popular use in 2011 when Apple added an official emoji keyboard to iOS; Android followed suit two years later. Before this, separate apps could be used that allowed users to copy and paste icons into text messages and emails.
Why Use Emojis in Marketing?
Today almost everyone uses emojis in text and email communications. It seems that some people have entire conversations through text using nothing more than emojis to express themselves. A
2016 emoji report
indicates that roughly 92% of the world's online population uses and responds to emojis. The same report states that, "emojis are the fastest-growing language worldwide, with an astounding 2.3 trillion mobile messages expected to incorporate emojis this year."
It was only a matter of time before marketers realized that incorporating emojis into their campaigns was a way to get through to consumers. Dominos, for instance, uses emojis to allow customers to order their favorite pizza by phone. After setting up an account, customers can tweet their pizza order to Dominos using a pizza emoji and their favorite pizza would be delivered. Remember when McDonald's used emojis in their ads? The emojis told a story that culminated in a happy ending with a burger. The goal was to use the emojis to associate positive thoughts for the brand. The concept was a simple one that allowed McDonald's to utilize a cultural phenomenon to engage consumers. Burger King, Taco Bell, and Gatorade are among other brands that have used branded emojis to connect with consumers.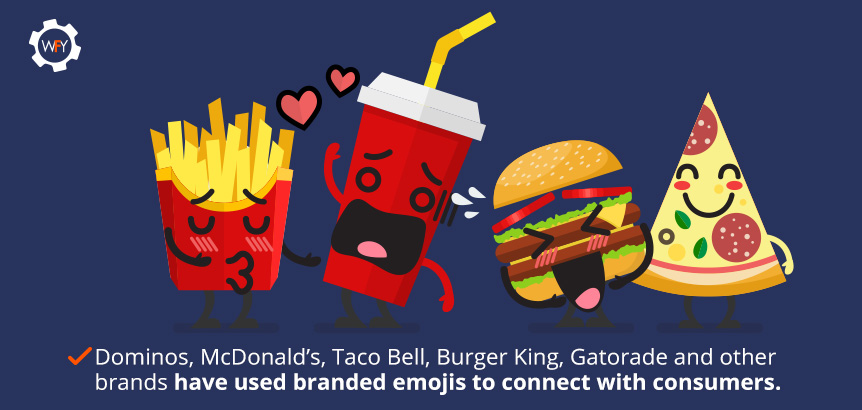 The same Emoji report states that being able to send emojis is one of the most valuable online experience, ranked right up there with the ability to send photos and videos. According to the report, U.S. consumers using emojis would like more specific branded emoji choices. An example would be specific coffee brands like Starbucks rather than just a generic coffee emoji. Other examples from the report state that 43% of consumers would use a Pepsi branded emoji over something generic and 59% would use a branded beer emoji. All of this means that corporations can use emojis to leverage more attention.
Emojis boost consumer engagement. Reports show that tweets with emojis garner 25% more engagement than those without. Emoji use on Facebook results in 57% more likes, 33% more comments, and 33% more shares. Push notifications with emojis show an 85% rate of being opened and resulted in a 9% increase in conversion rates.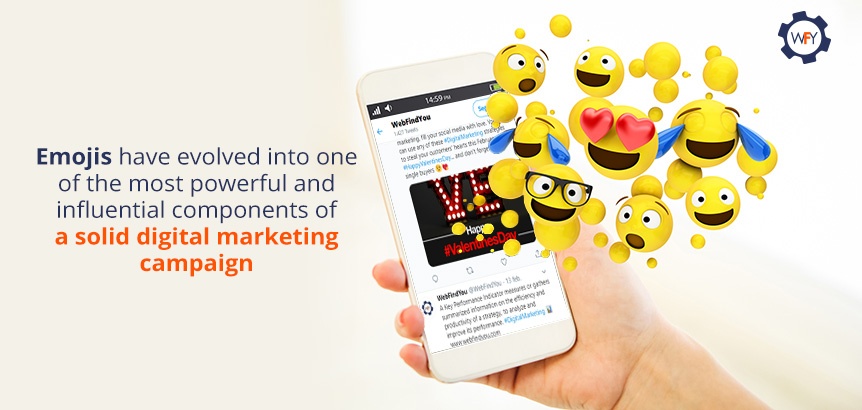 Best Practice for Using Emojis in Marketing
As we have already determined, those cute little pictures we call emojis have evolved into one of the most powerful and influential components of a solid digital marketing campaign. Knowing how to use them effectively is important to succeed. Here are some great tips for using emojis in your digital marketing efforts:
Create Branded Emojis: Specific emojis are great for keeping your name and product in the public eye. Use emojis that represent your company brand in a playful way that make consumers want to use them when they communicate.
Emoji Etiquette: Place emojis after the text. Don't rely on only emojis either. Use a mix of emojis and text.
Know Your Emojis: It goes without saying, but we will say it anyway, know what the emojis you use mean. Since emojis carry such impact in the digital world, each emoji has its own meaning universally. Using the wrong emoji could have confusing results on the message you're trying to convey. You can use any one of hundreds of emoji encyclopedias online to become familiar with the emoji language.
Be Aware of Context: Determine if emojis are right for your business. A doctor or a lawyer may have a clientele that prefers "straight" messages, not messages with cute graphics. While emojis are a powerful marketing tool, they are not right for everybody.
Use Sparingly: Emojis should enhance a message, not completely take over the message. Use them sparingly to color what you have to say. If you are trying to tell a story or convey a message your consumers might understand, you may have some leeway, but try not to use emojis as your only method of communication.

Make It Fun and Positive: Emojis make consumers feel good. Consumers like the positivity that emojis can bring to a message. Use emojis to put a smile on the face of your customers.
WebFindYou is Here for You
WebFindYou knows how important, yet difficult, it is to keep up with everything going on in the digital world. We understand how important it is to have a digital marketing platform capable of doing everything digital while responding to the latest Google changes and marketing trends. This is why we created WebFindYou in 2009, and why we have been consistently enhancing our technology ever since. By using the WebFindYou technology, you ensure your website and digital marketing will always be in line with Google's changes and the latest marketing trends because either the WebFindYou technology will auto-update to manage these changes for you or you will be notified of which changes need to be made with simple step by step text and video guides for you, your internal team, your marketing agency, or someone you contracted from the WebFindYou Marketplace to follow. WebFindYou is the only company world-wide that offers this tremendous time-savings and less-complicated value because we are the only All-in-One Digital Marketing Technology that exists. However, if you are not yet using WebFindYou for your business, then we suggest you follow our
Latest News
and
Blogs
,
subscribe to our newsletter
, and follow us on social media to be informed of the important issues affecting digital marketing and how WebFindYou continues to make them less complicated, with lower costs and greater revenues.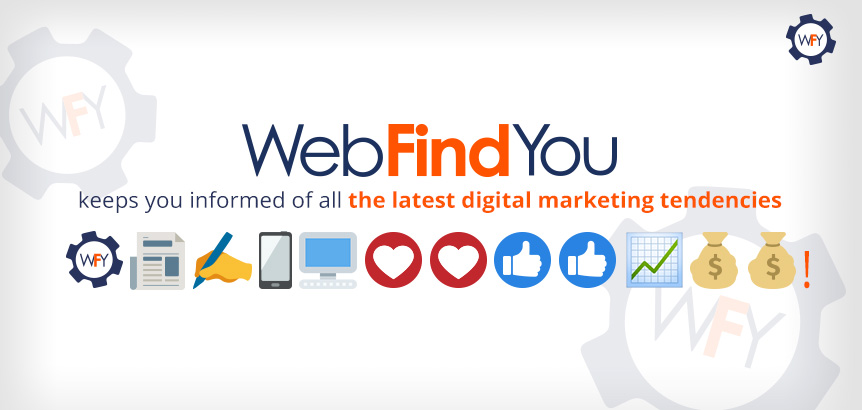 Are you ready to discover the True Power of the Internet and maximize digital marketing revenues with WebFindYou? Simply follow these easy to follow steps to get started:
You'll receive an email to access the WebFindYou platform for your website.
Follow the very easy to follow videos to implement WebFindYou for your business.
For questions, please call us at 1-866-SEO-WEBS (736-9327), fill out our contact form, subscribe to our newsletter or follow us on social media to stay informed of everything WebFindYou including webinars and live speaking events.
If you found this article helpful then let us know in the comments section below. Likewise, feel free to share it using the share options below. Want us to cover another topic of your interest pertaining to digital marketing? If so, then like us and follow us on social media, and post to any of our social media profiles the topic you'd like us to discuss:
Facebook WebFindYou
,
Instagram @WebFindYou
and
Twitter @WebFindYou
.