Generations as a Part of the Global Market and the Impact on Digital Marketing
January 11, 2019
With the evolution of technology, digital resources have become ingrained in the structure of modern society. People have responded differently according to their ages and social background; age groups have evolved in ways that are a direct result of the digital age.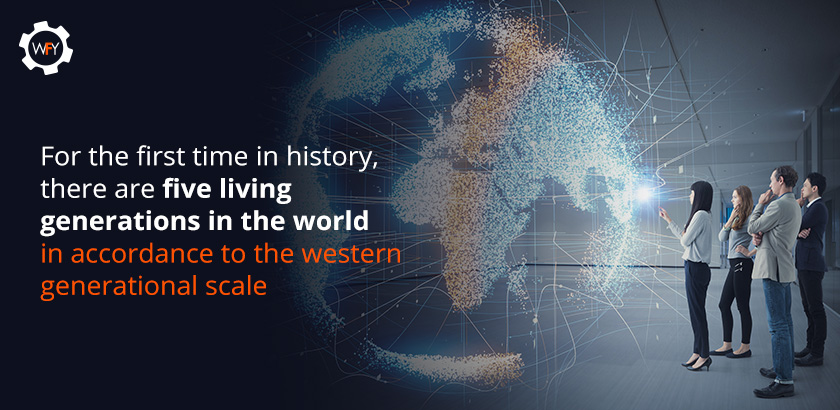 The advantages provided by the Internet have shaped people's day to day lives. Different trends borne of these developments have spread beyond geographic or generational boundaries, often giving way to interesting cases of study. One particular aspect that serves as evidence of the Internet's impact in today's society is a series of changes in people's shopping habits, with a growing number of consumers taking to online platforms to make purchases that can go from collector's items to digital devices, depending on needs and financial status. On the other hand, people feel drawn to certain messages and trends in line with the strategies used to spread them, often via online platforms.
For the first time in history, the world is housing a varied number of age groups living and working together, with five living generations in accordance to the western generational scale. It's the perfect time to provide some insight about the influence each group can exert on digital marketing strategies. Supporting this account with information from
Register Media
, we will now compare the profiles of each generational group with digital marketing trends and preferences reported during the last few years.
The Silent Generation (born before 1946 / 7% of the global population)
The oldest living generation, their numbers vary from country to country depending on the country's financial records, healthcare conditions, etc. Their spending habits are mild when compared to other generations, but they still follow certain brands and change their shopping preferences in response to marketing strategies, mostly from TV and newspaper.

As the years go by, this generation becomes more used to the Internet and its advantages, using social platforms to search for news and checking their emails regularly. They continue to diversify their online activities, increasing their time spent online in the process.


Baby Boomers (born between 1946-1964 / 15% of the global population)
With so many years of experiences under their belt, it stands to reason that members of this group have developed varied lifestyles that change drastically among different sectors. Some baby boomers choose to rest and cultivate their family lives, staying close to values from previous generations, while others take this time to try things they'd never dared to attempt before. Most people from this generation have been touched by the digital age in one way or another, thanks to a constant exposure to technology.

Despite not fully embracing the numerous devices and digital services available to them, baby boomers still value many online platforms designed to provide information and communication. As such, this age group's online presence is growing and carrying more involvement in digital marketing than could be expected. They show enthusiastic appreciation for visual strategies developed for social media and video platforms and, in some cases, make online purchases on a monthly basis.


Generation X (born between 1965-1980 / 19.6% of the global population)
They have currently settled into adulthood with established dynamics in their careers and family life. Having acquired a certain level of stability, people from this generation take a very structured approach, remaining cautious with their endeavors on the Internet while having full understanding and control over many digital resources. They are receptive towards different forms of digital marketing but still value traditional means of communication like television and newspapers, ultimately showing varying degrees of acceptance toward all the current marketing strategies.

When it comes to online shopping, Generation X takes the lead over Baby Boomers and Millennials and maintains more spending power than any other generation. According to KPMG, members from this group are likely to make 19 online purchases per year.


Generation Y / Millennials (born between 1981-1996 / 27% of the global population)
Millennials represent the largest generation in the American workforce and, according to EY, are expected to occupy three-quarters of the global workforce by 2025.

Factors like diversity, access to different surroundings, and a ruling tendency of ambition and empirical experiences grant them a worldly understanding that surpasses older generations. While very active on the Internet and social media, millennials are less receptive to digital marketing strategies because of their awareness to these tactics and their expected effects. Their grasp of all things digital makes them harder to reach.

Given their influence over worldwide trends, millennials play an equally essential role in the shape of marketing campaigns, as well as in the improvement of products and services. While their shopping preferences aren't as wide as those from other age groups, millennials still spend an average of 6 hours a week online and 67% of them are online buyers.


Generation Z (born after 1997 / 25.5% of the global population)
Very adaptable and great multitaskers, this generation can be very hard to surprise. As years go by, this group grows and becomes more active in branches of economy and communication, developing great ambition and professional aspirations. They've had access to technology from birth, so they've made the best of the information at their disposal to expand their tastes and world views. Their preferences are very diverse when it comes to their time spent online, taking to different social platforms and less common websites aimed toward people with specific interests.

As a tech-savvy generation, Gen Z shoppers frequently make online purchases. However, studies have shown a considerable preference toward stores over online platforms and an appreciation for the chance to check products in a store before making an online purchase.

According to Statista, 66% of millennials and 55% of people from Generation Z stay loyal to brands that have made good impressions/provided good results, showing a tendency toward pragmatism and functionality.
Which is the Largest Generation Worldwide?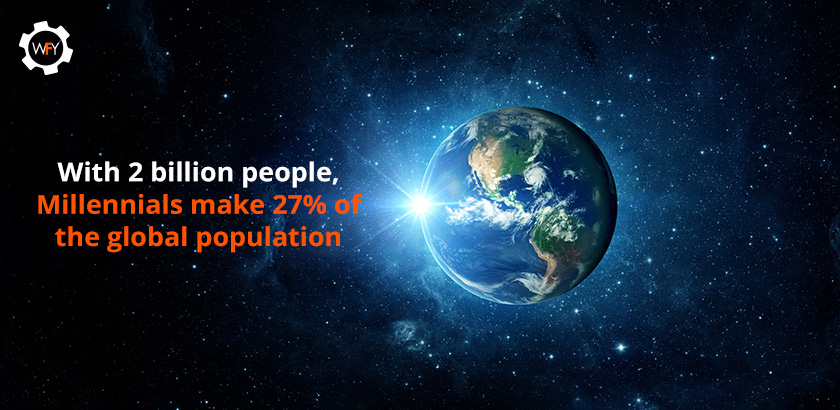 With 7.4 billion people comprising the global population, millennials represent the leading living generation with 2 billion people (27% of the global population). They are followed closely by generation Z, which is
expected to make 32% of the world population in 2019
.
Perfect Developments for Each Generation
Geographic, social, and cultural elements will alter the evolution of digital marketing when we look at it from a global perspective. Millennials are close to becoming the largest living generation in the US (
Pew Research Center
), while the elderly population is steadily growing in many Asian and European countries (
Deloitte
). Despite this,
Asia holds 49% of Internet users worldwide
. Immigration, natality and mortality rates, technological progress, and business opportunities are all defining factors for the evolution of ecommerce and digital marketing in each country. With 1.666 billion buyers worldwide (
Statista
), the approach changes according to the country to attract a profitable number of consumers.
Social media and email have become relevant beyond their initial purposes of communication; they represent valuable resources for spreading customized marketing campaigns designed to meet a target audience's preferences and interests. Millennials and Gen Z consumers put a lot of trust in the content they find on certain social platforms, while older generations spend a lot of time browsing their inboxes, instant messaging apps, and platforms like Twitter to get updates on news. This contributes to the results of social media and email marketing campaigns, as well as in content creation and management when the strategies are properly executed.
Online shopping is one of the habits people have taken to, regardless of their age. Shopping platforms continue perfecting their features to prevent frauds (a major concern for users, particularly Generation X consumers) and to simplify commercial transactions on the Internet. Mobile devices have strengthened their role in people's preferences; the statistics from
KPMG
show that two-thirds of the users take to Smartphones to research products prior to purchasing them, with a constant predominance of millennials over older generations in regards to this trend. 57% of users still prefer laptops or desktops when it comes to doing the actual purchase, but the growing acceptance toward mobile devices for online commercial transactions will probably serve as reference as the trend continues to evolve.
Implement Effective Digital Marketing for your Target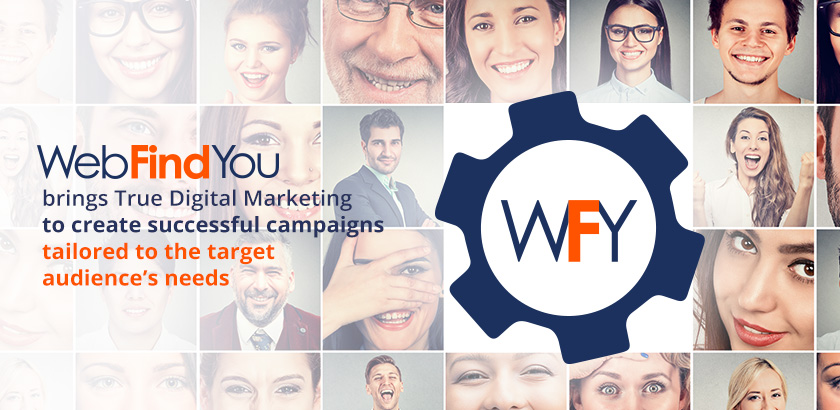 Thanks to people's growing involvement with the digital age, preferences become more diverse and prompt the creation of specific resources to satisfy them. As mentioned above, digital marketing campaigns can only be effective if:
They match the interests and needs of the target audience.
They are properly implemented.
The correct implementation of a marketing campaign requires the inclusion of all the digital marketing tools capable of optimizing a company's online presence, and this can be a difficult task to fulfill when you have to conceive personalized strategies for your audience and can't afford the extra time demanded in the process. Audiences must be properly segmented, and strategies must adapt if users respond to a particular development on the Internet.
Your company might find itself struggling to stand out among the growing competition, leading to the conclusion that a proper implementation of effective strategies is out of your reach. You don't have to worry anymore. WebFindYou provides the technology that will help you apply effective digital marketing campaigns with less hassle and at an affordable price.
The All-In-One Digital Marketing Technology programmed by WebFindYou integrates all the digital marketing resources your company needs to become visible on the Internet and reach the target audience. We integrate more than 20 digital marketing tools in one single technology, simplifying the implementation of your digital marketing strategies. You can now develop and manage all the marketing campaigns you want, using all the digital marketing tools you require to optimize your company's presence on the Internet.
Our tracking technology provides information from all the potential customers interacting with your website. You'll know how many leads and sales you get, as well as the piece(s) of your digital marketing they are tied to. This way, you can define your company's buyer persona and determine the efficiency and success of all the digital marketing campaigns you implement.
No matter how diverse the online population becomes, our technology will guarantee your company's success, reaching thousands of Internet users and translating your digital marketing strategies into leads and sales. Don't hesitate to contact us to learn more about the advantages offered by our All-In-One Digital Marketing Technology. Call us at
1-866-SEO-WEBS (736-9327)
or fill out the
contact form
. We'll be happy to answer all your questions!
If you found this article helpful then let us know in the comments section below. Likewise, feel free to share it using the share options below. Want us to cover another topic of your interest pertaining to digital marketing? If so, then like us and follow us on social media, and post to any of our social media profiles the topic you'd like us to discuss:
Facebook WebFindYou
,
Instagram @WebFindYou
and
Twitter @WebFindYou
.