Get to Know The 10 Most Valuable Brands Around the World: 2018 Brandz Top 100
4 min read
July 09, 2018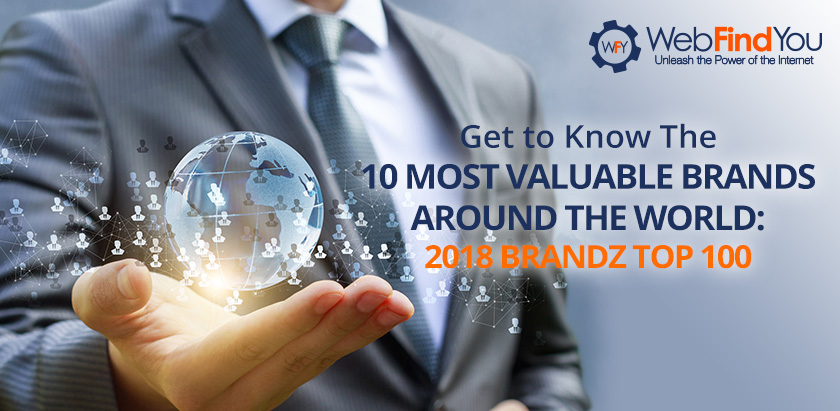 Every year, Kantar Millward Brown and Wire and Plastic Products (WPP) experts set out to evaluate influential brands around the world based on their financial performance, then, these experts decide which brands will be included in the famous list of the 100 most valuable brands in the world. In 2018, the BrandZ Top 100 included large companies such as McDonald's, Zara, Movistar, Alibaba, and the technology giant, Google.
The BrandZ Top 100
is the result of information collected from over three million surveys and an in-depth evaluation of the financial performance of the brands throughout the year. Compared to last year's report, this year's ranking shows a great growth in terms of value for these companies, increasing by 27% and reaching $4.4 trillion.
For the second year in a row, Google placed first on the list. The company founded by Larry Page and Sergey Brin has made it clear once again why it is considered one of the most powerful brands in the world, with a total value of $302 billion dollars and a financial growth of 23% since last year.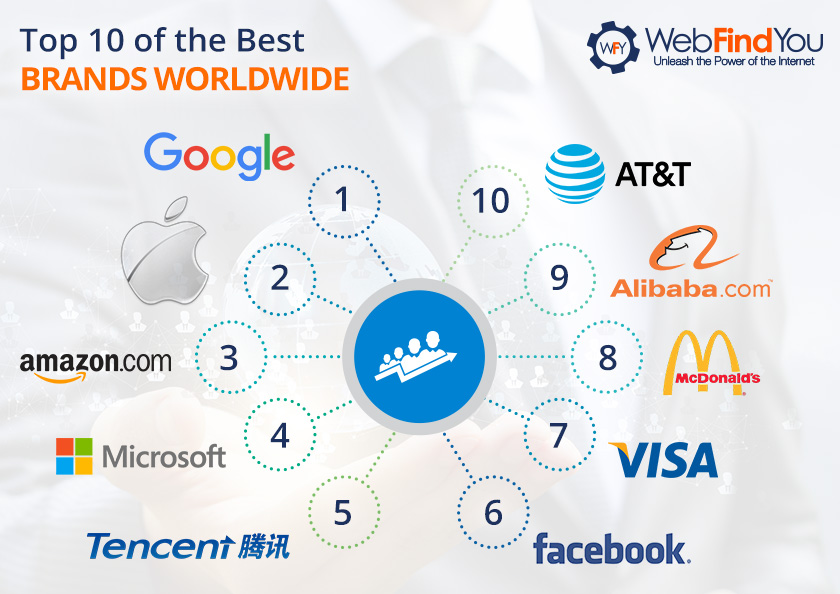 According to the 2018 BrandZ Top 100, these are
the 10 most valuable brands around the world:
Google
As previously mentioned, this company increased its value by 23%, placing first in the ranking with a value of $302 billion.


Apple
The great company that was once led by Steve Jobs managed to hold second place two years in a row by increasing 28% of its value since 2017. It is now worth $300.5 billion.


Amazon
This e-commerce platform managed to dethrone Microsoft from its third place on the list by increasing their value by 48%. Amazon now has a total net worth of $207.5 billion.


Microsoft
Bill Gates' technological company, Microsoft, placed fourth with a value of $200.9 billion, for a total growth of 40% since last year.


Tencent
This Chinese brand, along with another fourteen that were listed in the ranking, demonstrates American brands are not the only ones capable of achieving massive growth. Since 2017, they have increased their worth by 65% for a total value of $178.9 billion.


Facebook
Despite ranking fifth last year, Mark Zuckerberg's social network now sixth with a 25% percent growth and a total value of $162.1 billion.


Visa
This financial institution maintained the same position they had last year by increasing 31% of their value, for a total of $145.6 billion.


McDonald's
Due to its 29% growth and total worth of $126 billion, this popular fast food chain climbed 2 positions since last year's ranking.


Alibaba
This e-commerce platform managed to join the top 10 after climbing 5 positions since the previous ranking. Having increased its value by 92% since last year, it now has a total worth of $113.4 billion.


AT&T
Even though this company's value decreased by 7% and it dropped 4 positions in the ranking, it still remains in the top 10 with a total value of $106.6 billion.

How do I Boost My Business and Increase its Value?
Upon seeing how much value these great brands have, it is common to start thinking about how to achieve this type of growth for your business. There are many factors to take into account, so taking your business to the next level is not an easy task. The key to a successful business, especially in a world where innovation prevails, is to discover what makes your company's proposal different from the rest. This will allow you to create an optimal strategy that generates a positive response from your potential customers and motivates them to purchase your company's products or services.
There are many ways to increase the value of your business. Among them are several practices which range from internal incentives for employees to the redesign of what your company offers. However, the most effective way to boost your business' sales and popularity is through marketing campaigns.
Despite the fact that marketing campaigns bring many benefits, they have to be properly implemented to achieve the best possible results. Nowadays, traditional marketing campaigns do not yield the same results they used to, which is why it is also necessary to use digital marketing, which consists of identifying your potential customers online and then cater to their needs in a profitable way for your company.
These top 10 brands have reached their current position through the proper execution of all the efficient strategies offered by digital marketing. Surprisingly, these companies and the others listed on the BrandZ Top 100 make up for only 3% of the current market. They have the budget to afford true digital marketing campaigns whether they do it internally or by outsourcing the campaign to a marketing agency that handles everything for them.
But, what happens with companies that do not have the budget to pay for all the pieces that comprise a true digital marketing campaign? If you are asking yourself this question, then you might be part of the
92% of the market that does not have the proper budget to launch a true digital marketing campaign
. If this is your case, then you need WebFindYou.
Are you ready to take your online brand to the next level? WebFindYou has the solutions you need to succeed with your digital marketing strategy. Simply follow these easy to follow steps to get started:
You'll receive an email to access the WebFindYou platform for your website.
Follow the very easy to follow videos to implement WebFindYou for your business.
For questions, please call us at 1-866-SEO-WEBS (736-9327), fill out our contact form, subscribe to our newsletter or follow us on social media to stay informed of everything WebFindYou including webinars and live speaking events.
If you found this article helpful then let us know in the comments section below. Likewise, feel free to share it using the share options below. Want us to cover another topic of your interest pertaining to digital marketing? If so, then like us and follow us on social media, and post to any of our social media profiles the topic you'd like us to discuss:
Facebook WebFindYou
,
Instagram @WebFindYou
and
Twitter @WebFindYou
.