Get to Know your Potential Customers through Online Surveys
min read
July 30, 2019
There's no doubt that one of the best ways to get ahead in the competitive online world of business is by knowing who your customers are, what they want, and how they feel about your company once you've accomplished this. In fact, knowing everything about your target audience, not just current customers, is key to your company's success. This is because when you learn about consumers and what they want, you can tailor your digital marketing efforts to meet those needs exactly. So many companies these days jump out of the frying pan and into the fire, so to speak, trying every marketing strategy they hear about in the hopes that they will hit upon some magic formula for success. The truth is, there isn't a magic formula. It's all about keeping your finger on the pulse of the consumer and catering to what it is they want. There's no better way to do this than to ask them, and no better way to ask them than with online surveys.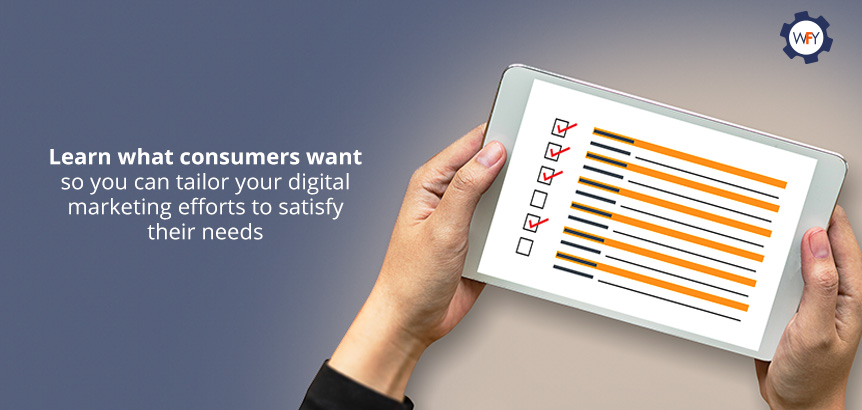 As we mentioned above, surveys can be useful for current customers as well as potential customers, although the types of surveys you implement will be different for each of these sectors. Surveys for current customers will focus on customer satisfaction. Are you meeting the needs of your current customers in such a way that they will remain loyal to your brand? Surveys for potential customers, on the other hand, will focus on what those consumers are looking for. These surveys are designed to drill down to the essential things you need to be doing to turn potential customers into current customers. The data collected from online surveys helps you do that by giving you direct answers from consumers themselves, which you can then categorize and begin to use when planning digital marketing campaigns.
Benefits of Online Surveys
Aside from the fact that you are getting your information directly from the consumer, there are plenty of other advantages of using online surveys to build a better marketing plan. Surveys are not new to marketing, but in this age of the Internet, they are easier to implement and quicker to yield the consumer feedback your company needs. One of the biggest benefits is that you can easily perform online surveys on a regular basis, which allows you to try different types of surveys and gather information in a more timely manner than you could in the days of the handwritten survey. Online surveys also take very little time to fill out, making them more appealing to consumers than they were in the past. Today, users can simply click to answer, filling out typical online surveys in a couple of minutes. Since many people these days like things to be quick and to the point, online surveys are a great way to give them the opportunity to express themselves without taking up too much of their time. It's a win/win.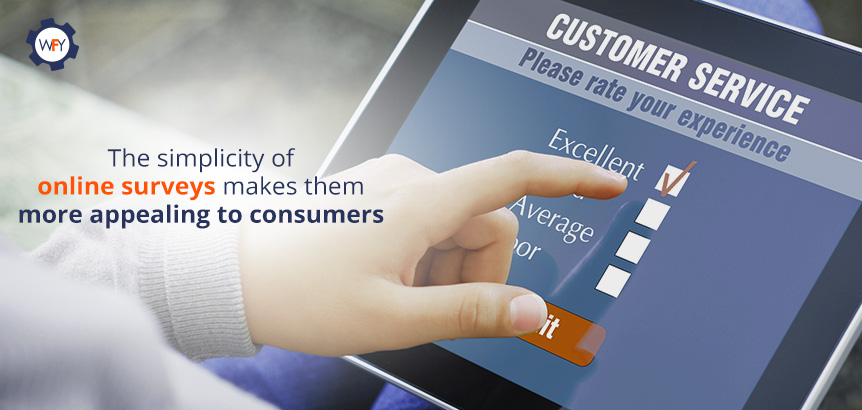 There are other advantages of surveys, including their cost effectiveness. Online surveys can be created relatively cheap and implemented through various digital channels as a part of your regular digital marketing approach, so if they are implemented correctly, they allow you to collect valuable data at a fraction of the cost associated with traditional survey tactics. This means it makes more sense to use surveys to gather data in the digital age.
We mentioned before that digital surveys are more effective from a time standpoint for consumers, but it goes both ways. The results of digital surveys can be analyzed and segmented much faster than traditional surveys, so they are a fast and easy way for businesses to get what they need without spending a lot of time doing it. In addition to being cost-effective, they are less labor intensive, making surveys ideal for getting the most marketing data with the least investment in time.
How to Use Surveys Effectively
We mentioned above that surveys are a good way to get a feel for what consumers want before they become customers and those surveys can be used to gauge the satisfaction of your current customers. Before any company launches a new product, there is always demographic research. Demographics research yield statistical data that relates to the population and specific groups within it. Online surveys are a fast way to determine who your target audience is and how to most effectively reach them.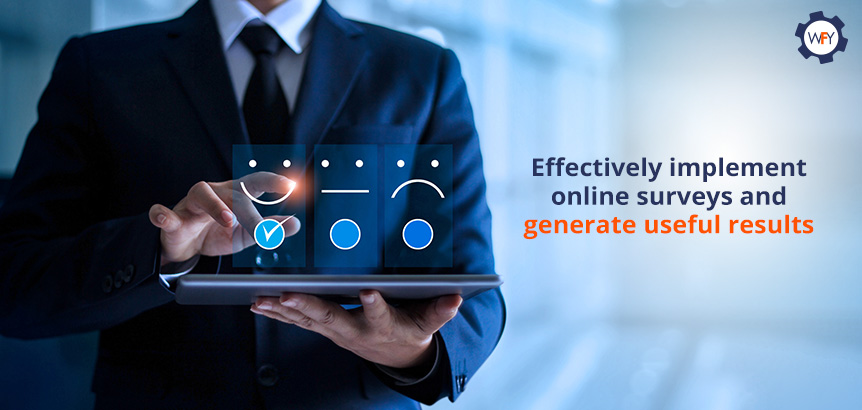 Surveys can also be used to test an idea for a new concept or product, which then allows you to pinpoint certain data that can help you refine your concepts and products before you've already invested in them too deeply. Again, there's no better way to find this information out than by going straight to the source, the consumer.
Surveys can be implemented in many different ways these days. You can use your email campaigns to send your current customers surveys and you can take advantage of social media to reach customers who are not yet on your mailing list. In fact, social media is a great way to gather data from both current and potential customers. Consumers today love to feel as if they have a voice, which is why you see surveys frequently from the big snack brands asking customers to choose their favorite new flavor idea. These surveys are then analyzed and the snack companies learn which flavors are most popular and which ones are likely not to sell. They also learn where each of the flavors are most popular, leading them to only release products in certain areas where they know they will do well. All of this information comes from the simple surveys they use that make consumers feel as if they are being "allowed" to help pick a new flavor. Who wouldn't want to help make a big decision like that?
Online surveys are a great way to increase brand awareness. They not only bring new customers to your website, they help keep them coming back to spend more time with your brand as they interact via online surveys. The result is increased session duration and decreased bounce rates, better conversions, and an increase in revenue, all of which can help your SEO rankings.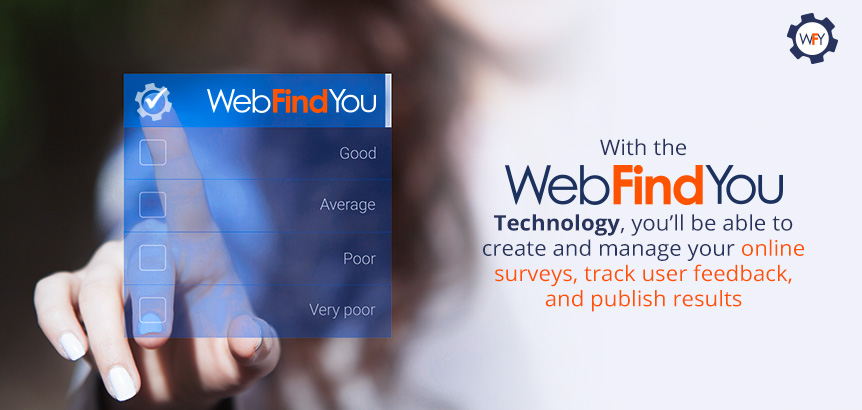 WebFindYou All-in-One Digital Marketing Technology has all of the pieces you need to implement a true digital marketing strategy, and online surveys are just one piece of the puzzle. With the WebFindYou technology, you can easily and efficiently create, manage, track, and publish the results of your online surveys because our online survey technology is built right into your website. You can use this information to publish the results of the survey on your social media profiles and website, create a blog post or press release based around the information for news outlets, or use it in any way that benefits you. All of this can be done using WebFindYou's technology, all from one single place. That's because we provide everything you need to implement true digital marketing. Our technology is the first and only way to ensure your company's marketing meets the demands of the digital age because we provide all the essential components necessary for success in today's online world. Online surveys, social media marketing, email marketing, PPC, SEO, responsive web technology, promotion and reputation management, CRM, and SEO e-commerce are just some of the components integrated in our technology.
WebFindYou offers all of this and more with less hassle, reduced costs, and increased revenues. Everything you need to implement a complete digital marketing solution is included with the WebFindYou True Digital Marketing Technology. If you are not using WebFindYou for your business, we suggest you follow our
Latest News
and
Blogs
,
subscribe to our newsletter
, and follow us on social media to be informed of the important issues affecting digital marketing and how WebFindYou continues to make them less complicated, with lower costs and greater revenues.
Simply follow these easy to follow steps to get started:
You'll receive an email to access the WebFindYou platform for your website.
Follow the very easy to follow videos to implement WebFindYou for your business.
For questions, please call us at 1-866-SEO-WEBS (736-9327), fill out our contact form, subscribe to our newsletter or follow us on social media to stay informed of everything WebFindYou including webinars and live speaking events.
If you found this article helpful then let us know in the comments section below. Likewise, feel free to share it using the share options below. Want us to cover another topic of your interest pertaining to digital marketing? If so, then like us and follow us on social media, and post to any of our social media profiles the topic you'd like us to discuss:
Facebook WebFindYou
,
Instagram @WebFindYou
and
Twitter @WebFindYou
.