Google's 21st Year Anniversary
5 min read
October 09, 2019
"Google it." How many times have you heard that phrase? The word Google has become a verb in today's language. Google has been around for 21 years now, which is a relatively short time in the context of business. There are a lot of companies that have been around far longer. During its 21 years, however, Google has had a much greater impact on our lives than many other companies, so much so that it has become a common verb, as in the case of the phrase "Google it." If you need to know something, anything, you simply "Google it."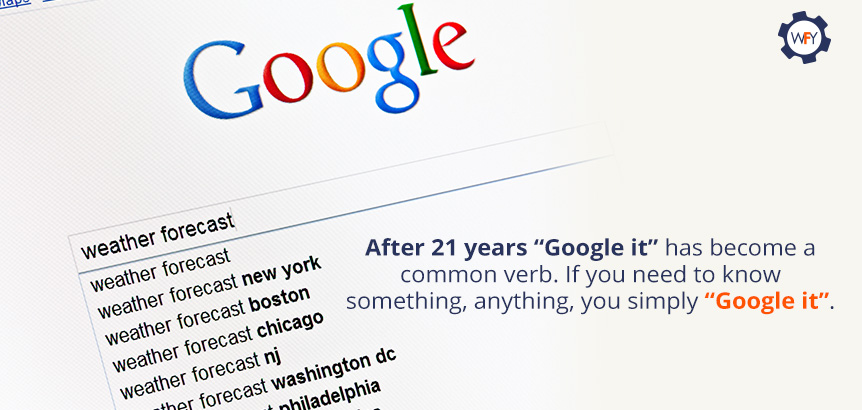 Google's Humble Beginnings
The Google domain name was registered on September 15, 1997. The company has celebrated its actual founding on different dates, but it was actually incorporated on September 4, 1998. It truly began, however, in 1995 when Stanford University students Larry Page and Sergey Brin built a search engine named BackRub. According to Business Insider and other sources, the name BackRub came from the fact that the program analyzed back links on the Internet in an effort to learn the importance of a website. When Larry Page decided the name BackRub no longer suited the project, they began searching for other names and a graduate student, Sean Anderson, suggested the name googolplex, which Page suggested be shortened to googol, meaning the number 1 followed by 100 zeros. When Anderson searched to see if the domain was taken for googol, he searched for Google by mistake and liked the name better, and so Google it became.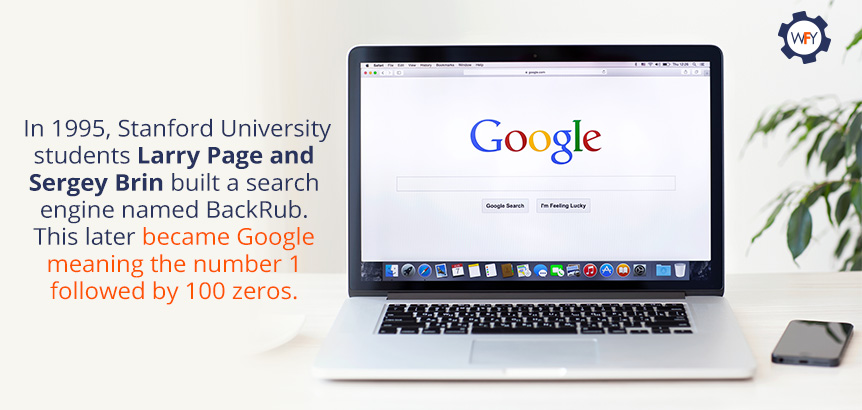 In 1997,
Andy Bechtolsheim
wrote a check for $ 100,000. That is an investment now worth 1.5 dollars, according to TechBiz. Google was incorporated in 1998 and the rest, as they say, is history. All of it led to what has become, without argument, one of the most influential residents of the Internet. In fact, Google is king of the Internet and arguably the overseer of all that happens on the World Wide Web.
From Humble Beginnings to Worldwide Dominance
That's right, dominance. According to Statista, Google is ranked first as the most visited multi-platform web properties in the U.S., with
"246 million U.S. unique visitors and a market share of 63.2 percent among the leading U.S. search engine providers."
This means that a lot of people take stock of what Google tells them. Whether you are a college student, teacher, curious bystander, or a consumer ready to spend your money, Google is the first stop you are likely to make when you want to learn or buy something. According to We Are Social,
Internet users in 2019 are growing by about one million new users each day
, with most of those users heading Google's way. That's because Google has, in its short 21 years, cemented its position as the go-to source for just about everything you need to know about anything. In fact, the running thought process is simple: if Google says it, it must be true. You can argue this all you like, but the truth is, people worldwide put their faith in Google. Recently, Alphabet, a company formed by the founders of Google, became Google's parent company. The short reason for the move seems to be to let Google keep its focus on its original mission while Alphabet expands the company into new areas without having to justify how it fits with Google's mission.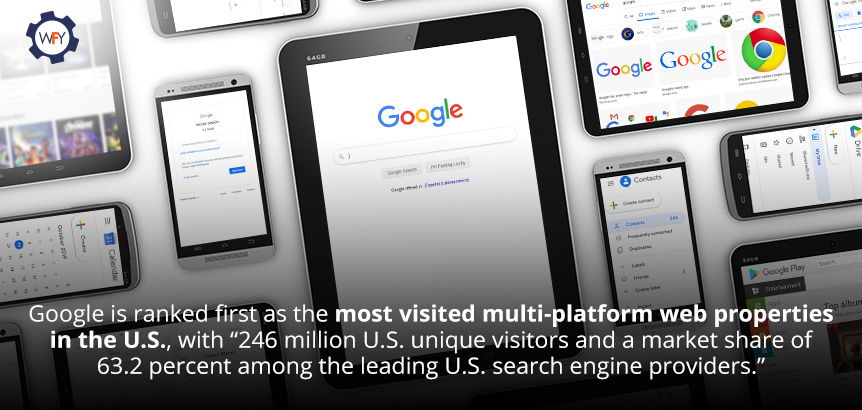 One thing remains the same. Ranking in Google means your business will get noticed. This, in turn, means you will reach the consumers you need to reach in order to be successful. It's a digital world we live in, and at the forefront is Google, which shows absolutely no signs of fatigue. Google is going to be around for a long time. If you have an online business, Google is your friend, but knowing how to get along with it is crucial to your success. Unfortunately, Google doesn't always play nice. The company keeps its MO under wraps in many areas, making it difficult to keep up unless you have a team of digital marketing experts, researchers, and tools at your command. Keeping up with the changes in Google is a full-time job, and a costly one as well. With Google's vast power and influence over the buying public, however, it is necessary to play nice with Google.
Conquering the World Wide Web
WWW stands for World Wide Web, but it could also be the Wild World Web. The fact is, businesses today have the opportunity to play to a worldwide audience. It's no longer just a local game. Your potential customers live everywhere, and when they are looking for products and services, they almost always turn to Google. It stands to reason that optimizing your business presence so Google takes notice is the smart thing to do. This is easier said than done, but with the right approach, you can tame the Wild World Web and make it work for you. Doing so, of course, means budgeting for a digital marketing strategy that not only aims to make Google happy, but one that encompasses all of the components necessary for effective digital marketing.
Here's the problem. About
92% of the market lacks the budget to afford true digital marketing.
For these companies, there are constant attempts to find and use affordable options that don't work. Trying to pull together all of the components necessary for an effective digital marketing strategy fails for these companies, either because they aren't aware of all of the needed components or they simply can't budget all of the components so they settle for what they "think" they need. This leads to wasted money and wasted time with no return on investment (ROI). These companies will eventually lose faith in digital marketing, believing it is too expensive and too difficult to do in a meaningful way. The end result, of course, is failure to compete.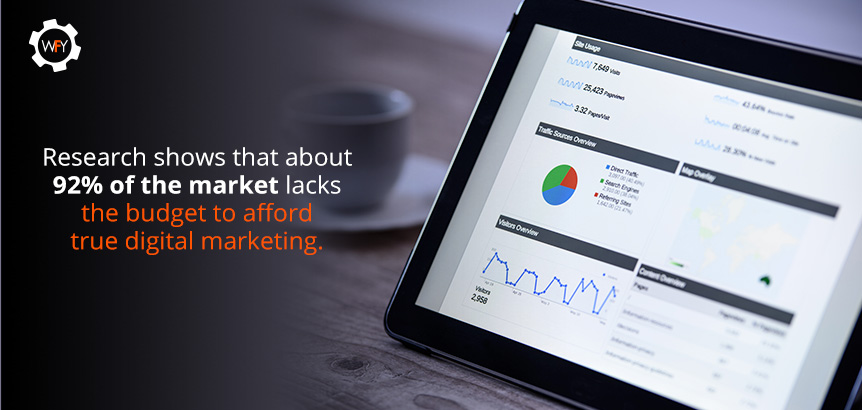 There's a solution to this problem. It's called WebFindYou. We are the only technology capable of simplifying the process of digital marketing and generating real results for you. At WebFindYou, we have done the research, we keep up with all of Google's changes, and we provide the digital marketing technology and step by step guides you need to efficiently implement a successful and complete digital marketing strategy that makes Google happy while covering all of the other important areas (social media, email marketing, customer relations, etc.) needed for success.
WebFindYou All-in-One Digital Marketing Technology
WebFindYou is the first and only All-In-One Digital Marketing Technology. We integrate more than 20 digital marketing tools in a single place, making it possible to satisfy all of the necessary components of a successful digital marketing strategy. At WebFindYou, we have everything you need to simplify each step in the execution of true digital marketing and SEO in one technology. This means you can accomplish more with less hassle, reduced costs, and increased revenues. As we mentioned earlier, 92% of the U.S. market doesn't have the budget to afford true digital marketing. With WebFindYou, that no longer has to be the case. Our technology was created to help that sector of businesses implement true digital marketing at a truly affordable price. Our goal is now, and has always been, to help companies and entrepreneurs get positive results online.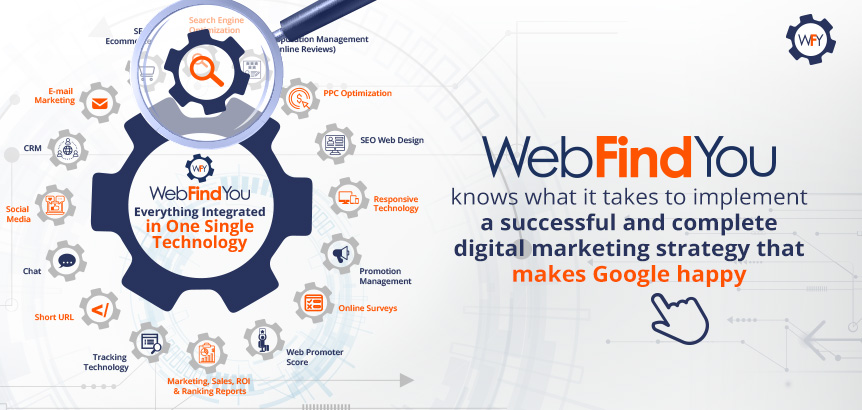 Join WebFindYou Today
Are you ready to make the changes needed to compete online? WebFindYou has the solutions you need for your online business. Simply follow these easy to follow steps to get started:
You'll receive an email to access the WebFindYou platform for your website.
Follow the very easy to follow videos to implement WebFindYou for your business.
For questions, please call us at 1-866-SEO-WEBS (736-9327), fill out our contact form, subscribe to our newsletter or follow us on social media to stay informed of everything WebFindYou including webinars and live speaking events.
If you found this article helpful then let us know in the comments section below. Likewise, feel free to share it using the share options below. Want us to cover another topic of your interest pertaining to digital marketing? If so, then like us and follow us on social media, and post to any of our social media profiles the topic you'd like us to discuss:
Facebook WebFindYou
,
Instagram @WebFindYou
and
Twitter @WebFindYou
.