Google's Top Trending Topics of 2014
3 min read
December 29, 2014
Over 114 billion searches are conducted every month via the Google search engine. That adds up to more than 1.37 trillion Google searches per year! Out of these searches, Google compiles annual lists of the most popular trending topics, and the lists for 2014 were just recently released. Taking a look at these lists provides fascinating insight into the way our society thinks. They serve as an objective way to show what culminates our curiosity and what instills in us a desire for more information, which can be very useful for digital marketing. For example, by viewing the list of top searched recipes, a cooking company can see that people in America are most interested in recipes for chicken, so they can then tailor their website's content to draw in customers by providing relevant information on how to cook chicken. With at least 1.17 billion people utilizing Google's search engine services, it's fair to say that these lists give a pretty good representation of what piques the interest of the population as a whole.
As mentioned, Google makes a few separate lists of the hottest topics in 2014. Trending Searches, Trending People, Trending Athletes, Trending Tech Gadgets, Trending Global News, and Trending YouTube Videos are just some of these lists, and each is available both globally and for each country. A crucial thing to notice about these lists, however, is that they reflect search topics that are trending this year versus last year, as opposed to the year's top searches overall. Regardless, with the creation of each separate list, it's highly likely that you've searched at least a few of these topics over the past few months. Can you guess what topics made it onto the lists? See below to find out!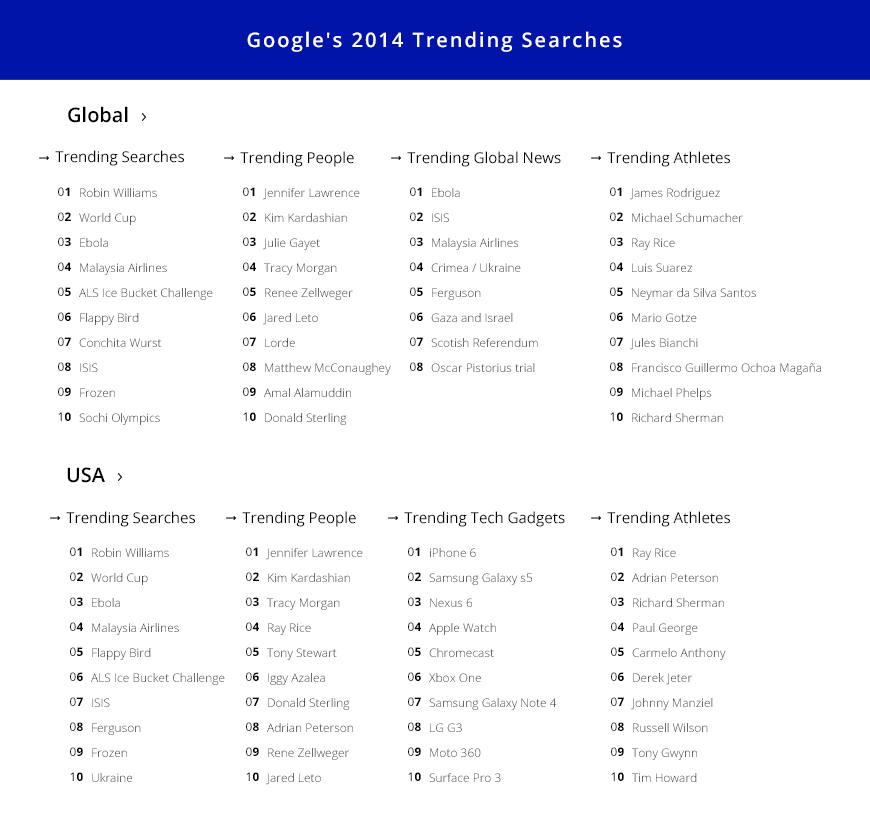 Source:
2014 Google Trends
Examining these lists allows for some interesting analyses. For example, read the top trending search list for America from top to bottom. Did you notice that, from an emotional standpoint, it reads like a roller coaster? The list goes from a sad tragedy to fun and entertainment to fear of disease to a depressing disaster to the light hearted game of Flappy Bird, and that's all just in the first half! What do you suppose is the reason for this? We have a few hypotheses.
First, it's a known fact that people are drawn to and intrigued by anything that instills intense emotion. When people were in fear of Ebola, perhaps they searched it to calm their fears by learning the symptoms and that they didn't have them. When people were sad over the death of Robin Williams, they may have sought comfort in reading about his life and reminiscing on the movies he had acted in during his lifetime. Regardless of why people felt compelled to search these topics, one important interpretation acts as a common theme: when an emotional cord is struck within someone, they alleviate that feeling by seeking more information.
Comparing the top search list for America with that of the global list is equally interesting. Notice how these two lists are almost identical: 8 out of the 10 items are the same. One possible reason for the similarities could be that the United States is a primary user of Google, and thus has a large impact on the global list. Evidence for this can be seen by looking at each global trend list and noticing that they include many American-based topics. Another reason could be because people across the globe are intrigued by the same events and issues. For example, the World Cup is ranked high on both the American and the global lists because this was relevant worldwide. Either way, both lists still coincide with the draw towards topics involving strong emotions.
The Google top trend lists are a valuable use of today's technology and serve to show what people across the globe see as being of high importance. When implementing your Internet marketing strategy, paying attention to trends like these can come in handy by enabling you to be present where your potential customers are already looking, and by helping you provide them with information they're interested in. What topics do you think will be on the lists in 2015? Let us know your thoughts.
Do you want to succeed with your online company. WebFindYou is here to help you. Simply follow these easy to follow steps to get started:
You'll receive an email to access the WebFindYou platform for your website.
Follow the very easy to follow videos to implement WebFindYou for your business.
For questions, please call us at 1-866-SEO-WEBS (736-9327), fill out our contact form, subscribe to our newsletter or follow us on social media to stay informed of everything WebFindYou including webinars and live speaking events.
If you found this article helpful then let us know in the comments section below. Likewise, feel free to share it using the share options below. Want us to cover another topic of your interest pertaining to digital marketing? If so, then like us and follow us on social media, and post to any of our social media profiles the topic you'd like us to discuss:
Facebook WebFindYou
,
Instagram @WebFindYou
and
Twitter @WebFindYou
.