How the Rapid Evolution of the Internet Might Affect Your Business: Adapt or Die Trying
May 31, 2018
Since its first appearance in 1969, the Internet has grown at an exponential rate. To most, the Internet is an essential tool in their daily life. Currently, the number of
active users online is close to 400 million
, which only portrays how often people rely on it both in personal and professional environments.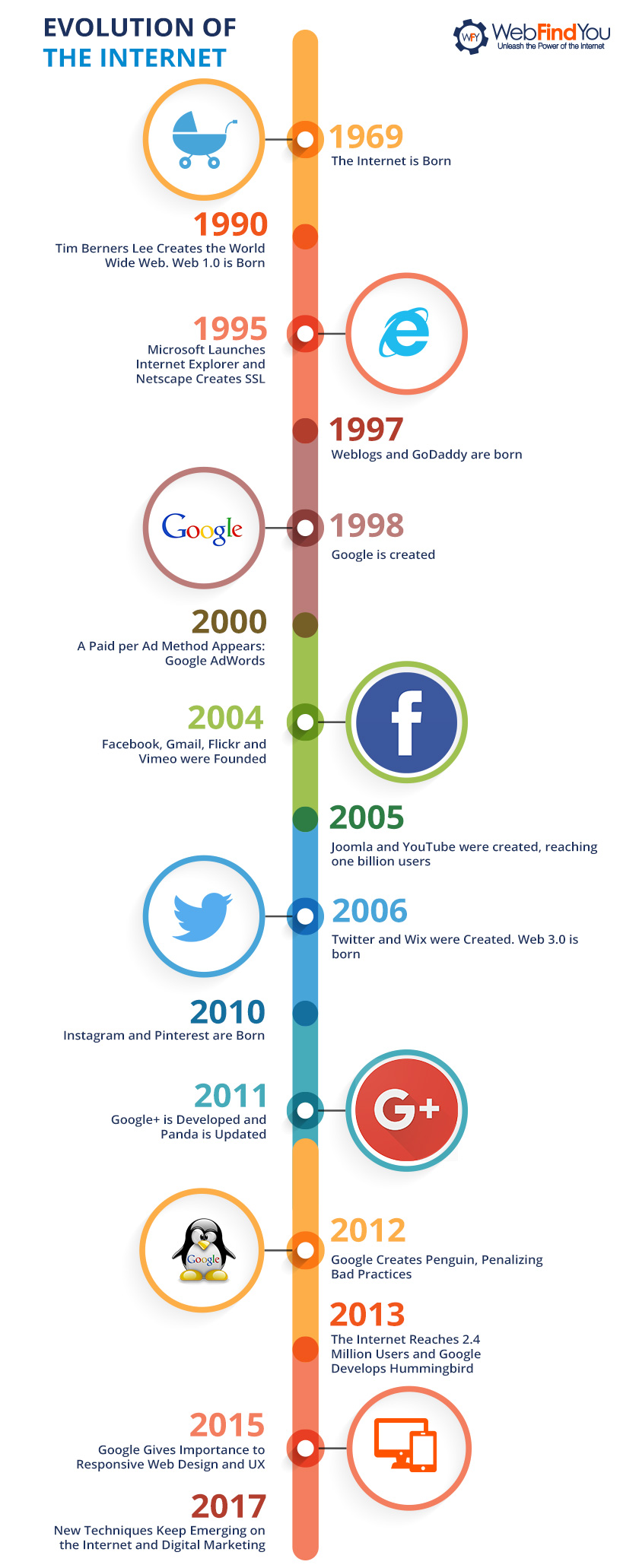 As previously stated, the Internet has been rapidly evolving and taking over everything in its path. The "digital era" is at its peak, making the new information and communication technologies the go-to option for users who seek the best alternatives across the different sectors of the market.
As such, this tool gives great power to companies – small, medium, or large–, granting them the ability to further reach customers and therefore, increase their sales. Having an online presence is an absolute must nowadays, especially when it comes to growing businesses. Potential customers spend their time using search engines and browsing social media expecting to find services, products or content that satisfies their needs. This happens constantly, and it is up to you to decide whether you want to take part of it through proper digital marketing or not.
According to numbers shown by Internet Live Stats, there are over
1 billion active websites around the world
, with a large percentage of them dedicated to e-commerce businesses, hotels, food stores, franchises, etc. It is safe to say that business owners who are not yet convinced about creating a website, whether it is e-commerce or not, should realize that now is the time to do so. In Bill Gates' accurate words, if your business cannot be found online, then it does not exist.
Business Migrations Towards Online Operations Have Increased
Nowadays, there is a lot of competition in the market, which is why companies are migrating most, if not all, of their operations to online platforms, aiming for higher success rate in their respective areas. A survey taken by over 350 small business owners and managers in 2016 determined
nearly half of small businesses do not have a website
, with the majority of the surveyed owners claiming the reason was that either it had very little relevancy to their business or that it was too expensive. However, the same survey determined that by 2017,
71% of the surveyed business owners had a website and of those that did not, 92% assured that by the end of 2018, they would launch their websites
.
In a world with
more than 5 billion people with smartphones, where 3 billion of them are active users of social media
(Facebook, Twitter, Instagram), business owners have realized it is time to adapt to this technological wave and get the most out of its benefits, ruling out staying behind as an option. Just one day without a website, presence in social media, innovation, self-promotion, and making yourself visible to potential customers on the Internet can cause your business to fail.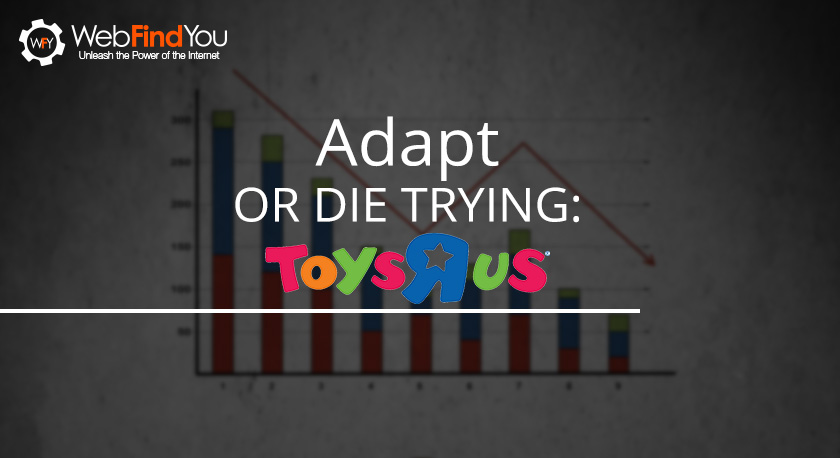 Adapt or Die Trying: Toys R' Us
Toys R' Us
, both one of the oldest and most famous toy stores in the U.S., is a great example of what staying behind with no intention to innovate or invest in Digital Marketing does to a brand. This franchise, loved by many children during the 80s, 90s and the 00s, recently announced they were closing down all of their stores in the U.S. (by May) and England after having declared bankruptcy in September of last year.
Articles by
BBC
,
Forbes
and
PR Week
, claimed that one of the main reasons their business failed was its lack of imagination, dynamism and their fatal decision to completely trust their online presence to Amazon, instead of creating their own digital space that allowed them to take advantage of the internet through effective digital marketing strategies.
Nowadays, children are born into a digital era, which makes it harder for this type of company to cater to potential customers. Kids now have access to easily downloadable fun applications such as face filters or VR games, or they can even go to physical stores which offer better interactive experiences to their customers.
It is a good business practice to constantly evaluate how their customers think in order to create strategies based on the results;
Toys R' Us
took far too long to realize that having an online presence and using technological tools as part of their marketing strategy was an important step to avoid their impending failure. Instead, big chains such as Amazon, Target and Walmart took the initiative first, leaving the toy store behind.
How do I Prevent My Company From Falling Behind?
Only true digital marketing can prevent your company from falling behind, but what exactly is digital marketing? It is the proper execution of all the steps and strategies (it is important not to skip any) allow you to achieve the following:
Defining the corporate identity of the company.
Positioning the brand in the minds of the consumers.
Positioning your website within the top results found on search engines (SEO/SEM).
Generating valuable content to awaken the users' interest so they come back and share the website, which also improves the positioning of the website in search engines.
Increasing user interaction in sites where the customers have an online presence (for example: social media, directories and more) through means such as: email marketing, paid ads, Google Display Network, Google Remarketing and more.
Increasing the chances of visits, contacts and sales, leading to a positive return on investment (ROI).
However, as time passes, achieving these things becomes a more complex matter, since the medium in which Digital Marketing is developed (the Internet) keeps rapidly evolving, quickly rendering useless practices that used to work. For this reason, the market will continue to be saturated by new tools and solutions exclusively dedicated to solve a specific problem, helping with just one of all the required steps to achieve good results. Why is it, then, that these companies and people only offer a single part of what comprises true digital marketing? Some of the reasons might be:
They are comfortable by just taking on one part.
They only know how to do one part.
They do not know how to handle every part of what comprises Digital Marketing.
They are not do not know of all the available options there are.
We are fully aware that choosing between which tools or options to use becomes more confusing and expensive as days go by. It should be also taken into account that the majority of businesses do not have the budget, time, or knowledge to achieve the results they want in their digital marketing campaigns.
So, how will these companies achieve all the necessary steps that grant them all the benefits from the power of the internet and prevents them from falling behind? It is such a hassle! There are way too many things to do, contemplate, understand, and pay for. How, then, does it get done?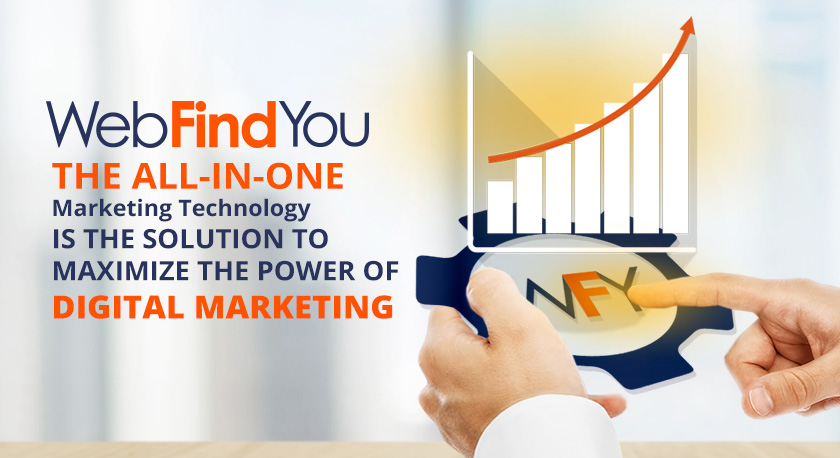 WebFindYou is Born to Help You Achieve True Digital Marketing
WebFindYou easily solves all of these problems by helping, guiding and instructing people to stay on the right track during the implementation of every single step of a true digital marketing campaign, saving you both stress and money on unnecessary expenses.
Here at WebFindYou, we took notice of how the world of digital marketing became more and more complex thanks to far too many options and demands. Additionally, using tools and CMS such as WordPress or Joomla, where you must know how to apply plugins and modules such as network management, email marketing, CRM and Write a Review, carries its own cost and learning curve, making it a complicated and expensive process. Therefore, the solution was to create WebFindYou, a single All-In-One Technology which integrates all the pieces and tools necessary to achieve a successful digital marketing campaign, simplifying the process in a timely and cost-effective manner with less hassle. We provide more efficiency, better integration and increased revenue, thus maximizing the power of the internet.
WebFindYou is the Best Option to Adapt and Not Die Trying
WebFindYou offers you everything you need at the affordable price of $49 per month. Other tools and providers can cost you up to thousands of dollars every month. Currently, companies offer their services separately, which can be extremely expensive and impossible to pay for most businesses. To further elaborate on this, we invite you discover why 92% of the market has no budget available to pay for a true digital marketing solution.
With WebFindYou the process is much easier. The fact that everything is integrated in a single technology brings better results, leading you to reap more benefits from the seeds you have sown, and not wasting resources on things that do not.
By being a part of WebFindYou's family, you will always be aware of what you should be doing. Our Technology is constantly evolving to match the changes and demands from Google, giving you the necessary tools to make use of upcoming trends. This peace of mind is priceless!
We Manage, You Manage – You Decide!
At WebFindYou we strive to obtain excellent results with your campaign, which is why we give you the option to choose: We Manage, You Manage – You Decide! The power of your business is in your hands. WebFindYou invites you to improve and maximize the results of your digital marketing, and if you already have a marketing agency or a marketing professional to help you with your website, you can still request for them to have WebFindYou as your provider to really start maximizing the online presence of your brand and not die trying.
Head towards out
contact page
or call us at
1-866-SEO-WEBS (736-9327)
to learn how WebFindYou is revolutionizing and maximizing the results of Digital Marketing. We will be happy to assist you!
If you found this article helpful then let us know in the comments section below. Likewise, feel free to share it using the share options below. Want us to cover another topic of your interest pertaining to digital marketing? If so, then like us and follow us on social media, and post to any of our social media profiles the topic you'd like us to discuss:
Facebook WebFindYou
,
Instagram @WebFindYou
and
Twitter @WebFindYou
.