Influencer Marketing and How Instagram has Become the Favorite Platform for It
min read
September 11, 2018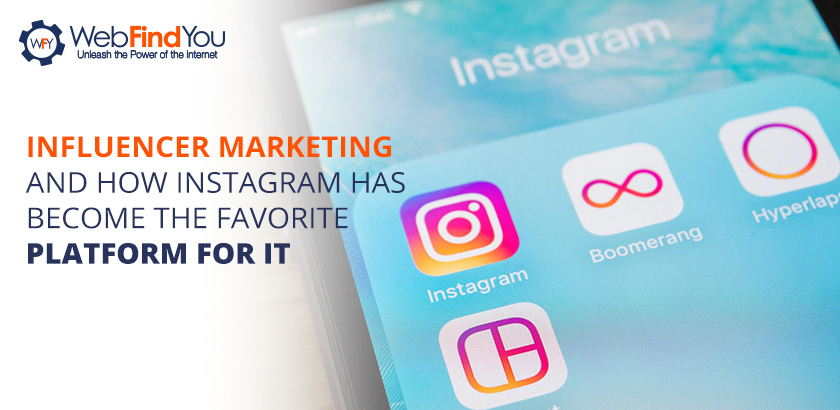 Publicity and visibility are important aspects of selling a product or service to the public. These elements of the marketing strategy dictate the positive (or negative) reaction of consumers to your product or service. That reaction can translate to either an increase or a decrease in your company's popularity and sales.
There's an array of tactics you can use to promote a product and add value to your brand. Influencer marketing stands out as one of the most innovative methods for doing this, and one that many successful businesses practice. An influencer with power on different social media platforms provides natural publicity that will be effective in generating more attention for a brand, along with more likes, shares, and comments. All of this adds up to a better bottom line for your company.
Why has this marketing strategy become so effective? Because people have grown dependent on everything digital. When consumers are ready to shop, they head straight to the Internet, and often directly to social media, looking for recommendations before they make a purchasing decision. According to a survey by Collective Bias in 2016,
60% of consumers consider opinions stated in blogs and on social media sites during the shopping process
.
This digital marketing phenomenon has progressively become more established; putting a face on a brand or a product makes it all the more accessible and attractive for users. Digital marketing experts have adopted this strategy, which was initially limited to blogs and eventually spread to all the main social media platforms (YouTube, Facebook, Twitter, Snapchat, and Instagram).
What is an Influencer?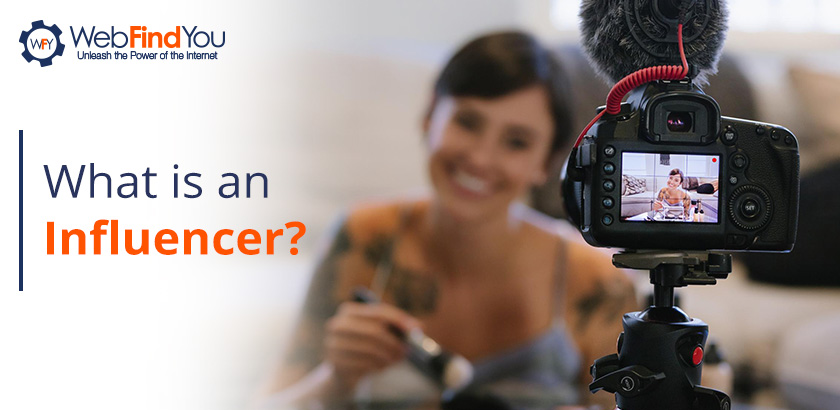 Before getting more into the topic of influencer marketing, let's talk about what an influencer is. Influencers are people that have established an image in social media, earning their followers' trust in such a way that what they say and do can influence their audience. This extends to products and services these social media celebrities use or don't use.
True influencers are born in social media. They determine the actions and decisions made by their community. There's no need to be a traditional celebrity (actor, musician, artist, etc), or even to have a huge number of followers to be considered an influencer. What is important is that these influencers create valuable content that earns the loyalty of their followers. This will result in followers taking any advice or recommendation given by the influencer and building their own criteria around it.
"Influencer Marketing" has Increased in Google Searches During the Last Year
According to a study performed by the Influencer Marketing Hub in 2017,
that year alone saw a 325% increase in searches for the term "influencer marketing" on Google
. This illustrates how relevant social media marketing strategy has become.
Trusting an Internet personality with the publicity of your product may sound risky, but a study in 2017 revealed that
92% of marketing experts deemed influencer marketing effective
. It's all a matter of planning an effective marketing strategy, aiming it at the appropriate target audience, and finding a suitable influencer. Note that 67% of marketing experts have been promoting content with the influencer's (
eMarketer
) help, so even when the competition is bound to be difficult, the right strategy could still work out better than expected. Ultimately, though, which social media platform is most suitable for influencer marketing?
How Instagram Has Become a Favorite for Social Media Influencers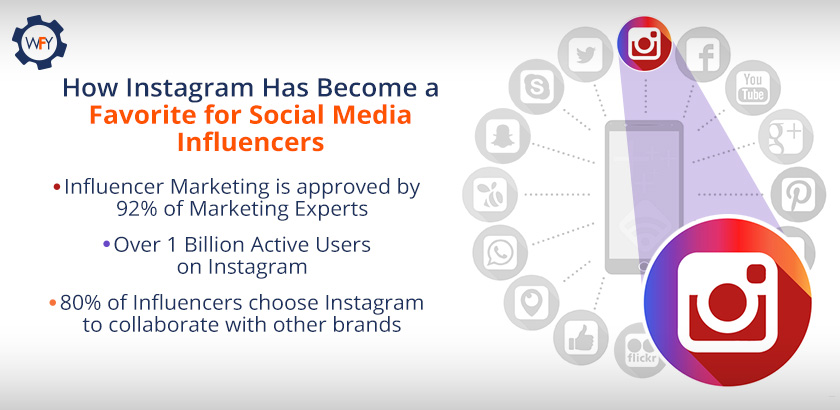 As we stated before, influencer marketing has expanded from blogs to more trendy websites like YouTube, Facebook, and even Snapchat. However, Instagram in particular has been one of the most popular platforms for this type of marketing because it has the ideal target audience for influencers: a whole generation that is very receptive to visual content and attracted to the possibility of playing with visual effects. This has helped Instagram position itself as a favorite over other social media platforms.
In June 2018,
Instagram announced the number of active users on the platform had reached 1 billion
. It is likely that many of these users are influencers handling natural publicity in most of their posts, whether in fashion, beauty, travels, business, lifestyle, or other trending topics that allow them to make use of these strategies.
According to reports by Zine,
80% of influencers favor Instagram as their platform to collaborate with other brands
. This is to be expected because the platform provides them with a simple method for publishing pictures to promote products and services. Instagram positions itself above blogs (occupying the second spot) and YouTube (taking the third spot) thanks to the possibilities it offers on a visual level.
Instagram has always provided a great variety of options (features, tools) for influencers to handle the publicity of a brand on the platform. Unlike other websites, Instagram allows influencers to engage the users via hashtags, pictures, or videos, with content that is impactful yet simple and easy to take in. The appropriate strategy tends to result in more customers, more sales, and more recognition for the brand.
The Most Renowned Instagram Influencers in Digital Marketing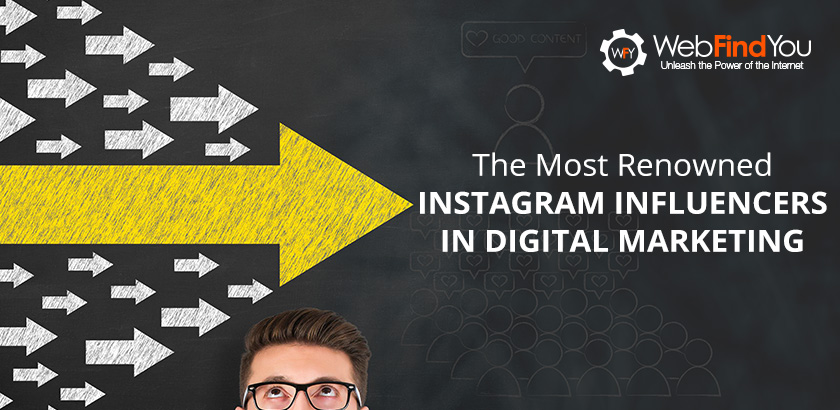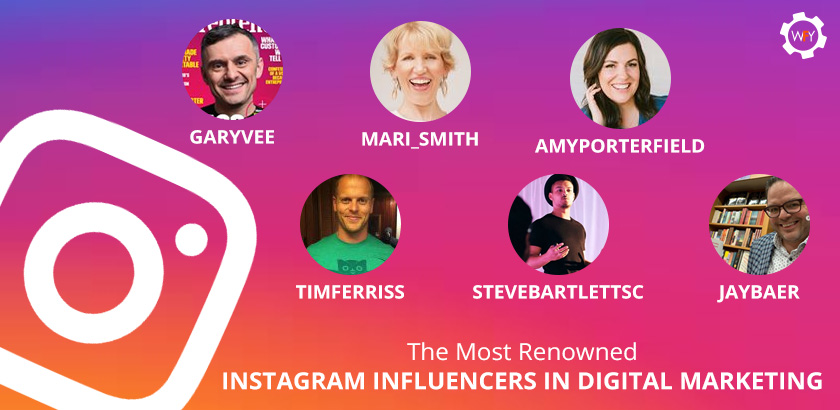 All these influencers validate the importance of executing one of the most important strategies in digital marketing: social media marketing. Applying influencer marketing might be the solution you need to position your brand. Your investment must suit the area of interest and the budget of your company. This is the time to immerse yourself in social media platforms as they continue to grow in popularity and acceptance among users worldwide.
We invite you to contact us if you want more information on how to maximize the results of all digital marketing strategies, including social media marketing. Call us at
1-866-SEO-WEBS (736-9327)
or fill out our
contact form
. We'll be happy to show you how our technology will guide you down the road to digital marketing success!
If you found this article helpful then let us know in the comments section below. Likewise, feel free to share it using the share options below. Want us to cover another topic of your interest pertaining to digital marketing? If so, then like us and follow us on social media, and post to any of our social media profiles the topic you'd like us to discuss:
Facebook WebFindYou
,
Instagram @WebFindYou
and
Twitter @WebFindYou
.