The 5 Most Popular Tools for SEO. Why WebFindYou is the Best Option for You
min read
December 03, 2018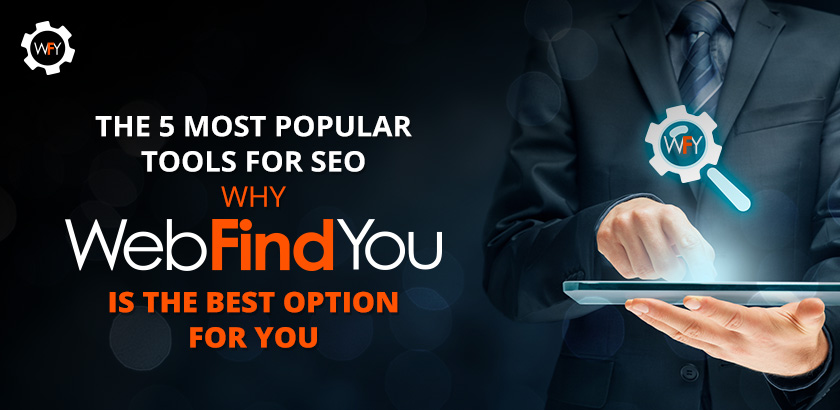 The Internet is currently the setting for high business competitiveness. We must thank the digital revolution for the massive migration of companies to ecommerce when many of them saw the undeniable influence online services have on people.
A big percentage of the current global users go to the Internet to evaluate, compare, and make all their purchases, leading both brands and SMEs to realize the power of this phenomenon. In this new generation of digital natives, online shopping plays a huge part in a company's prosperity. Digital marketing is an essential resource for a business to stand out in an organic manner among all the competition hosted by the net, and the way to do so to utilize all the pieces that integrate a marketing strategy.
Among the decisive factors for the success of your digital marketing campaign, SEO (Search Engine Optimization) plays a particularly important role because it contains a variety of strategies that can help your website gain visibility on the different search engines that make part of the market. This can attract more traffic to your site and more potential customers willing to buy your product or hire your services online.
SEO implies the full management of digital marketing; it allows us to position different websites on the Internet. Working with SEO requires constant observation to follow the progress of previously established strategies and, if done correctly, this will let us know which keywords are working or whether a tactic must be revised. People and businesses generally turn to free tools to obtain this information in the form of monthly reports.
We will now present a list of 5 of the most popular tools used by companies to implement an SEO strategy. With this, we will show you that there is no need to pay for providers or SEO tools each month now that WebFindYou's All-In-One Digital Marketing Technology integrates everything you need in one single place.
No, you are not dreaming! We integrate 20+ digital tools in one single technology, all of them programmed from scratch to optimize websites on search engines like Google.
The 5 Most Popular Tools for SEO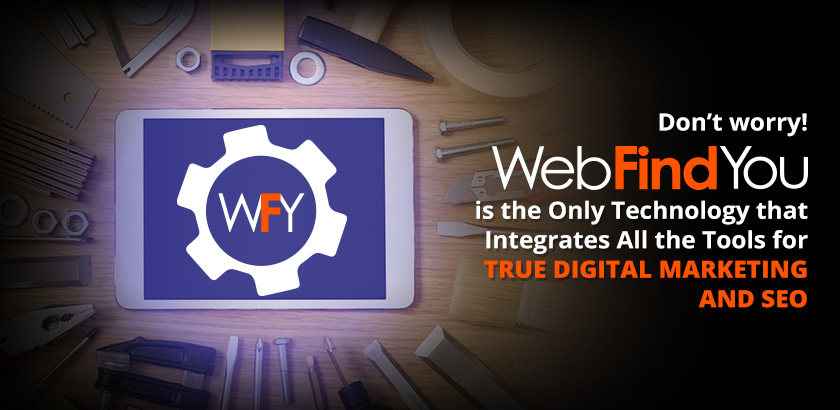 SEMrush
SEMrush is one of the most popular software programs in digital marketing, especially when it comes to SEO and keywords. This tool allows you to search popular keywords in your business area and perform evaluations on the specific keywords generated by your competition. This represents an important advantage in SEO, since you can use this data to develop a strategy that benefits your web positioning.

While this tool comes with a free trial option, you need more than that to establish a good SEO strategy. SEMrush offers plans of $99 (Pro), $199 (Guru) and $399 (Business) per month, plus an advanced Enterprise option.


Keyword Tool
Keyword Tool comes with a variety of features for SEO and it's capable of collecting over 7,000 keywords (in multiple languages) from Google every day. Sharing many similarities with AdWords in relation to keyword tasks, Keyword Tool also provides many options for PPC strategies and volume data.

Like SEMrush, there is a free trial available for users to get familiar with the tool. However, if you want to improve your company's SEO strategies, the ideal plans offered by SEMrush are the Plus version ($88 a month), Lite ($68 a month) and Basic ($48 a month).


Http Archive
Http Archive is free and very easy to use. Once you enter the URL of the site you wish to analyze, Http Archive provides data on cache usage, load speed, page speed score, etc. This process keeps you updated on your site's optimization process, a vital factor to consider if you want to generate more traffic, especially with the way Internet users prioritize immediacy.


Google Marketing Platform
It came from the merging of two of Google's primary tools: DoubleClick and Google Analytics 360. This platform is ideal for digital marketing specialists to assess, measure, and plan entire marketing strategies, not just SEO. Google Marketing Platform integrates features that are essential to build a brand's online presence (Data Studio, Surveys 360, Analytics 360, and Search Ads 360) so, in a way, it entails a more general category in terms of optimization.


Ubersuggest
Ubersuggest is a free tool created by digital marketing experts Neil Patel and Mike Kamo. It offers the chance to discover new keywords with the placement of a single word on the search engine. This simple process allows the user to know the most popular variations of a keyword, monthly search volumes, PPC amounts, and competition.

As you can see, a good management in SEO entails the analysis and measurement of results, and you need to have the technology to help you do it. Many of these options involve plans recommended by each service, since free trials usually don't provide the necessary data to thoroughly analyze the information. Clients are left with little choice but to raise the monthly budget to afford them.
But don't worry! You can relax. As we've mentioned above, WebFindYou is the only technology that integrates all the essential tools for true digital marketing and SEO in one single place.
Discover our Integrated All-In-One Digital Marketing Technology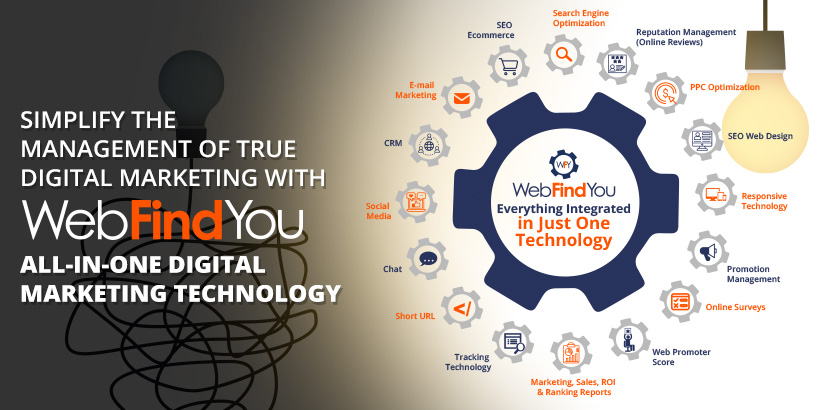 WebFindYou is the All-In-One Digital Marketing Technology created to simplify the execution of true digital marketing, with the integration of
more than 20 digital tools
, including: SEO, keyword manager, keyword ranking reports, SEO content management, keyword target pages, Geo Keywords, tracking technology, ecommerce, reputation management, email marketing, responsive technology, CRM, sales reports, and more; in short, we integrate all the tools you need to ensure the success of your business in today's competitive digital world.
WebFindYou automatically manages 50% of the technical elements required for your website to be recognized by search engines. We also provide step-by-step tutorial videos to teach you about each of our integrated tools, and we will notify you about each update made by Google, including the adjustments you would have to make in such cases.
There are three basic steps involved in the implementation of an SEO strategy:
Technical elements for the website to fulfill.


A proper definition of what the company claims to be (content).


Validation of the content (Backlink).
WebFindYou automatically manages step 1 and reduces 50% of the work involved in step 2, increasing the efficiency of an SEO strategy and saving you time and money in the process. As Google continues to modify its formula, WebFindYou manages all the necessary technical aspects and then notifies you about the changes you have to apply to your content.
This results in SEO management that is superior to anything else in the market.
Join the WebFindYou Family
To know more about how WebFindYou can help you maximize your company's online visibility and Internet presence, fill out the
contact form
or call
1-866-SEO-WEBS (736-9327)
. Discover why WebFindYou is revolutionizing and maximizing our client's digital marketing results. We'll be happy to assist you!
If you found this article helpful then let us know in the comments section below. Likewise, feel free to share it using the share options below. Want us to cover another topic of your interest pertaining to digital marketing? If so, then like us and follow us on social media, and post to any of our social media profiles the topic you'd like us to discuss:
Facebook WebFindYou
,
Instagram @WebFindYou
and
Twitter @WebFindYou
.