The Power of Podcasts to Complement a Company's Digital Marketing Strategy
April 18, 2019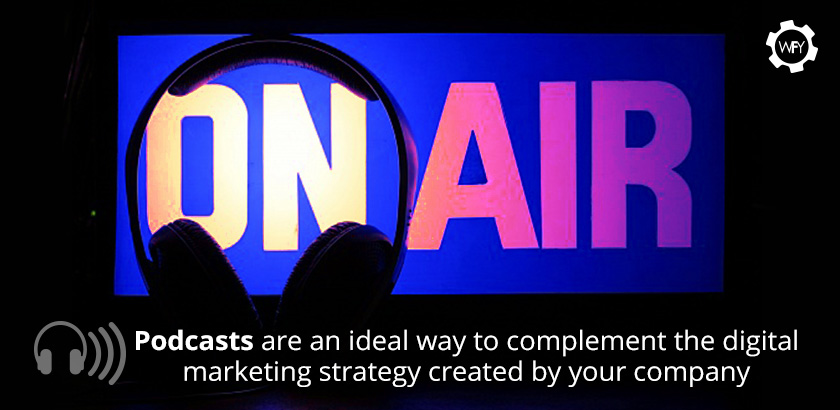 Back when RSS feeds were on the rise, downloadable audio formats were a common occurrence on the Internet. In fact, long before podcasts made their appearance, a handful of radio stations were already using the net to treat listeners to recorded shows so people could listen at any time, even when they happened to miss a program when it was originally aired.
In 2004, podcasts became a part of the digital world. While they didn't gain much traction then, their popularity has steadily grown throughout the years, to the point where they became one of the main digital marketing strategies used by brands to strengthen their online influence.
First of All, What are Podcasts?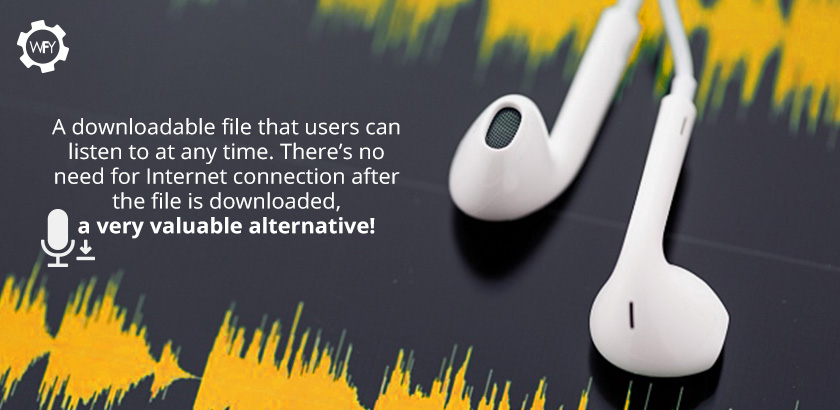 Before getting more into the topic, it's important to understand what a podcast is. The term podcast is a combination of the words 'iPod' and 'broadcasting,' resulting from the role played by iTunes as the most popular channel to release podcasts at the time.
What are podcasts, then? They are audio (and sometimes video) files that are posted episodically. Podcasts almost always expand on a particular topic. The topics in question can change according to the host and the structure set for the podcast, so they can range from casual topics to academic, political, or social matters. Podcasts are dynamic by nature and are known for the many areas of discussion that can be covered per installment.
In essence, podcasts represent one of the simplest ways to broadcast audio and video content because they are usually downloadable files that persist through time, allowing people the chance to watch/listen to them at any moment of the day. In most cases, users don't even need Internet connection to access these files once they've saved them, so podcasts become a comfortable, attainable, and helpful tool that users appreciate. Such a tool can be integrated into marketing strategy with very positive results.
Content Marketing and its Evolution Through Time
The majority of people working in the digital marketing world know that content marketing is one of the most important strategies integrated within the concept; the creation of content to attract customers and improve online visibility is vital for the future of a company on the Internet. Without content, how will users find what you sell? How can they grow interested in any of your products?
A few years ago, during the first stages of digital marketing, written content was enough to catch a user's attention. The digital evolution, however, opened the door to a myriad of options, including video, audio, infographics, social media, webinars, e-books, etc. Content marketing has stopped limiting its resources and now there are more online businesses trying to innovate their content in a way that helps gain more customers and strengthen customer loyalty. Among these options, of course, are podcasts.
Podcasts and their Role in Today's Content Marketing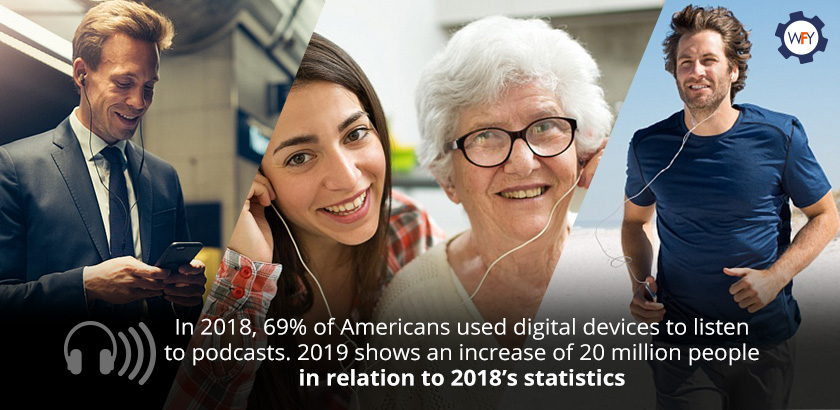 As we mentioned earlier, podcasts provide a simple way to broadcast a timeless message. For this reason, they have grown beyond their usual areas of communication and have become part of the digital marketing world.
If we wanted to include podcasts in our digital marketing strategy, how would it work? No, it's not a crazy idea, especially when there's a growing audience ready to welcome them. According to
the Infinite Dial 2019 report
, the number of people having listened to podcasts has increased, with 20 million more people in relation to 2018's statistics.
Likewise, the progress reached by the Internet has provided a wider space for podcasts to attract a bigger audience. With the introduction of portable devices, the task of listening or watching a new episode is accomplished in a single click. This, along with the user tendency toward video and audio, resulted in
69% of Americans taking to digital devices to listen to podcasts in 2018
. Smartphones, tablets, and laptops are some of the preferred options. When we take all this into account, it's clear that there is a target you could reach if your brand began using podcasts as part of its content.
We will show you some of the advantages that come with the inclusion of podcasts as a business marketing tactic.
Advantages of Creating a Podcast for your Business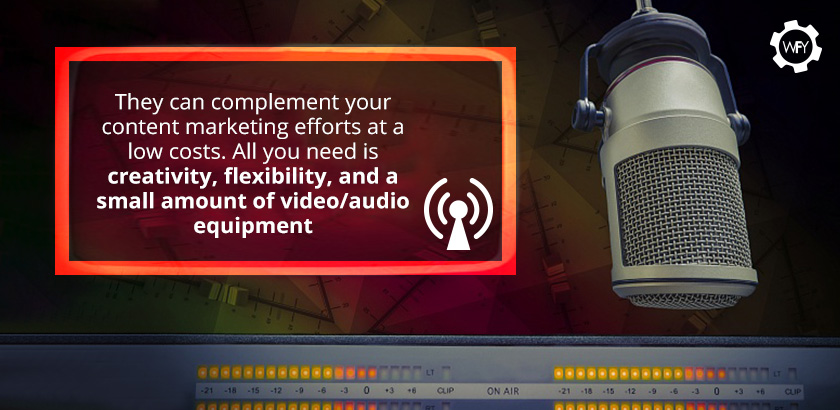 One of the most appealing benefits of adopting podcasts to complement your content marketing efforts is the low cost. All you need is creativity, flexibility, and a small amount of video/audio equipment to help you put your podcast together. Other benefits are:
Podcasts Generate Engagement with your Target Audience
By creating a podcast where clients can get first-hand information about what you sell, you establish a more intimate connection with your target audience while conveying trust in your services. The outcome is continued interest in your brand and more opportunities to ensure customer loyalty.


The Chance to Create Content that's Original and Attractive for the Audience
A podcast with a creative dynamic capable of keeping the public hooked on what they hear is a great way to focus original content around your products and services. As the number of viewers continues to increase, your business has more chance for traffic, sales, popularity, etc.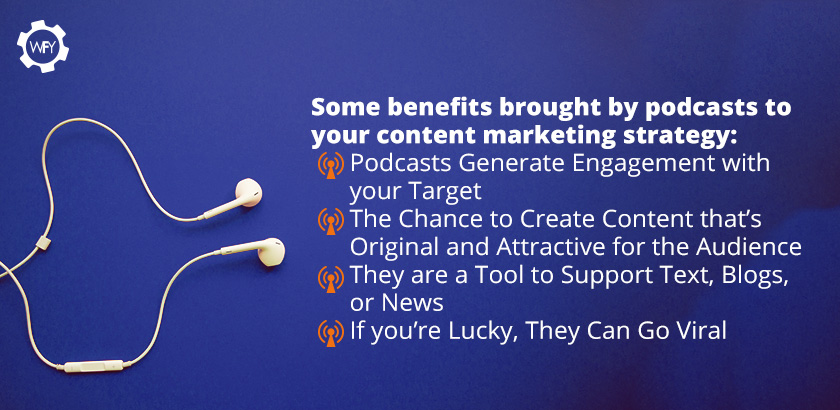 A Tool to Support Text, Blogs, or News
A hybrid is ideal here to get the attention of that portion of potential clients that values visual content over text. By linking a blog or a news report to one episode of the podcast (perhaps some information to complement the topic of discussion), you provide the best of both worlds.


If you're Lucky, They Can Go Viral
Coincidences and happy chances happen every day on the Internet. If a video of a singing cat can go viral overnight, an interesting podcast that can be seen anywhere and is more susceptible to becoming viral has a big opportunity to take over the online world. It would certainly come in handy for your company's future prospects.
WebFindYou Keeps you Posted on Everything that Happens in the Digital Marketing World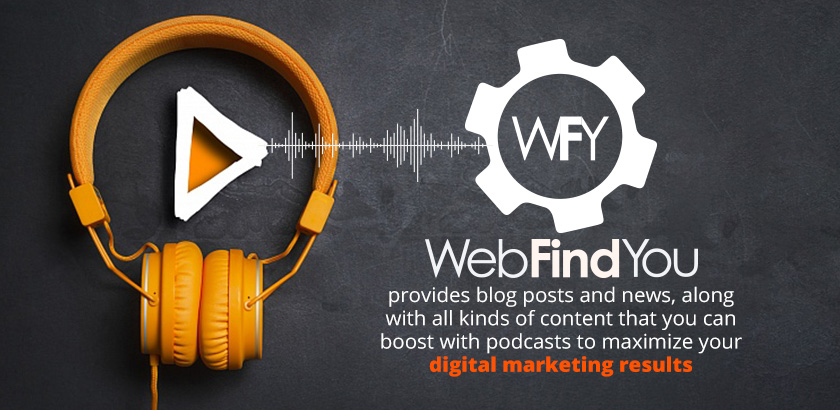 WebFindYou, the first and only All-In-One Digital Marketing Technology, knows the importance of being up-to-date with all the digital marketing news to help your business on its journey to success on the Internet. This is why we always bring new blog posts and articles, along with heaps of information to maximize your digital marketing results, whether you have a big, medium, or small business.
In the same manner, our All-In-One Digital Marketing Technology has 20+ tools to successfully execute true digital marketing with less hassle, reduced costs, and increased revenues. If you wish to know more about us, you can visit our
All-In-One
page for detailed information about each of our digital marketing tools, including everything they can do for your business. Feel free to contact us by calling
1-866-SEO-WEBS (736-9327)
or filling the
contact form
and we'll happily help you take your business to the next level.
If you found this article helpful then let us know in the comments section below. Likewise, feel free to share it using the share options below. Want us to cover another topic of your interest pertaining to digital marketing? If so, then like us and follow us on social media, and post to any of our social media profiles the topic you'd like us to discuss:
Facebook WebFindYou
,
Instagram @WebFindYou
and
Twitter @WebFindYou
.