Top 6 Digital Marketing Trends in 2019
4 min read
May 28, 2019
The constant evolution experienced by technology and the Internet brings new trends every day, including new ways to work with the different industries that comprise the current market. Both are essential for the full execution of many procedures; they serve as tools to simplify, develop, and complement different tasks. In digital marketing, online trends and innovations help with the evolution of new strategies. These strategies are a direct consequence of the needs exhibited by potential customers and a series of trial-and-error methods that digital marketing experts are constantly performing in their search for new ways to reach their target.
Digital marketing trends are constantly changing. The term itself alludes to a temporary nature, meaning that the strategy that proved to be effective at one point can be suddenly replaced by a completely different tactic the very next day. As the owner of an online business, you need to be aware of these changes so you can take preventive measures or, better yet, use the opportunity to apply them in ways that give you better visibility, enhanced popularity, and better sales on the Internet.
Without further ado, WebFindYou presents a list of the 6 digital marketing strategies that are taking the spotlight in 2019:
Chatbot
Communication between you and the users visiting your website is vital if you want to create a positive online relationship that ends in customer loyalty. By this point, most companies know the importance of being able to assist customers if they have doubts, questions, or complaints regarding their products or services.
During the last few years, however, the way in which online customer service is handled has changed thanks to many digital advances, and the chatbot has become a favorite when it comes to resources to enhance communication between customer and brand. In fact, Gartner estimates that in 2020, more than 80% of companies will be using chatbots instead of real people, so it's no surprise that this tool is already a powerful trend in 2019. Chatbots are available 24 hours a day and capable of storing more data than any person is capable of retaining, which results in a higher multitasking capability.


Video Format
Visuals are in high demand on the Internet.
User behavior has recently changed regarding the content they are willing to accept. Video is currently the primary form of entertainment for them, as well as the main source of relevant information, education, and any other need that might arise. When it comes to selling your product or service, video marketing has proven to be an important tool that effectively attracts potential customers.

According to Smart Insights, video content for marketing is more important than ever and 83% of respondents said that video continues to increase in importance and brands need to make it part of their digital marketing strategies. The creation of creative interactive videos featuring the product/service you wish to sell will earn you enough engagement to keep your target audience engrossed in what you have to say.


Personalized Content
This year, potential customers on the Internet want to feel appreciated and closer to the product/service they plan on buying. That's why personalization is so crucial.
Personalization is how you provide special treatment for consumers, building your message around their needs, preferences, frequent searches, and other factors that serve as clues for marketers to build an accurate buyer profile. 84% of marketers state that personalization improves customer acquisition, so the analysis of what your target is looking for and the development of a fitting strategy can bring you the results you expect from your campaign.



Social Media: Facebook and Instagram
Despite the hard months that have preceded Mark Zuckerberg's main social platform, Facebook still remains the third most popular website in views worldwide. There's no doubt your business must include this platform in the social media campaigns you develop this year.

On the other hand, Instagram has gained a lot of popularity in the last few years, surpassing 1 billion active monthly users in June 2018. It is now the main social platform for the majority of teenagers and young adults.

To generate results with your social media campaign, it's ideal to approach each of these platforms differently. As indicated in the Social Media 2018 Appendix A, older users prefer to go to Facebook and younger audiences prefer to be active on Instagram, so strategies need to be analyzed, segmented, and executed to ensure the efforts conducted on each social platform is tailored to the taste and needs of the corresponding target.


Alliances with Influencers
Influencers must not be taken for granted as a digital marketing resource. Users are constantly seeking relatability. They appreciate feeling closer to a brand before buying its products/services. Influencer marketing can help you obtain that result.
63% of experts are planning to increase their budget with the implementation of influencer marketing efforts this year (Influencer Marketing Hub), putting together a social media campaign with the help of public figures (either popular influencers or micro-influencers) to show their brands from a more human standpoint. With these resources, there are better probabilities to increase engagement rates.


Marketing via Mobile
In October 2018, Digital 2018: Q4 Global Digital Statshot indicates there were 5 billion active mobile users. This number is expected to grow exponentially in 2019.

As shown in our blog last month about more users will make purchases via mobile this year, there's been a notable increase in the number of Internet users using smartphones to make online purchases. Mobile devices have become the favorite choice for users getting what they want without having to stop by a physical store or depend on a computer.
Your responsibility as an online business is to assess whether your website fulfills the necessary parameters for users who want to browse your site on their mobile phones. This will ensure they have an optimized, pleasant, and satisfying experience.
WebFindYou Keeps You Updated on the Latest Digital Marketing Trends!
As we mentioned at the beginning of this piece, digital marketing trends change constantly, and it's imperative you stay informed of these changes. If not, you can easily fall behind the competition and miss out on the chance to secure a strong position in the market. Don't worry though. WebFindYou has a
News+Blog
section to keep you updated on the latest digital marketing trends. Furthermore, and best of all, if you're a WebFindYou client, then when Google, Bing or Social Media platforms require changes to your website for maximum visibility and results, WebFindYou will auto-update your website and notify you of any other manual changes you'll need to make. This is peace of mind and simplicity at its finest!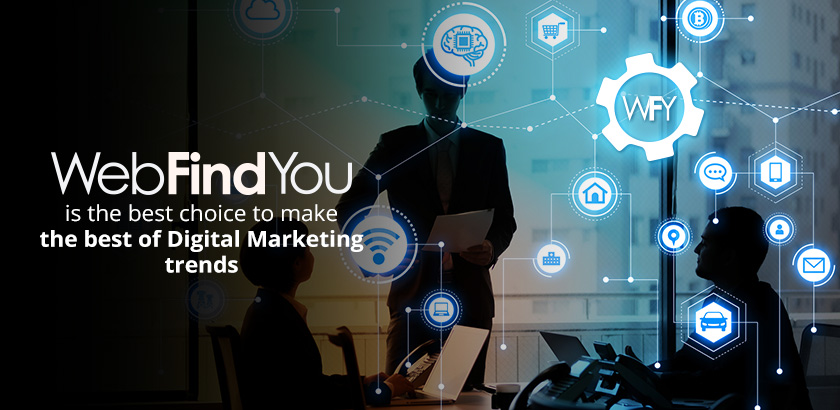 Are you ready to discover the True Power of the Internet and maximize digital marketing revenues with WebFindYou? Simply follow these easy to follow steps to get started:
You'll receive an email to access the WebFindYou platform for your website.
Follow the very easy to follow videos to implement WebFindYou for your business.
For questions, please call us at 1-866-SEO-WEBS (736-9327), fill out our contact form, subscribe to our newsletter or follow us on social media to stay informed of everything WebFindYou including webinars and live speaking events.

If you found this article helpful then let us know in the comments section below. Likewise, feel free to share it using the share options below. Want us to cover another topic of your interest pertaining to digital marketing? If so, then like us and follow us on social media, and post to any of our social media profiles the topic you'd like us to discuss:
Facebook WebFindYou
,
Instagram @WebFindYou
and
Twitter @WebFindYou
.