What are Blogs and Why Do You Need to Implement Them in Your Digital Marketing Strategy?
July 11, 2019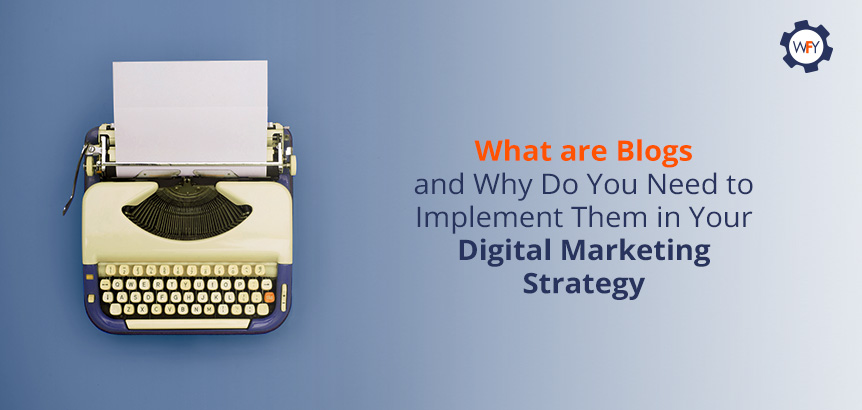 While the promotion of a product or service has always served the same goal, the strategies created to do it have changed and evolved with time. As the years go by, the market gets more immersed in a wave of social and financial changes, along with other variables that make society what it is today.
The purpose of marketing is to adapt its strategies to match the preferences of consumers, both online and offline. If you want to succeed, you must always know what the audience wants and how they want it. These questions will be present throughout the entire selling process.
Unlike other marketing tactics, content has been at the center of marketing campaigns from the very beginning. After all, every message must carry some sort of content to be communicated effectively. The type of content that was created, however, usually focused on making a sale above the inherent value of the target audience. Today, the landscape is completely different.
Content Marketing is a Trend in Today's World
As we said, marketing tactics change with time. Content marketing has remained relevant for years and is currently still a popular resource because it addresses a common need of Internet users who are looking for more than a product to purchase or a simple ecommerce endeavor devoid of emotional reward. They want to be convinced they are choosing the best of the best among all the options available on the Internet. Users look for interaction, knowledge, information, and many other elements that turn their attention toward a particular brand.
This is what content marketing does, and before many other tools came to support this strategy, blogs were the most accessible and effective way to create a bond with your target audience.
Blogs can seem like an ineffective tool for creating content when compared to many other resources regularly used as content marketing strategies, but blogs, articles, and posts are seen by many experts as the foundation that other tactics derive from.
What are Blogs?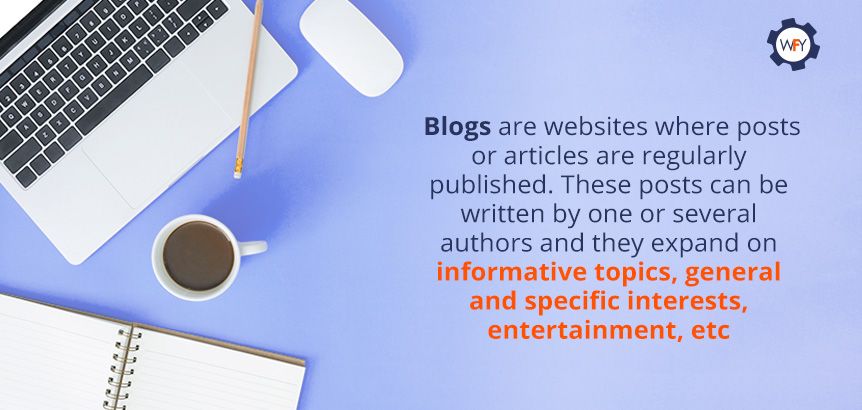 We must have a clear definition of this term before getting to the point we want to make.
Blogs are usually websites where posts or articles are regularly published. These posts can be written by one or several authors and they expand on informative topics, general and specific interests, entertainment, etc.
In digital marketing, a blog is a versatile tool for creating content, tailored to meet the goal of selling a product/service with many related themes. A lot can be done to captivate users with the written word and, if we know how to implement our strategies, they will see an interesting article instead of a sales pitch.
Are there Different Types of Blogs?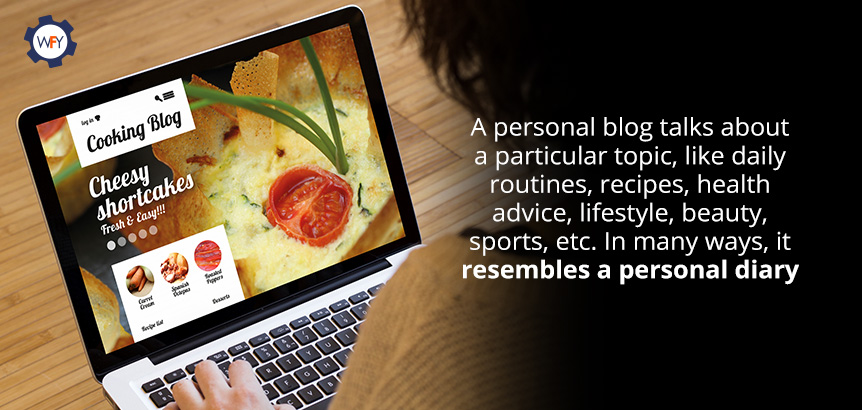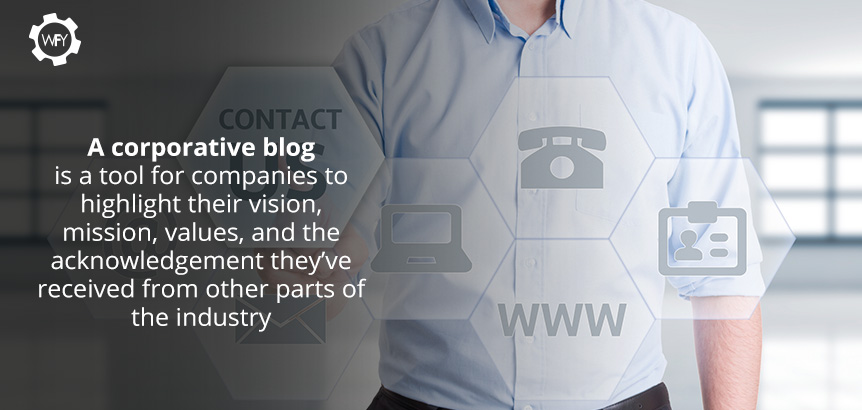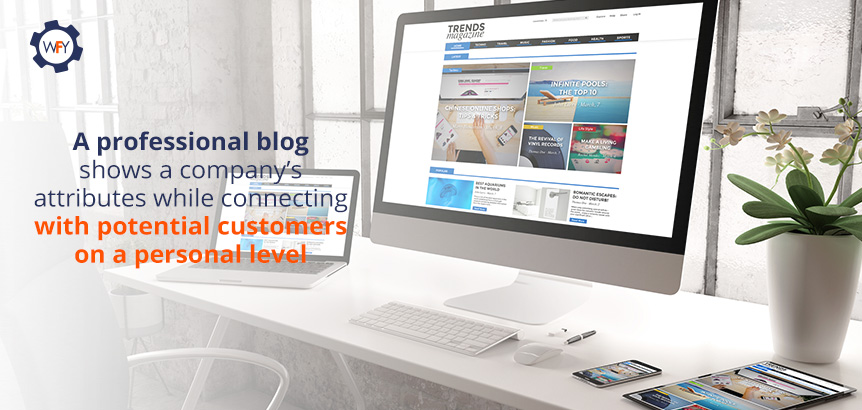 Yes, there are, and you should know the differences between each type of blog before you decide to implement them into your digital marketing strategy.
Each type of blog fulfills a purpose and is used for specific reasons, so it's important to understand how they work to define the best option for your online business.
These are the types of blogs we know:
Personal Blog
One of the most common types of blog. In fact, we could say that blogs were created with this initial purpose. A personal blog talks about a particular topic, like daily routines, recipes, health advice, lifestyle, beauty, sports, etc. In many ways, it resembles a personal diary. While it's true this isn't a viable strategy for a company that wants to start using blogs as a marketing strategy, it can still be useful. Alliances with renowned bloggers can help you get your target closer to the product/service you want to sell.


Corporative Blog
A corporative blog is a tool for companies to highlight their vision, mission, values, offers, and the acknowledgement they've received from part of the industry. This type of blog veers towards an institutional tone; the sale of products and the creation of educational content are secondary objectives. In short, it is meant to share everything related to a company's internal structure.


Professional Blog
We have reached the right option for you. A professional blog is almost a merging between personal and corporative blogs. It has the kind of content that shows a company's attributes while connecting with potential customers on a personal level. Each post provides valuable information useful for users and simultaneously draws them toward the product being sold.
Advantages of Including Blogs in your Digital Marketing Strategy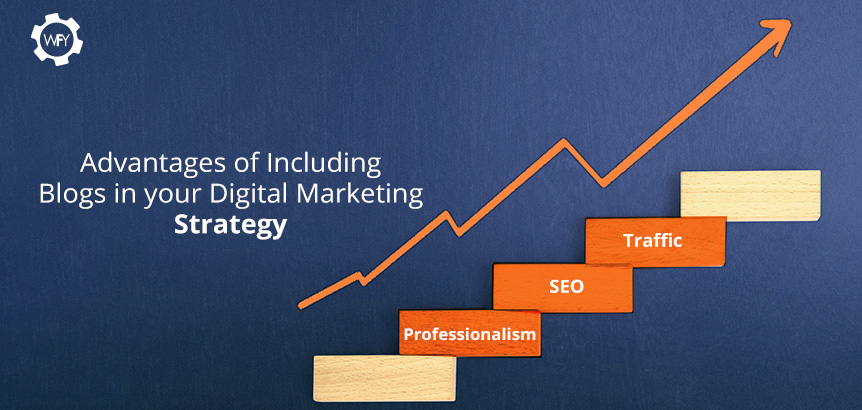 Now that you know all the basic information, here's where we show you why it's so important to start including blogs in your digital marketing strategy:
Advantages for Search Engine Optimization (SEO):
A blog schedule can be very helpful for improving your website's SEO. With this, we also address the time you must dedicate to researching your target audience and hiring a competent working team to organize a calendar with the full content you plan on sharing.

How do blogs help SEO? First of all, if your website has a blog where content is periodically published, you can start a keyword research and include keywords that are popular with users reading your posts. By working these words into your blog, you guide users toward content that's meant to be informative and entertaining, so you must use them sparingly or your blog might lose its essence and your website could be penalized by Google.


A Professional Style for your Website:
Through blogs, you can prove that your business knows about the services it offers, and this is essential to earn the trust of your potential customers. Smart-consumers always look for companies that are capable of guaranteeing veracity and quality.


More Traffic and More Leads:
Speaking of quality, when you provide users with a full list of blog posts containing valuable information and answers to the questions they look for online, you are creating a big opportunity to make sales. On top of this, you increase the traffic to your website, either thanks to the promotion you make on your own or via word-of-mouth. It all depends on how you manage your content.
I Want to Enter the World of Blogs but I Need Help
If you're convinced that blogs are essential for your company's digital marketing but still need an option to help you make the best of your marketing efforts, look no further. WebFindYou is the first and only All-In-One Digital Marketing Technology integrating 20+ vital tools for the execution of true digital marketing.
Within our integrated technology, we include essential tools to simplify content marketing strategies, including blogs. Our technology includes a CMS to allow for more effective content management. We provide tools like data tracking and result reports to help you define your brand's target audience or buyer persona, the topics or keywords that are being followed, the right time to send email marketing campaigns, and the most requested promotions, products, and services. At WebFindYou, you have everything you need to have a successful business in one single place.
Join the WebFindYou Technology!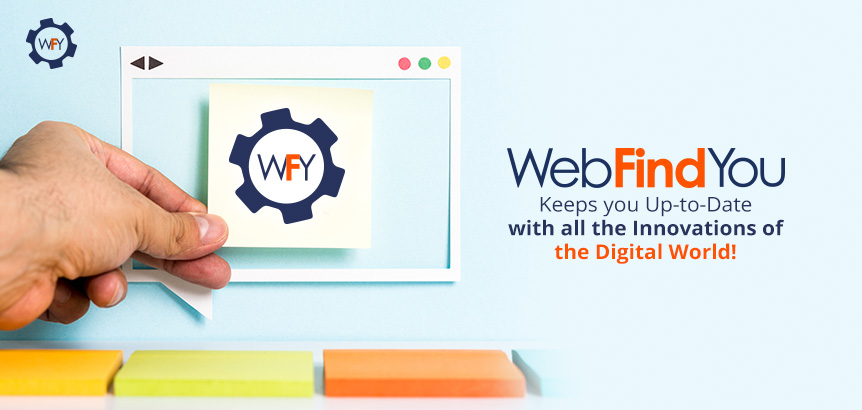 With WebFindYou, the implementation of blogs takes less time and hassle. Do you want to know about other ways in which we can help you create content? If you want information about our All-In-One Digital Marketing Technology, feel free to call
1-866-SEO-WEBS (736-9327)
or fill the
contact form
. We will be happy to assist you!
If you found this article helpful then let us know in the comments section below. Likewise, feel free to share it using the share options below. Want us to cover another topic of your interest pertaining to digital marketing? If so, then like us and follow us on social media, and post to any of our social media profiles the topic you'd like us to discuss:
Facebook WebFindYou
,
Instagram @WebFindYou
and
Twitter @WebFindYou
.